Isis in Libya? Fears militants are about to follow up their brutal successes in Iraq and Syria by expanding into the unstable north African country
Last month, the Corinthia Hotel in Tripoli was attacked by Islamists in a raid that cost at least nine lives, including that of an American contractor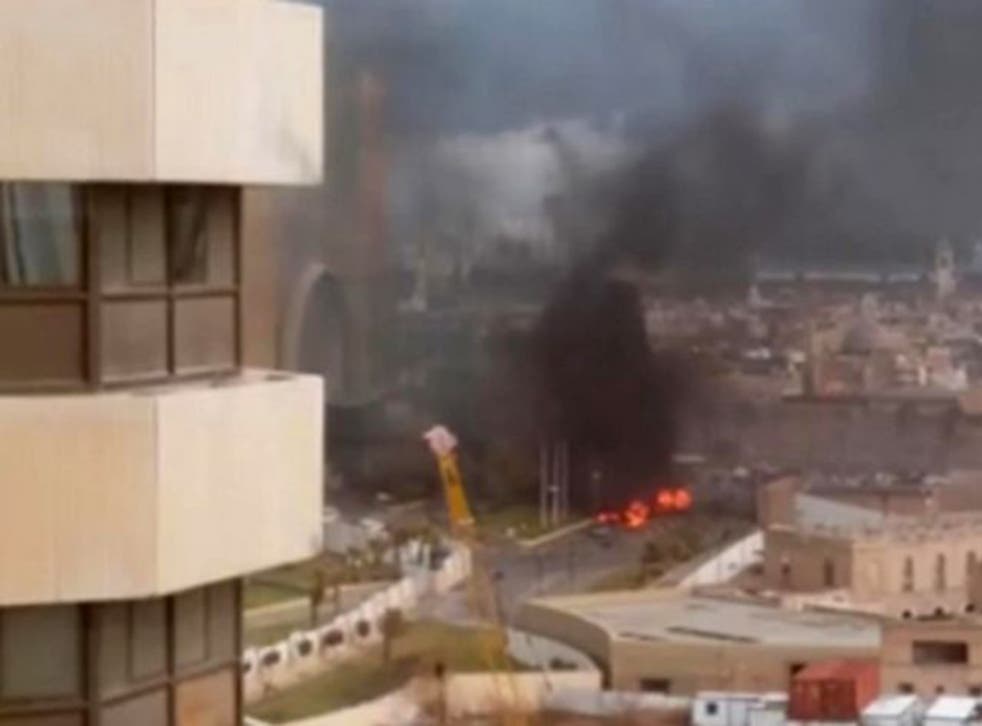 "Urgent. Soldiers of the Islamic State captured 21 Christian crusaders". That barely noticed statement was issued on social media early last month by Isis, not in Syria or Iraq, but in Libya, which four years ago a coalition of western allies bombed, helping to liberate the country from the grasp of Muammar Gaddafi.
The fate of the hostages – believed to be Egyptians - remains unknown, but that is not what will worry officials in London, Washington and elsewhere. As Isis in Syria gets the headlines and attracts the wrath of world leaders for its heinous activities, the group's affiliates in Libya are quietly gaining ground and threatening another failing state.
On 27 January, the well-known Corinthia Hotel in Tripoli was attacked by Islamists in a raid that cost at least nine lives, including that of an American contractor. Again it was Isis that quickly claimed responsibility.
According to the Tripoli-based think tank, Kalam, the situation is Libya is increasingly unstable, which like in Syria, Isis is set on exploiting. "The continued political and military chaos in Libya following the ouster of Muammar Gaddafi in 2011 has provided an ideal situation for extremist organisations such as Isis to expand throughout Libya.
In pictures: Anti-Isis protests in Jordan

Show all 15
"In the months following [Majlis Shura Shabab al-Islam, a Darna-based Islamist group's] declaration of allegiance to Isis in October, attacks attributed to other Isis related groups have occurred across all regions of Libya," the think tank says.
Kalam has logged all Isis-inspired activity in Libya since July last year. It runs to 20 pages, and includes details of hostage videos, beheadings, public executions and processions of militants driving through towns flying the black flag that is now synonymous with Isis.
The think tank says that Isis now has a foothold in several major towns from Tripoli, to Benghazi and Sirte, as well as Darna in the east, which it controls.
In many ways it is not surprising that Isis is gaining ground. Since Gaddafi's brutal overthrow in 2011, the country has barely been governable. Various regional and factional groups have attempted to assert control and even the recognised government has been forced to flee Tripoli and setup shop in the eastern town of Tobruk, more than 600 miles from the capital. It was run-out of Tripoli by Libya Dawn, a loose coalition of Muslim Brotherhood types and officials from the west of the country.
The elected parliament sits in a hotel and describes its rival administration in Tripoli as a bunch of terrorists. UN-brokered talks are taking place in Geneva, and though more talks are planned, progress is slow. Libya Dawn refused to take part, even if its armed group acceded to a ceasefire.
"The failure of the political process has created a political vacuum," says Jason Pack, a researcher of Libyan history at Cambridge University. "There was no Isis in Libya until the failure of the political process."
Much like in Syria, where forces loyal to Bashir al-Assad lost control of vast swathes of the country, so in Libya, the recognised administration has little control over much of the country.
Kalam estimates that that there are already as many as 3,000 fighters loyal to Isis in Libya, which is thought to be one of the largest contributors of men to the group's ranks in Syria and Iraq. Revenues from country's rich oil reserves, which ironically the west helped to bring online following the rapprochement with Gaddafi after 2003, threaten to run into Isis's coffers.
Like in Iraq eight years earlier, Libya is a mess partly of the west's making. Philip Hammond, then as the new defence secretary, said in October 2011 after Gaddafi's overthrow, that British businesspeople should pack their suitcases and exploit opportunities in Libya.
Three and a half years on, and the now foreign secretary's new department advises Britons, "against all travel to Libya due to the ongoing fighting and unstable security situation throughout the country… There is a high threat from terrorism including kidnapping, indiscriminate gunfire, and bomb attacks."
It is unclear what would have happened had the bombing not brought an end to Gaddafi's rule. Would he have had sufficient strength to fight back against an insurgency as Assad has done in Syria, in which case Isis may have established itself anyway? Would he have been forced from power by popular uprising as in neighbouring Tunisia? It is impossible to tell.
Elham Saudi, an associate fellow at Chatham House, agrees that Libya is, "very fertile" ground for Isis, but argues that the group will find it more difficult to establish the sort of roots it has put down in Syria.
"I don't think the threat is exaggerated," she says, "but there is not the same support for Isis. Even in Derna, I'm yet to see any indication that the people are receptive to Isis's presence.
"There are also other factors that count against Isis: now that Gaddafi is gone, there is no common enemy, and so different groups fight for their own interests. The terrain is much more difficult. It will be harder for Isis in Libya, despite the political situation."