Mosul defeat leaves Isis 'unlikely to survive' three years after declaring caliphate in Iraq, analysts say
Iraqi forces claim the destruction of the caliphate after retaking Mosul's wrecked al-Nuri mosque - but the deep problems that drive violence in the country will be harder to address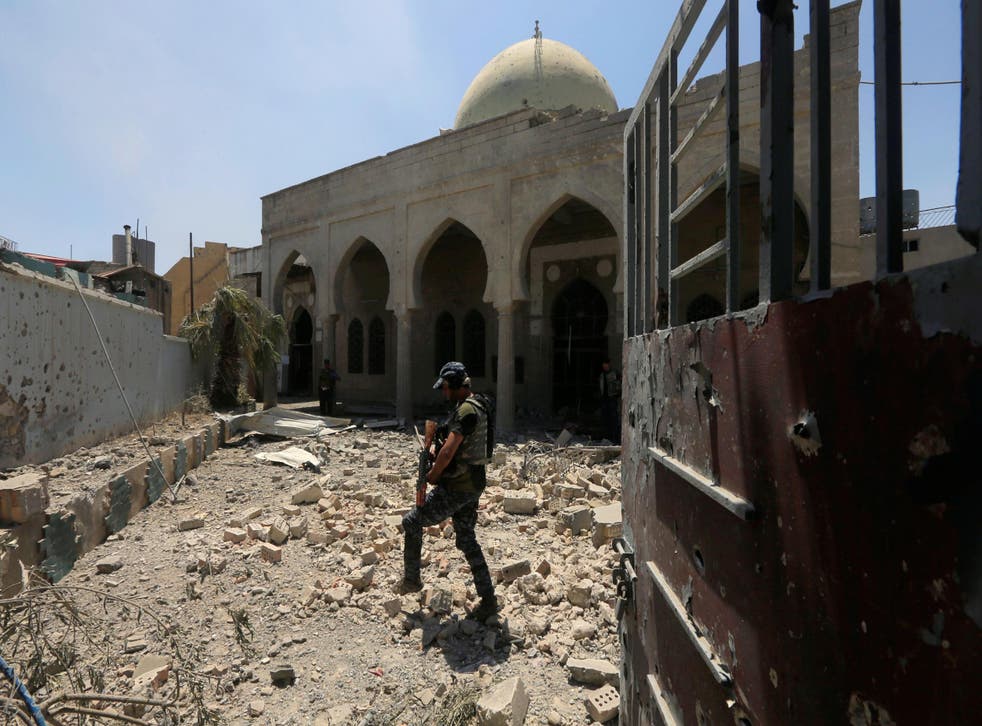 In a sermon on 29 June 2014, Isis leader Abu Bakr Al-Baghdadi declared the creation of an Islamic caliphate from Mosul's grand mosque after his forces swept across a third of Iraq from neighbouring Syria.
Exactly three years later, Iraqi troops have wrested the site of the 12th century building back from the jihadists.
Even though its infamous black flag was still flying from the minaret, Isis blew up al-Nuri last week in an attempt to rob the security forces of the symbolic victory.
Drone footage shows the devastation in Mosul's old city and the destroyed al-Nuri Mosque
Nonetheless, the authorities were keen to stress the importance of retaking the compound. "Their fictitious state has fallen," military spokesperson Brigadier General Yahya Rasool told state TV.
The footage of Iraqi soldiers clambering around the ruins are bittersweet for Mosul's long suffering residents, and militants left in the city are intent on fighting to the death. But on the third anniversary since the city was conquered, Isis' leaders can no longer hide the fact their caliphate is crumbling away.
"Islamic State's project lies in ruins. To see just how bad things are going, consider that they even destroyed the historic mosque where Baghdadi first emerged to declare his caliphate," Dr Shiraz Maher, deputy director of the International Centre for the Study of Radicalisation at King's College London, told The Independent.
New analysis from IHS Markit's Conflict Monitor shows that while at the height of its powers Isis controlled 90,800 square kilometres (56,421 square miles) of territory, thanks to aggressive US-backed ground and air campaigns across both Syria and Iraq the organisation's territory has shrunk by 60 per cent to an estimated 36,200 km² (23,000 m²).
Territorial losses have added to financial woes: while in the second quarter of 2015 Isis' average monthly revenue was estimated to be $81m (£63m), by the same period in 2017 it had fallen to $16m (£12m) – a reduction of 80 per cent.
While Isis has always relied heavily on excessive taxation, fines and often outright stealing from populations under its control – never a reliable source of income – its oil revenue is also down 88 per cent, IHS Markit said.
In pictures: Mosul offensive

Show all 40
US-led coalition bombing has destroyed the once lucrative illicit oll trade by targeting wells, refineries and pipelines, as well as Isis trucking routes to Turkey.
"The Islamic State's rise and fall has been characterised by rapid inflation, followed by steady decline," said Columb Strack, a senior Middle East analyst at IHS Markit. "Three years after the 'caliphate' was declared, it is evident that the group's governance project has failed.
"By the end of the year, [the quasi-state will be reduced to a] string of isolated urban areas that will eventually be retaken over the course of 2018."
Pressure is mounting on the group in every direction. The fall of Mosul is dovetailing with the fight over the border for Raqqa, Isis's de facto Syrian capital, and the last Iraqi Isis pockets in Hawija, Tal Afar and al-Qaim are now in the coalition's crosshairs.
While the fall of the Iraqi half of the caliphate is cause for celebration, Isis is far from defeated, Dr Maher warned.
"The collapse of Islamic State as a proto-state or governing body, will not signal its overall demise as a group. It will continue to linger as both an insurgency and terrorist movement. Defeating it in those terms is an altogether more complicated and longer-term ambition which will still take many years."
"As the state project fails the global jihadist narrative will go into overdrive," Dr Andreas Krieg of King's College London's Department of Defence Studies said. "Isis didn't originally have the al-Qaeda ambition of targeting the far away enemy. It was localised, forming alliances with local Sunni tribes against the common Shia enemy. But now they have moved in that direction, and if it means attacking the West they will do that."
Iraq itself remains markedly unstable. Isis sleeper cells have already emerged to attack supposedly safe areas of Mosul – and as Dr Dylan O'Driscoll of Manchester University's Humanitarian and Conflict Response Institute points out, Iraqi society has become increasingly militarised.
The formalisation of Shia militias into the government-aligned Popular Mobilisation Units has stoked fear among Sunni communities in northern Iraq, many of whom have accused the PMU of carrying out 'revenge' attacks on their men and boys during Operation Inherent Resolve to retake Mosul.
Mosul residents on Isis blowing up Grand al-Nuri Mosque
Christian and Yazidi armed units have emerged – and no group trusts another. "Another pressing issue is the recent call for a referendum for independence by the Kurds," Dr O'Driscoll said in an email.
"Every faction [is] linked to a militia of some kind. The competition between militias for the support of the population builds divides in a society that needs to come together to address the wider political and structural problems," he added.
While the fall of Mosul is an important victory against Isis, the scars the group's rule and the bitter fighting has left on Iraq and its people will last for decades to come.
There is no coherent Syrian, Iraqi or Western strategy for defeating the group's potent ideology – just military force. Even if Isis is completely vanquished, Dr Kreig said, Iraq is "fertile ground" for a new anti-government Islamist narrative to spring up.
"Isis is not the root cause of Iraq's problems, it's a symptom of it," he said.
"The common denominator of an enemy in Isis may be disappearing bit by bit, but the old grievances will remain, and because of that, we are likely to see Iraqi society splinter further."
Join our new commenting forum
Join thought-provoking conversations, follow other Independent readers and see their replies