Isis now targeting women with guides on how to be the 'ultimate wives of jihad'
New propaganda arm advocates contributing with 'feminine labour' and offers recipes to help fighters preserve their strength
Heather Saul
Friday 31 October 2014 13:05 Comments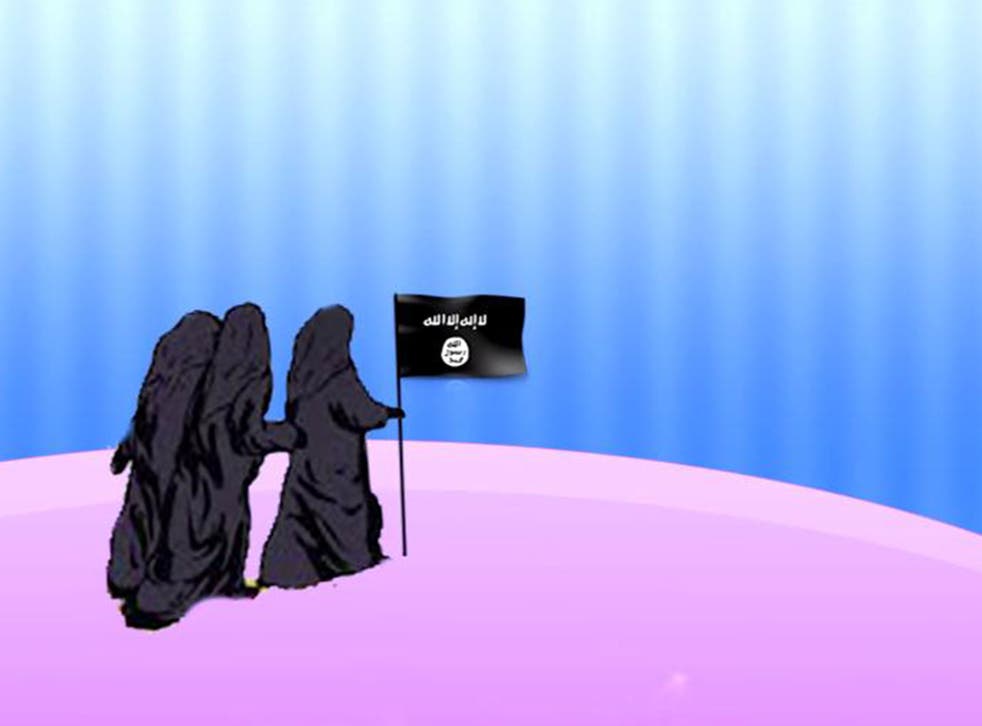 Guidelines for women on how to be the ultimate wives of Isis fighters in Syria and Iraq are now being distributed by the militant group's new media arm.
The Zora Foundation is the latest Isis media group operating across social networks.
Isis (also known as Islamic State) regularly release propaganda showing brutal executions and violent atrocities, training regimes for fighters and threats to the West as the US-led coalition air strikes continue.
But unlike most of Isis' propaganda that addresses men and attempts to recruit them, this specifically targets women supporting Islamist fighters by circulating advice on how to be 'good wives of jihad'.
The organisation's slogan is "preparing for the honour of jihad", with videos and tweets explaining the ways in which women can contribute to Isis' insurgency. Its social media accounts have already garnered over 2,000 followers after being established just over two weeks ago.
Zora's material, all of which is in Arabic, has been shared by Isis supporters across social media.
Charlie Winter, a researcher at counter-extremism think tank the Quilliam Foundation, said the organisation is aimed at those preparing to go out and support the group, while also acting as a facility for the women already out there.
He told The Independent: "It's kind of a guideline on how to be a good supporter of jihad and have the best role in supporting 'your mujahidin' as a woman.
"I haven't seen anything like this before. There will probably be forums doing similar things online, but this is the first time I've come across an actual media organisation giving guidance to women on their role."
Zora's most recent post was a recipe shared on the al-Zora Media Twitter account. Mr Winter said the recipe was prefaced with the introduction: "To the victorious supporters [of jihad] and the beloved muhajiraat [for example, women who go to Syria], may Allah bless their efforts and reward them accordingly, we dedicate this first recipe to the heroes on the front line."
Timeline: The emergence of Isis

Show all 40
The text explains the recipe is "a quick, light recipe that should be taken with coffee and will replenish the mujahidin".
The video uses crude animations and brightly coloured backgrounds with images of a sowing machine, a first aid box, a fridge a gas cooker and a microwave appearing throughout. Mr Winter explained: "The video talks about nursing and administering first aid, the cooking and preparation of food, the books of God, sharia science and the preparation of women for there contribution to jihad - essentially getting others to go out there.
"After sharia science, it talks about courses in making slide shows and editing them – effectively making propaganda - before the video finishes."
The accounts appear to be primarily targeting Arab women as opposed to Western women because of the language used in all. Mr Winter said: "The phenomenon of women going over to Syria or Iraq is not new and it is not a purely Western phenomenon. There are more women going from countries like Saudi Arabia."
Register for free to continue reading
Registration is a free and easy way to support our truly independent journalism
By registering, you will also enjoy limited access to Premium articles, exclusive newsletters, commenting, and virtual events with our leading journalists
Already have an account? sign in
Join our new commenting forum
Join thought-provoking conversations, follow other Independent readers and see their replies