Isis propaganda video praises Paris shootings and threatens more attacks across Europe, warning 'the Caliphate is coming'
Video shows three French-speaking militants urging other extremists to 'kill infidels'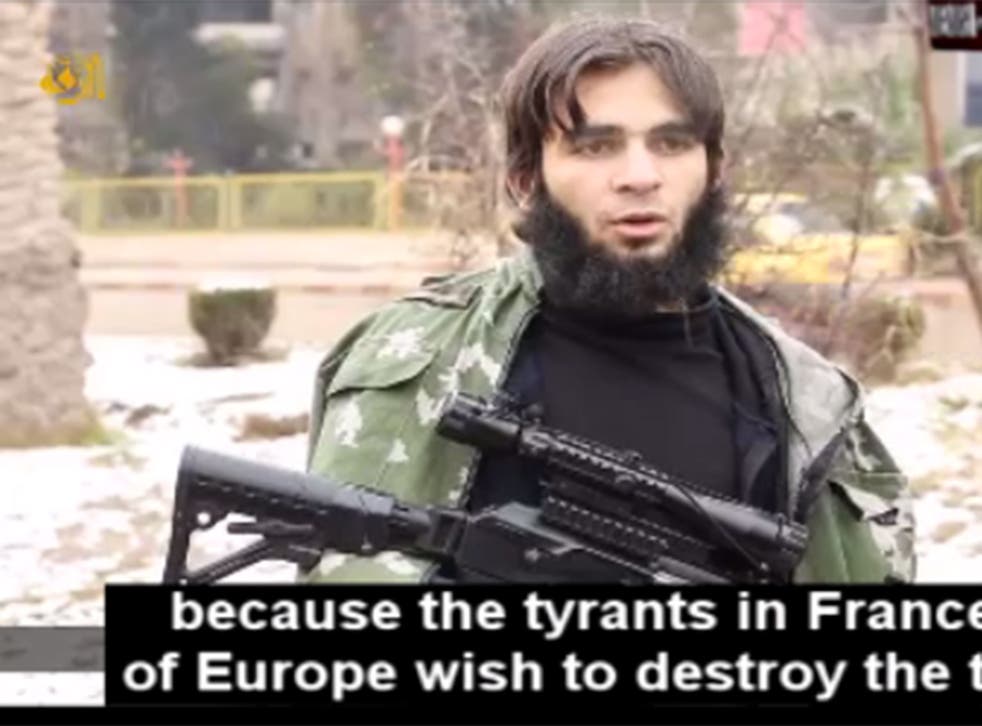 The Isis militant group has released a new video praising the attacks on Paris that killed 17 people last week, and warned that more attacks are to come.
Three French-speaking jihadists are shown in the video which, according to monitoring groups, was published by Isis's media wing in Raqqa, Syria, and shared via social media.
The video follows on from a declaration by al-Qaeda in the Arabian Peninsula (AQAP) that they were responsible for the shootings at the offices of the Charlie Hebdo satirical magazine, and that the attack was years in the planning.
Neither AQAP nor Isis have claimed responsibility for the later attacks carried out by Amedy Coulibaly on a female police officer and a kosher supermarket, despite Coulibaly's claims to have worked with the Kouachi brothers who attacked Charlie Hebdo.
The two militant groups remain at odds on a range of theological points and, experts say, their relationship has "never been worse".
Yet in the new video, one Isis fighter praises the apparent work of AQAP saying: "We have heard the good news that our brothers have defended Islam and sent those who mocked the Prophet straight to hell."
The video, translated by the US-based Middle East Media Research Institute (Memri), also shows an armed fighter warning of more attacks "in all of Europe".
"I say to all the French people who think that the Islamic State will not reach Europe: Allah willing, we are coming to Europe," he says. "There will be more and more operations like the recent one in all of Europe – in France, Belgium, Germany and Switzerland, in all of Europe and all of America, Allah willing."
Charlie Hebdo: The first edition since the Paris massacre

Show all 15
The fighters, who all appear to be speaking fluent French, encourage "brothers who so far have been unable to migrate" to kill police officers and other "infidels… on the street, in order to strike terror into their hearts".
On Thursday, the Afghan Taliban – another group that has largely been at odds with Isis and has reportedly fought with them in Helmand province – also praised last week's attacks on Paris.
In a statement quoted by the AFP news agency, a Taliban spokesperson denounced the new edition of Charlie Hebdo published on Wednesday, saying the militants "strongly condemn this repugnant and inhumane action".
Join our new commenting forum
Join thought-provoking conversations, follow other Independent readers and see their replies