Isis video propaganda shows children training in caged ring as 'next generation' of militants
Video comes amid Europol's announcement of a Europe-wide police unit to tackle online extremism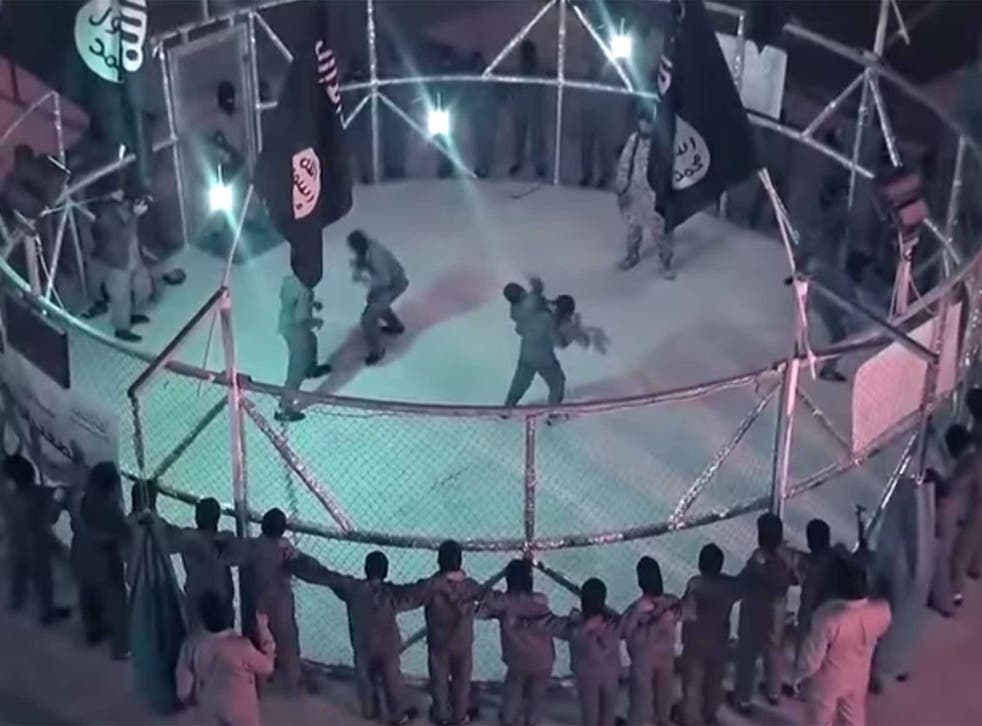 Video footage has emerged appearing to show young children being trained by Isis in an apparent propaganda attempt to "drive home the fact they will be around for a while."
The seven-minute video, circulating on social media for the past ten days, appears to show young boys clad in army uniforms and with balaclavas covering their faces, training in a military facility.
Clips show the young boys grappling in a giant fenced-in ring as an unmasked Isis soldier shouts encouragement.
Charlie Winter, a researcher with London-based counter extremism think tank the Quilliam Foundation, said this was the latest in a series of clips released by Isis during the Islamic holiday of Ramadan showing other aspects of the self-styled Caliphate.
"They are also trying to assert the fact that this is the next generation of Islamic State recruits," he told The Independent. "Although they are kids and it will be years before they are meaningful military assets, they are trying to drive home the fact they will be around for a while."
In the clip the children can also be seen breaking tiles, having wooden sticks smashed over them, as well as practising acrobatic karate-esque moves on one another. Another segment shows the children crawling along the ground as adults appear to let off live ammunition near their heads.
Mr Winter said such images, although appearing bizarre to us, were not unintentional and were "very carefully put together to be as eye-catching as possible".
"If you can have props that resonate with movies or popular culture … it gives everyone a chance to engage in their heroism," he said.
Ancient monuments under Isis threat

Show all 8
The Quilliam researcher added that the use of children in propaganda was an "easy win for publicity" for Isis, also known as the Islamic State. "The total way they train these kids, it really does demonstrate that this will be an issue for a long time."
It is not the first time children have been used in the extremist organisations' propaganda but this latest clip surfaces amid news of a Europe-wide police unit dedicated to tackling key pro-Isis social media accounts, Europol confirmed today.
Join our new commenting forum
Join thought-provoking conversations, follow other Independent readers and see their replies