Isis: Secret footage purports to show life under the Islamic State in Raqqa
Video showed French women living under Isis reassuring their families back home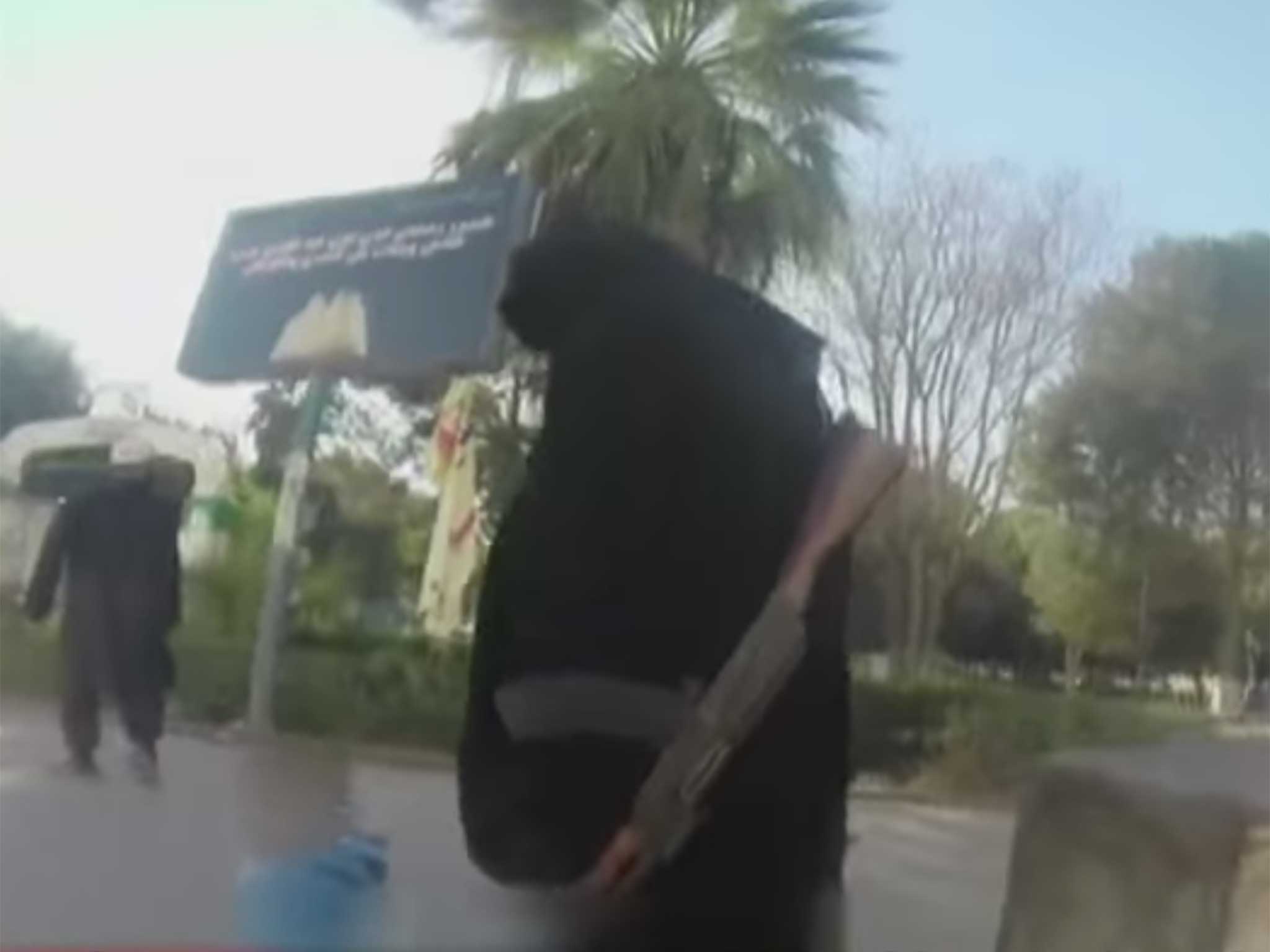 A woman has provided a rare glimpse of what live is like under the brutal rule of Isis after secretly filming herself walking around the streets of the terror group's capital in northern Syria.
In the video, which was shot in the city of Raqqa, armed women and men can be seen walking the streets – in one instance a woman with what appears to be an AK-47 strapped to her back takes a toddler into a playground.
Raqqa has become the stronghold of the militant group as it tries to establish a caliphate across northern parts of Syria and Iraq.
The video, which was first broadcast on France2, also shows French women talking to their families via Facebook in an internet café in the centre of Raqqa.
One woman, appearing to hold up a baby, says: "I am not going back".
"I am telling it to you bluntly. I did not take the risk by coming here to go back to France. I will not go back. I do not want to return because I am doing well here," she claims.
"There is nothing to gain from weeping or being afraid. All I see on TV is false. Do you understand? I swear it is false.
"They exaggerated everything on TV," she claims.
Timeline: The emergence of Isis
Show all 40
Kristyan Benedict, Amnesty International UK Syria Campaign Manager, said: "The women shown in this video may think they're going to be respected and allowed to live freely, but the likelihood is that at best they'll suffer severe discrimination and at worst they could be abducted, raped and killed."
Later in the footage the filmmaker is interrogated by two men in a car, who tell her to be more careful as they might be able to see through her niqab.
"You have to pay attention by covering up," says one. "God loves women who are covered."
According to the video, around 150 French women are estimated to have travelled to the territories occupied by Isis in Syria and Iraq.
Join our commenting forum
Join thought-provoking conversations, follow other Independent readers and see their replies