Isis in Syria: Kobani stood up to the jihadists and won - but it's still a city under siege
The Syrian city did not experience the same fate as Mosul and other towns in the region, but today it lies in ruins with vital aid often blocked at borders controlled by a suspicious Turkish government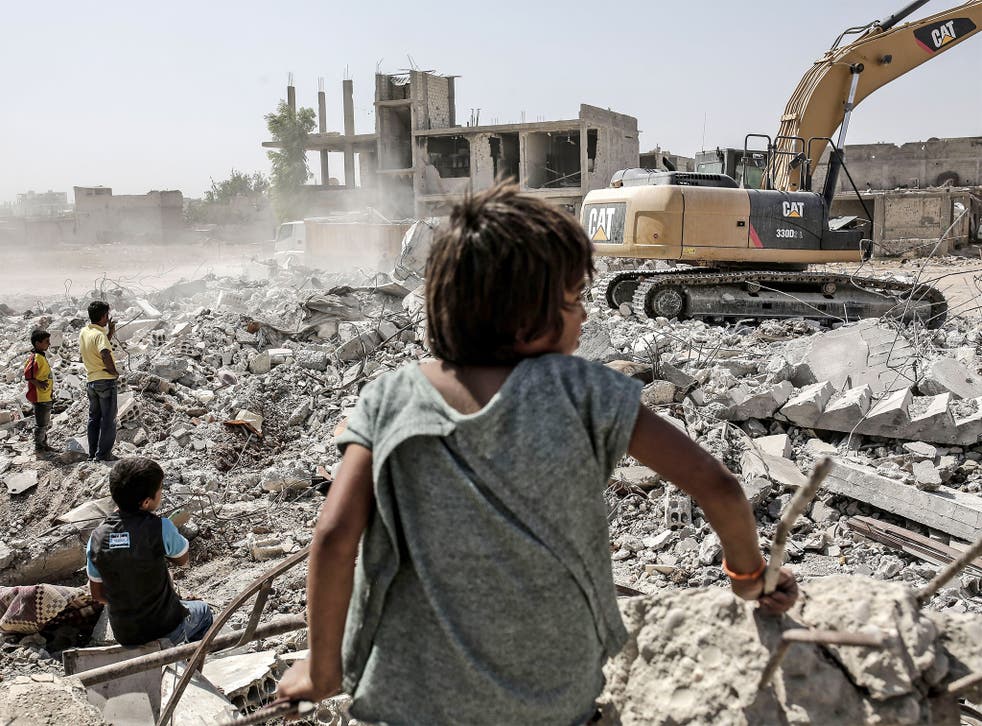 Syrian Kurdish fighters won the greatest victory in Kurdish history in January when they defeated Isis – "Islamic State" – in the battle for the city of Kobani on the Syrian-Turkish border. One thousand YPG (People's Protection Unit) militiamen and several times that number of Isis militants were killed in the four-and-a-half month siege. Some 70 per cent of Kobani city was destroyed, mostly by US air strikes that turned buildings held by Isis into fragments of pulverised concrete.
But in one important sense the siege of Kobani has never ended because the city is in the Kurdish region of Syria, known to the Kurds as Rojava, which has been deliberately isolated from the outside world. The border crossing to Turkey is closed to everybody, aside from two days a week when Kurdish refugees are allowed to return to Kobani from Turkey.
The Kurdistan Regional Government (KRG) in northern Iraq also limits the flow of people and goods in and out of Rojava, the quasi-state which has developed out of the three Syrian Kurdish enclaves, of which Kobani is one, just south of the Turkish border.
Isis holds every other entry and exit point into Rojava, so the two million Kurds there are victims of a blockade on all sides which still claims its victims. Abdul Rahman Hamo, the general coordinator for Kobani's reconstruction, says that among those not allowed to enter Rojava from Turkey or KRG are desperately needed foreign de-mining experts with their specialised equipment. As Isis fighters retreated from Kobani City and the 380 villages around it, they left behind great numbers of mines and booby traps. "Some 48 of our people have been killed by mines in the last two months," says Mr Hamo.
"Many villages are still evacuated because they are full of mines that have not been defused." He estimates that there are 150,000 Kurds in Turkey who would like to come home "but they are scared of the mines". The YPG tried defusing the mines itself, but lacked the training and equipment necessary to do so without excessive risk. "We lost four of our men," says Mr Hamo. "Foreign NGOs have their own de-mining devices, but Turkey and the KRG does not allow them in."
The same blockade is preventing the entry of equipment needed to remove the great mounds of shattered concrete in Kobani. The streets we drove down were generally clear, but the buildings on either side of us had often been turned into giant concrete sandwiches as floors had concertinaed on top of each other. Mr Hamo said: "We have taken away 60,000 truck-loads of debris each weighing 20 tons, but that is only 40 per cent of the work".
Pockets of normal life continue in between individual buildings and blocks that are utterly devastated, with people running small shops or sitting on plastic chairs sipping tea. There is no electricity except what is provided by small generators and water comes from newly dug wells because Isis has cut off the water supply from the Euphrates. Local hospitals say they are short of almost everything they need, including simple medicines.
Despite this, 4,000 refugees are returning to Kobani every week from Turkey when the border crossing is briefly open. We found Aljin Bako who had returned from Turkey with her five sisters and four brothers on 25 May to their old house. She said that "the house suffered little damage, but the Isis fighters who were living there smashed everything before they left".
The Isis men appear to have spent a lot of their time trying to smash open an enormous safe they had found in the house, supposing it to be full of money. The Bako family all appeared to find this extremely funny because they said they had removed all documents and valuables from the safe before leaving. This did not quite explain why they needed such a large safe, but the fact that their father was in the money exchange business may have had something to do with it.
Aljin sounded unintimidated by the massacre that took place around her house, when between 80 and 100 Isis fighters disguised in YPG uniforms penetrated Kobani on 25 June. Over the next four days they slaughtered at least 223 civilians, men, women and children, before they were hunted down. "It started at 4.30am when we heard sounds of men shouting and we just stayed inside," she said.
Could Isis come back to Kobani? The commander of the YPJ (Women's Protection Units) in Kobani, Fidan Zinar, says that "we are not confident that they will not come back because they still have cells in the region and there are gaps in the line they could get through". She says this might be true of an Isis raid or suicide mission, but they could not launch a full military campaign to capture the city.
Though Kobani is mostly in ruins and the threat from Isis has not disappeared, its people are very conscious their city has become a symbol of Kurdish heroism and determination, the equivalent of Verdun in France or Stalingrad in Russia. "It was the first time that anybody had stopped Isis," says Idris Nassan, vice-minister of foreign affairs for Kobani Canton. "They took other cities like Mosul in a couple of hours."
There are already plans for a museum and a memorial hall for the fighters who died defending the city. In one corner of the civilian cemetery, there are three small tombs in grey marble where the drowned bodies of Aylan al-Kurdi, his five-year-old brother Galip and their mother Rehan are buried. They died trying to cross from Turkey to Greece this month.
But for all the fame of the battle of Kobani its future remains fragile, with a hostile Turkey closing the Kurds' border crossings that it kept open when Isis was in control. At Tal Abyad border crossing, captured by the YPG from Isis in June, the elaborate facilities are completely empty. Fawaz, the manager of the crossing, says that "many times we try to send ambulances with wounded people in them to the Turkish side, but they do not open the gates and many die".
The main problem for Kobani is the lack of any corridor to the outside world. Mr Hamo recalls bitterly that he attended a conference on reconstructing Kobani which was organised by the European Union in Brussels. He listened to speech after speech by government officials promising money and aid, but so far nothing has arrived. The siege of Kobani is not entirely over.
Join our new commenting forum
Join thought-provoking conversations, follow other Independent readers and see their replies