Isis in Syria: The militia that has transcended tribal divisions to fight Islamic State
Syria's army cannot hold all the ground it takes from Isis or other Islamist groups. Hence the existence of the NDF.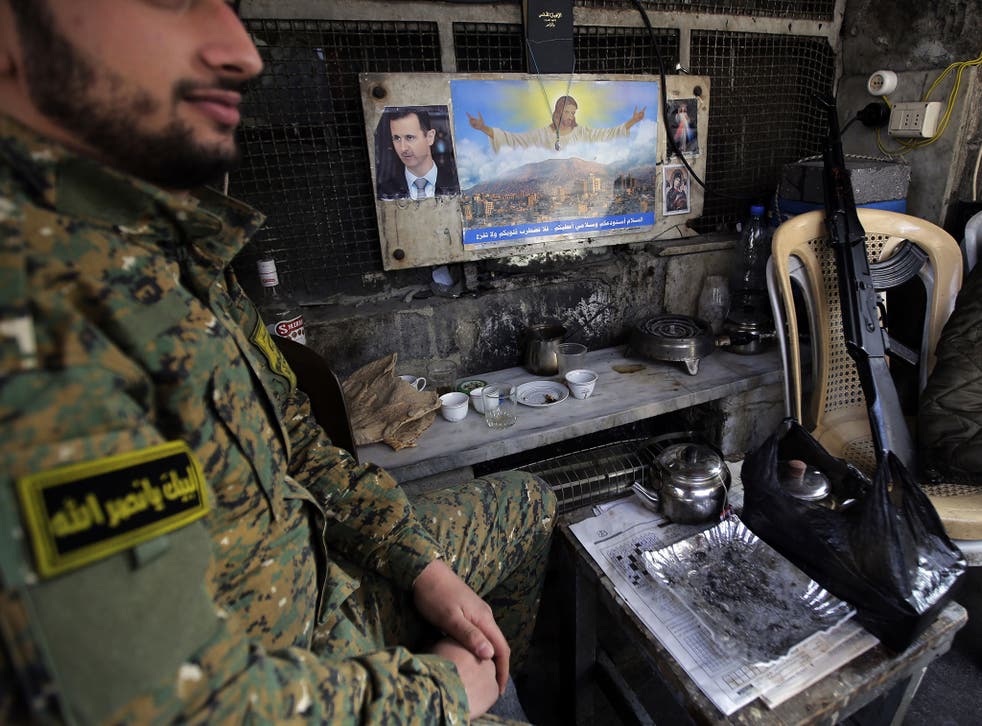 Militias worry me. No rules, no guidelines, no punishments. The Israelis used an undisciplined mob called the South Lebanon Army. The Americans used their infamous Awakening groups to murder al-Qaeda members in Iraq who were themselves killing American soldiers. The Hezbollah is Iran's militia in Lebanon – and now in Syria.
So I was intrigued to visit Syria's National Defence Forces (NDF) in Qamishli, far to the north-east of the country, which includes – like the newly formed anti-Isis Dwekh Nawsha (Self-Sacrifice) group in the Iraqi village of Bakufa – Christians as well as Muslims. Do not have any illusions. This is a government-sponsored organisation whose flag depicts a fist in Syria's national colours. It has around 900 members – and its mission is perfectly clear.
Syria's army cannot control the country. It can recapture territory from Isis or other Islamist groups, but it cannot hold all the ground it takes. Hence the existence of the NDF. They must sit tight on the territory the army takes. In the Alawite mountains, its enemies call them the Shabiha, but after a series of massacres in the early years of the Syrian war, they have been brought under central control. Its commander in Qamishli is an army major. Abu Dari, a tribal leader, founded the first units of the NDF in Qamishli. "At first, it was all a tribal army," the major says. "Little by little, we managed to dissolve the tribal defences. So now the tribes no longer have groups of their own. We benefited from the tribal feelings, but now we have formed a multi-tribal force. We have men from different tribes all together, some of them from the countryside round Damascus from which they had to flee. They are for security and intelligence-gathering. Each time we gain a village, we organise them to go there."
In pictures: The rise of Isis

Show all 74
All this sounds a bit like the B Specials in Northern Ireland, lads who know the land – and who, in that glorious province, could tell a Catholic from a Protestant (which was their purpose) – and know the people. In Qamishli, however, there are Muslims and Syriac Christians and even a few Armenians serving in the force. More interestingly, one 200-strong unit of this militia is all Christian and calls itself Sotoro which, in the Syriac language, means "Protect". Its symbol is an eagle's head.
So I padded down town to visit these men. Khaldun Hanno – a Syriac himself – obviously joined Sotoro to encourage his fellow Christians not to leave their homes. "Christians have left here in such numbers because they have the ability to leave and they got facilities to go to Sweden," Hanno said. "We decided from the beginning that we wanted to defend our country and our homeland. This is our land. Sweden is not our land. We operate only within the city. So unlike our colleagues we have so far not sustained any casualties." The men I met included a civil servant, an electrician and a sales rep. Hanno has two brothers, one in the army, another runs a pizzeria. So far so good.
But outside the town, the NDF, since they were set up in January of 2013, have suffered 50 deaths, some men taken from their tribal villages and executed in the night by Islamist groups. Ahmed Sulieman Abdul-Aziz, for example, was taken from Jilbarat village where he lived with his wife and six children, and beheaded elsewhere in the neighbourhood.
"We've had three captured and slaughtered on 3 May this year," the major said. "The killers videotaped their beheading and we all watched the tape." Silence now. This is pretty hideous stuff. After some executions, the Islamists, I'm told, don't immediately release the videos to the world. They send them first to the wives and parents of the murdered man.
"Cruelty is not restricted to Isis," another militiaman says. "Isis is just the new face of cruelty. Because we work very closely with the army and can give the army first-hand information on the villages, the armed groups hate us a lot. On more than one occasion, we've rescued our own fighters." And, like the army, the NDF are not known to take prisoners. I asked Hanno when the Syrian war would end. "We hope soon, but we are thinking that we will have to fight for far longer. Time is a wheel and it turns again and again."
And as the wheel turns, strange phenomena emerge. Soldiers and militiamen acquire nicknames. First Lieutenant Allah Hassan of the Syrian parachute regiment south of Qamishli, for example, is called "the King of Terror for Isis". His colleagues even let the locals know when he returns from leave so that Isis will know he's back. I couldn't find out how this name was acquired, but I have my suspicions. And in the Islamist ranks, women have made their appearance. Moroccan women, army officers, the NDF says, have turned up to guard one of the Islamist crossing points into Turkey. Two Islamist women were found dead with Ukrainian passports. How many more secrets will we discover in this terrible war? And how many more will never be disclosed?
The four-star hotel? Well it's halfway there
And so to a gloomy street in Qamishli town where the brash neon sign of the "Merry Land Hotel" greets every guest. More Bates Motel, I suspected, than anything to do with good cheer. True, it was renovated in the good old days – it even boasts a pool and a wedding room – and the owner is a real gentleman; this is meant in the best sense of the word. But the walls are damp. My bedroom door handle was missing. The loo didn't flush and the shower was cold. That's war for you. I liked my driver's assessment when we arrived.
"This is a four-star hotel," he said. "But one day, two of the stars flew away."