Isis timeline: A year under the so-called Islamic State
Tracking the jihadist group's rise declaring a 'caliphate' last June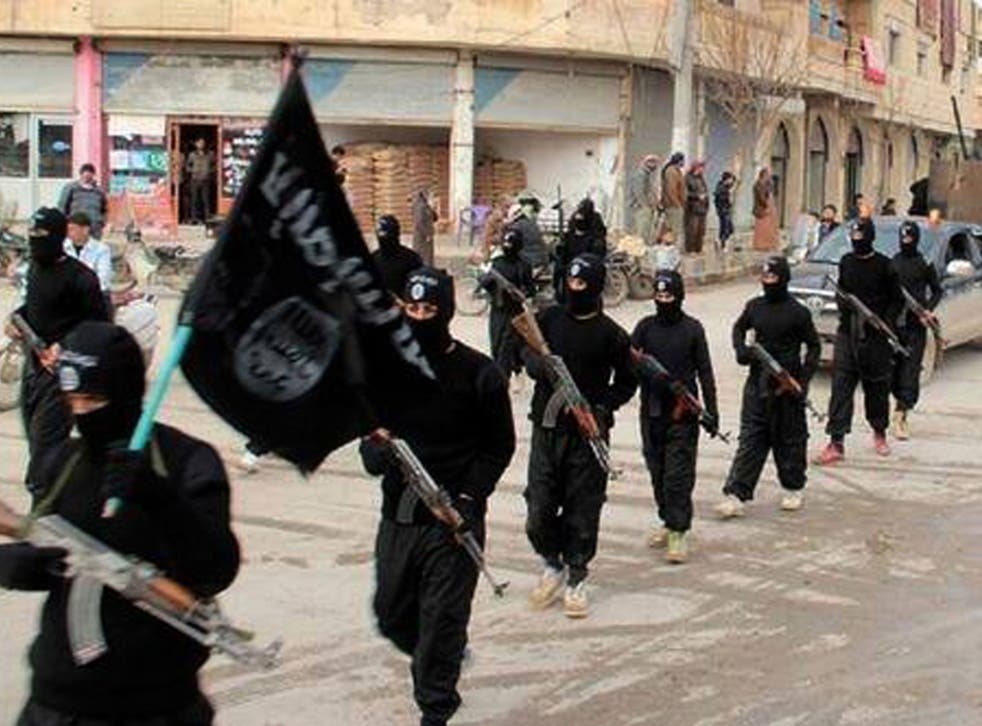 Since declaring a 'caliphate' in Syria and Iraq the influence of Isis has spread across the world.
A year on, we track the rise of the so-called Islamic State from it taking control of Mosul and Tikrit last June up to its destruction last week of Palmyra's ancient monuments:
June 2014
---
10: Isis seizes control of Mosul, Iraq's second largest city, then the day after the group takes Tikrit.
29: Isis declares a caliphate across controlled areas in Syria and Iraq while calling for global allegiance. Abu Bakr al-Baghdadi declares himself the leader – or caliph - of the 1.8 billion Muslims all over the world.
July
---
2: Al-Baghdadi calls for all Muslims to gather to his new land and unite to "capture Rome" and own the world.
3: Isis takes control of al-Omar, Syria's largest oil-field
5: Al-Baghdadi is recorded in his first public appearance, at the Grand Mosque in Mosul, calling on all Muslims to obey him.
17: Isis claims to have killed 270 people after seizing the Shaer gas field in Syria. Days later dozens of Iraqi Christians leave after a warning by Isis that it will carry out a similar attack if they do not convert to Islam.
26: Isis blows up Jonah's tomb, a holy site in Jewish heritage.
August
---
3: Militants capture the city of Sinjar. They begin a massacre that culminates in the deaths of over 5,000 men from the Yazidi religious sect. Thousands of women are raped and sold into slavery. 200,000 Yazidi flee with as many as 50,000 becoming stranded on the Sinjar Mountains surrounded by ISIS.
6: Kurdish forces join the fight against Isis.
8: US President Barack Obama authorises the first air strikes, which subsequently drop bombs outside the Kurdish city of Erbil, where Isis movement had sparked a mass exodus.
15: Isis massacres a Yazidi village in northern Iraq.
19: Isis' media arm uploads a video entitled "Message to America," showing the beheading of the American journalist and hostage James Foley. The masked militant, who speaks with a British accent, demands the US ceases air strikes.
29: The UK Home Secretary Theresa May raises the UK terror level to 'severe' in response to the conflict in Iraq and Syria.
September
---
2: Isis uploads another video featuring the same militant (now known by his tabloid monikor 'Jihadi John'), this time showing the beheading of another US journalist, Steven Sotloff.
5: The US announces the formation of a coalition to "destroy the threat posed by Isis". The ten-nation coalition comprises of US, Britain, France, Germany, Canada, Australia, Turkey, Italy, Poland and Denmark.
11: The CIA announces that Isis now has between 20,000 to 31,500 fighters.
13: Isis releases another video, showing the execution of British aid worker David Haines by 'Jihadi John'. The militant threatens to kill another British hostage if the UK continues its 'evil alliance with America.'
22: Isis executes Iraqi human rights activist Samira Salih al-Nuaimi
23: US warplanes bomb Isis fighters in Raqqa, a northern Syrian city claimed by Isis to be its capital.
24: Isis-affiliated Algerian militant group Jund al-Khiilafah kidnap and behead a French tourist, Hervé Gourdel
29: Isis releases a video showing the kidnapped British journalist John Cantlie in an orange jumpsuit reading a seemingly scripted message criticising President Obama.
October
---
3: Isis releases a video showing the beheading of the British aid worker Alan Henning as they threaten to kill another, the American aid worker Peter Kassig, also known as Abdul Rahman Kassig
16:

Isis is pushed back from the Syrian city of Kobani with help from US air strikes.
29: Senior Australian figure and Isis recruiter Mohammad Ali Baryalei is reportedly killed in Syria.
November
---
3: The Iraqi government announces Isis has killed 322 members of the Albu Minr tribe during a series of executions.
8: Iraqi government officials claim that Isis leader al-Baghdadi is wounded in a coalition air strike near Mosul.
13: A recording of al-Baghdadi surfaces as in which he claims the US military-led campaign is failing and that the coalition of "America and its allies are terrified, weak and powerless" and to "light the Earth with fire under all the tyrants and their soldiers and supporters."
16: The group claims to have beheaded American aid worker Peter Kassig along with a dozen Syrian soldiers.
29: At least 40 fighters on both sides are killed in the city of Kobani during a battle between Syrian Kurds and Isis militants.
December
---
19: Isis is pushed out of most of the Sinjar region of Iraq.
21: The Sinjar offensive is considered a success with a Kurdish victory.
24: Isis militants claim to shoot down and then capture a Jordanian pilot in northern Syria. They demand the release of Sajida al-Rishawi, an al-Qaeda prisoner held in Jordan over a failed suicide bombing.
January 2015
---
4: Isis attacks Saudi Arabia near the border city of Arar, killing four border guards.
10: A video released shows Taliban fighters pledging allegiance to Isis.
18: Isis releases about 250 Yazidis.
20: The group demands a ransom of $200 million from Japan in exchange for two Japanese hostages, Kenji Goto and Haruna Yokawa.
24: A video is uploaded that seems to show Goto holding a photo of Yokawa, who has been beheaded.
26: Kurdish fighters take control of the Syrian border town of Kobani after fighting Isis for months.
31: A video is released showing the beheading of Kenji Goto by the British militant.
February
---
3: Isis supporters post a video online of the captured Jordanian military pilot Moath al-Kasasbeh being burned alive in a cage.
5: The Jordanian military carries out a series of air strikes on Isis training centres and weapons depots.
6: Isis claims a Jordanian air strike killed the American hostage Kayla Mueller.
10: Kayla Mueller's family announce she is dead after receiving confirmation from Isis.
11: President Obama asks Congress to authorise use of military force against Isis.
15: Libyan Isis militants release a video that appears to show the group beheading 21 Egyptian Christians.
16: Egypt launches air strikes on Isis camps, training sites and weapon depots in retaliation for the beheadings.
22: Isis releases a propaganda video of Kurdish Peshmerga troops in orange jumpsuits in cages.
26: The identity of terrorist known as 'Jihadi John' is revealed as Mohammed Emwazi, a Kuwati-born Londoner. Isis also releases a video of the destruction of historical artefacts in the Mosul Museum.
March
---
4: Isis releases images of a man thrown off a building as punishment for being gay.
12: Boko Harem, the Islamist militant group in northern Nigeria pledges allegiance to Isis. Isis accepts.
20: Isis takes responsibility for a suicide bombing that kills 137 people and wounds over 300 in Yemen.
24: Isis uses the town of Tataouine, a Tunisian town that inspired the Star Wars city of Tattooine, as a waypoint to cross into Libya.
25: US-led coalition begins air strikes on the Iraqi city of Tikrit.
April
---
1: Iraq declares victory over Isis in Tikrit.
12: Iraqi government declares Tikrit free of Isis forces.
18: Fighters in Isis' Wilayat Khorasan province claim responsibility for a suicide bombing in Afghanistan that kills 33 people and injures over 100.
19: Isis produces a video showing the shooting and beheadings of two groups of prisoners, who are identified as Ethiopian Christians.
May
---
1: It is reported that Al-Baghdadi is recovering in Mosul
2: Isis kills 300 Yazidi captives in Iraq.
5: The group claims an attack in Garland, Texas, where two gunmen opened fire on a contest to draw the Prophet Mohamed.
13: Abu Alaa Afri, the deputy leader of Isis, is killed in US-led coalition air strike.
16: US Special Ops kill Abu Sayaaf, a senior Isis commander, and capture his wife.
17: Isis seizes the city of Ramadi in Iraq. Over 500 people are killed.
20: Isis takes control of the ancient city of Palymyra, Syria.
28: The group claims it has seized the Libyan Air Force airport in Sirte.
June
---
1: A militant posts a "selfie" online, which leads the US military to identify and perform air strikes on a compound, destroying it in the process.
2: Isis closes the gates of a dam in Ramadi.
7: Isis captures 10 Taliban militants in Afghanistan and beheads them.
15: Syrian Kurdish fighters take the town of Tell Abyad from Isis.
23: Kurds take back a key base north of Raqqa from Isis fighters.
On the same day, a video emerges showing a group of hostages being split into three, before some are executed using a rocket-propelled grenade, others are drowned in a cage and the rest are beheaded using electrical charges.
Militants begin destroying ancient monuments in the ancient city of Palmyra.
Join our new commenting forum
Join thought-provoking conversations, follow other Independent readers and see their replies