Isis video showing Libyan 'spy' dragged to death behind a speeding truck betrays disturbing new trend
In its propaganda for international audiences, Isis now spins a story of state-building and 'utopia'. But the executions go on in the regions it controls and, for Libya, experts fear it is only going to get worse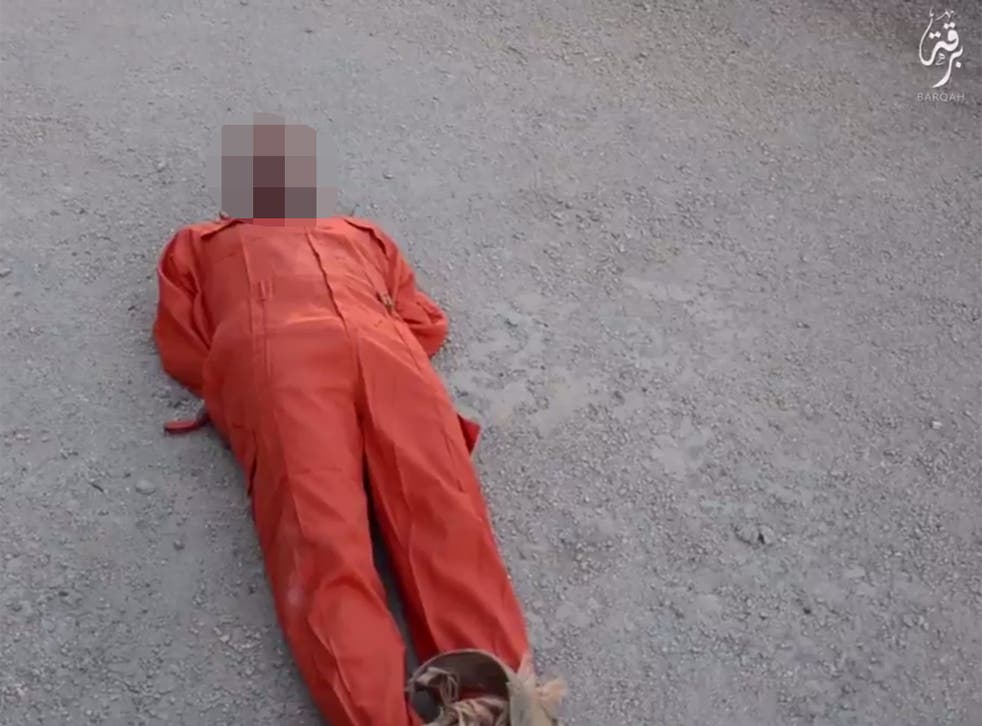 The Isis militant group has released an execution video showing a man being dragged to death behind a truck, in what experts say could be the start of a disturbing trend of new releases.
The footage, produced by Isis's "Cyrenaica Province" in Libya, appears to show a man "confessing" to spying before he is pulled along the ground by a speeding vehicle.
Libyan media have named the man as 43-year-old Rushdi Ageela Omran al-Masouri. Dressed in an orange jumpsuit, the grey-bearded man can be seen admitting links to Libyan militias before he is killed.
The video also includes footage of another jumpsuit-wearing captive, identified by the Libyan Herald as 23-year-old Mohamed Tayib Ali al-Amri, being forced to dig his own grave before he is shot in the head with a shotgun.
While the brutality of the killings is not unheard of for the Isis group, the methods of execution appear unprecedented, prompting experts to suggest the footage could point towards a new style of video showing the reign of terror in the so-called "Islamic State" territories.
Isis's brutal execution videos have shocked observers around the world, but the group's main media arms in Syria and Iraq have recently moved away from a message of global fear.
Internationally, the group's videos portray a message of state-building and "utopia" in the lands it controls. But the executions continue on a regional level, betraying a form of control exerted by Isis that is no less terrifying.
Dr Andreas Krieg, a Middle East expert from King's College's Department of Defence Studies, said the "gruesome" new video came in the context of a Libyan conflict where Isis "needs to show strength, determination and rigor" instead of the benefits of an established society.
"In Libya, Isis sees itself confronted with a political climate that is more prone to reconciliation than conflict," he told The Independent. "They don't want to present themselves as cooperative. They are anarchistic. They need the old order to fully disintegrate for Isis's own 'order' to be embraced by the public."
Charlie Winter, a researcher with the anti-extremism think-tank Quilliam, said it was possible the group was responding in like kind to Syrian rebels, who dragged the body of a killed Isis fighter behind a truck in a video released in late August.
In pictures: The rise of Isis

Show all 74
He said the video was intended for Libyan eyes rather than the international audience, and warned that there were likely to be more to come if Isis can extend its foothold in the war-torn country.
"There has been a shift from an international to a regional focus," he said. "The people they are killing now are alleged spies or alleged dissenters – they aren't trying to outrage the wider community, they are more trying to dissuade people from committing acts against them."
International tactics of intimidation appeared to have been the "first stage" for Isis in Syria and Iraq, Dr Krieg said.
"They needed attention," he said. "Now they are established and quite stable in most areas. They are moving to stage two, which is still based on the same rigorous enforcement of the hudud, but focuses more on winning hearts and minds.
He added: "Public legitimacy and consent is more important now than intimidation in the Syrian and Iraqi context. Unlike in Libya, there is no threat to Isis there - there is no alternative to Isis in Syria and Iraq."
Join our new commenting forum
Join thought-provoking conversations, follow other Independent readers and see their replies