Isis propaganda video shows women fighting for first time amid 'desperation' to bolster ranks
Analyst says women are 'last resort' after thousands of fighters killed in battles that drove jihadi group out of former 'caliphate'
Lizzie Dearden
Thursday 08 February 2018 15:38 Comments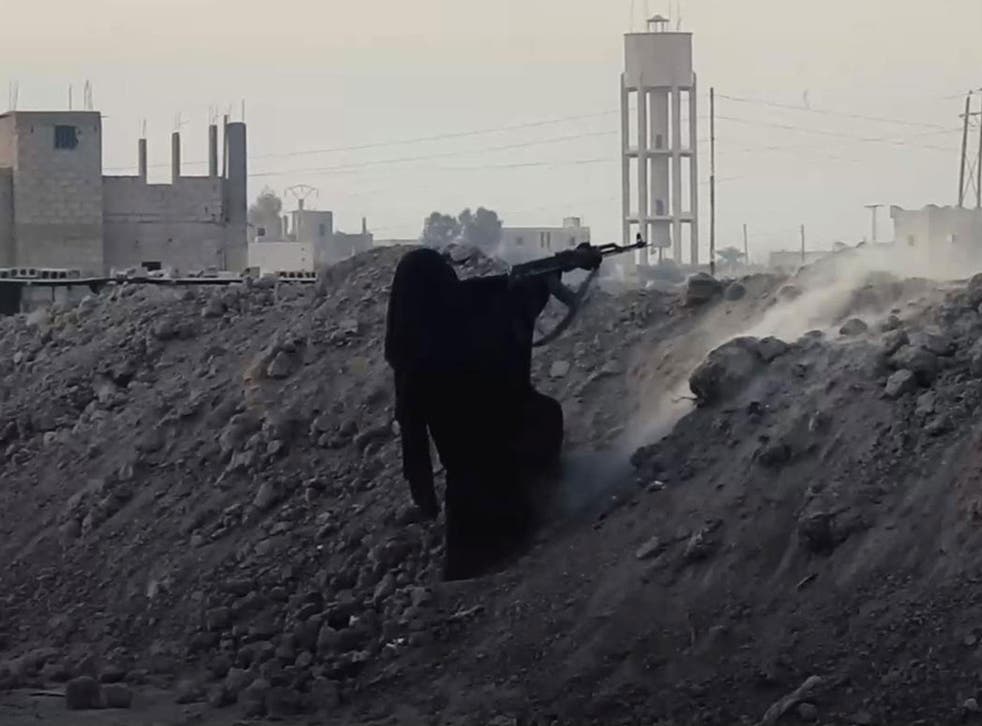 Female Isis members have been filmed fighting on the front line for the first time as the group becomes "desperate" to bolster its dwindling ranks.
A new propaganda video showed at least five women armed with guns being driven to battle in a truck flying the Isis flag.
One can then be seen fighting alongside male militants, firing a rifle over defensive earthbanks in what appeared to be clashes along the Euphrates river in Syria.
In the video, released in both English and Arabic, a narrator hailed men "rising in response to the call of jihad… and following them, the chaste mujahid woman journeying to her Lord with the garments of purity and faith, seeking revenge for her religion and for the honour of her sisters imprisoned by the apostate Kurds.
"They launch the battle to avenge the chaste women – it is a campaign that commences a new era of conquest."
The narrator was referring to the Kurdish People's Protection Units (YPG) and other groups that drove Isis out of its major Syrian stronghold as part of the US-backed Syrian Democratic Forces.
After losing every city and major town it once held in the self-declared "caliphate", the terrorist group's territory has been reduced to a small strip of the Euphrates and rural patches of Syria, Iraq and the border between the two countries.
By the end of December, the US-led coalition estimated that there were fewer than 1,000 Isis terrorists in the areas it had been bombing, "most of whom are being hunted down in the desert regions in eastern Syria and western Iraq".
Nikita Malik, director of the Centre for the Response to Radicalisation and Terrorism at the Henry Jackson Society, said Isis's falling numbers mean it is "having to rely on every single person".
"It shows an element of desperation," she told The Independent. "It's a big deviation from their initial propaganda that women were homemakers who should take a secondary role."
There have been isolated reports of female Isis fighters, snipers and suicide bombers in battles including Deir Ezzor and Mosul, but Wednesday was the first time Isis publicly acknowledged their existence.
Ms Malik said the admission was a sign of "weakness", adding: "If this had come out a year or two ago or when they were at their peak it would have shown a change of tactic, but this seems to be the last resort because they don't have enough people."
The same propaganda video contained limited battlefield footage and a high number of suicide car bombings, with several carried out by disabled militants who had already lost limbs in battle or bombardment.
It did not repeat Isis's previously customary calls for extremists to travel to the "caliphate" – a message that has faded in line with its shrinking territory, to be replaced with propaganda encouraging global terror attacks and instructing followers on how to carry them out.
Ms Malik said the video did not represent a "fundamental shift" in Isis's view of women as radicalisers, supporters and enablers of jihad, who are mostly confined to the home.
"There's no evidence to show these women have actually been trained… like children have been," she added.
"It's a sign of their weakness because there is no strong strategy."
Ms Malik said she did not expect the propaganda to cause a new wave of female foreign fighters travelling to Isis territories, adding that the potential effect on homegrown terror attacks "remains to be seen".
Isis has previously prohibited women from fighting on the battlefield, instead encouraging them to marry fighters, spread propaganda and bear and indoctrinate children to populate its so-called Islamic State.
Syrian Democratic Forces take Raqqa from Isis – in pictures

Show all 8
British members including Khadijah Dare and Sally-Anne Jones have been pictured with weapons including guns and a crossbow but are not known to have joined front line combat.
Isis hinted at a change in policy in October, when an edition of its Arabic-language newsletter contained an article telling female supporters it was an "obligation" for them to wage physical jihad.
"Today, in the context of the war against the Islamic State, it has become necessary for female Muslims to fulfil their duties on all fronts in supporting the mujahideen in this battle," it said, adding that women should "prepare themselves to defend their religion by sacrificing themselves by Allah".
In July, another article purporting to be from a female Isis member in its Rumiyah online propaganda magazine said the time had come for women to "rise with courage and sacrifice in this war… not because of the small number of men but rather, due to their love for jihad".
Women undergo less stringent screening than men emerging from the group's former territories and have been considered minor players in the global terror treat emanating from Isis.
They have not been specifically included in calls for terror attacks targeting countries bombing its territories and Isis has not celebrated female supporters who launch atrocities.
Tashfeen Malik, who massacred 14 people alongside her husband in San Bernardino, was not praised as one of its "soldiers", nor were three women who attacked a police station in Kenya with knives and firebombs.
But such ambivalence has not stopped women attempting terror atrocities, including Hasna Aït Boulahcen, who was among those involved the 2015 Paris attacks cell and died in a raid targeting ringleader Abdelhamid Abaaoud.
Female jihadis have been arrested across Europe and in the UK and a group of women have been charged with mounting what is thought to be Britain's first all-female terror plot.
Register for free to continue reading
Registration is a free and easy way to support our truly independent journalism
By registering, you will also enjoy limited access to Premium articles, exclusive newsletters, commenting, and virtual events with our leading journalists
Already have an account? sign in
Join our new commenting forum
Join thought-provoking conversations, follow other Independent readers and see their replies