Islamic State: Propaganda photos claim to show Isis militants delivering food aid in Rutba
Isis appears to be trying to legitimise its de-facto Governments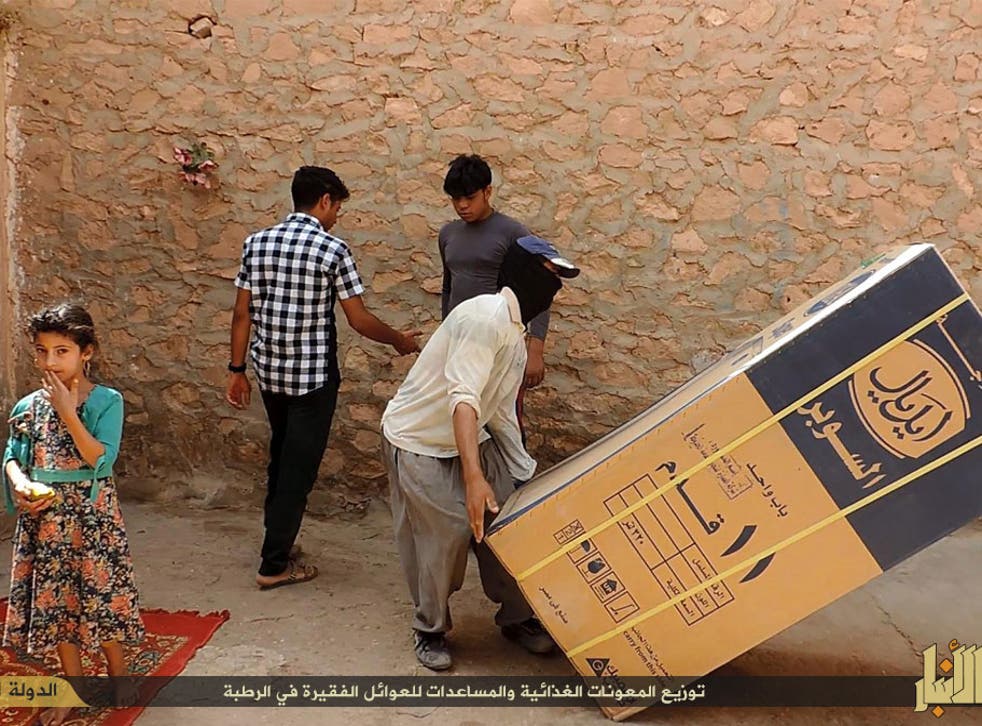 Islamic State (Isis) militants have broken away from their stream of gory propaganda films glorying in executions, explosions, beheadings and floggings to show fighters apparently delivering aid.
A collection of photos posted online claims to show militants distributing food and even new fridges to poor families in Rutba.
The town, just 90 miles from the border with Jordan in Anbar province, was seized by the Sunni extremist group during their advance through northern Iraq in June and has been under Isis control ever since.
The undated photos, which cannot be verified, seem to show masked militants giving out bags of fruit and vegetables and unloading boxed fridges from vans as civilians and children mill around.
A rough translation said the post on JustPaste, which is frequently used by Isis and affiliated groups, was from the "media office of the mandate of Anbar".
It was unclear how the goods were obtained and they may have been stolen or seized by force from killed, evicted or terrorised civilians.
Rutba had been under the control of the Iraqi army for just four years when it fell, having been occupied by various American regiments since the 2003 invasion of Iraq.
It saw the deadliest day in the conflict for the US when a Marine helicopter crashed outside of the town killing 31 people on 26 January 2005.
An American army captain who served there in 2003 was later court-martialled for staging mock executions of Iraqi prisoners and beating civilians.
Isis appears to be stepping up its propaganda to legitimise its de-facto Governments across the swathes of Iraq and Syria it controls with a brutal interpretation of Sharia law.
In Raqqa, Syria, it controls the electricity and water supply, pays salaries, controls traffic and runs almost everything from banks to schools, courts and mosques.
The province is being held up as an example of life under the Islamic caliphate Isis is waging a bloody war in two countries to found.
Join our new commenting forum
Join thought-provoking conversations, follow other Independent readers and see their replies