Israel accused of 'war crime' over bulldozing of Palestinian olive groves
Outrage as Israeli army cuts down over 1,000 trees in occupied territories, saying it is state land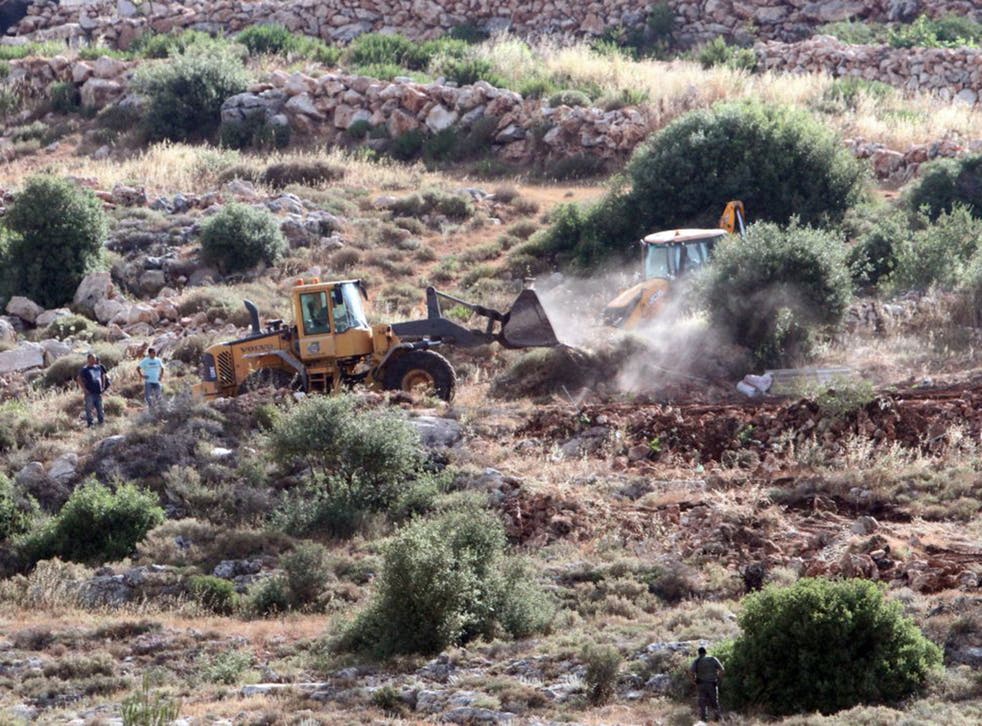 Palestinian leaders have accused Israel of a war crime after military tractors destroyed around a thousand olive and almond trees belonging to local farmers on the grounds that they were illegally planted on state land.
Stunned farmers were at the targeted hillside Friday, aghast that nothing remained of their 5-10 year old trees except a few stumps and some olive tree branches. "They didn't leave me anything," said Sabri Manasra, who said he and a cousin had lost 800 trees. "This is damage no one will forget, not my children, or my children's children. It's damage to our heart. I don't understand how people can do this."
The uprooting operation, the largest of its kind in the southern West Bank in three years, was carried out on Thursday by what farmers said were five military vehicles on land the farmers say they own. Three years ago, Israeli authorities posted signs saying that the land belongs to the state, farmers said.
The authorities say the operation was law enforcement. "Today was carried out the eviction of an illegal invasion of around 1,000 olive trees planted illegally without permits on state land in Wadi Fukin," the office of the Coordinator of Government Activities in the Territories (COGAT), an Israeli governing body, told The Independent. "The eviction was carried out after the enforcement process was completed and orders were delivered."
The famous on Israel-Gaza

Show all 21
But Palestinian leaders say it is the Israeli move that is illegal, and that it violates international legal strictures on the destruction of property on occupied territory. "This is occupied territory and international humanitarian law and the Geneva Convention apply," said Wasel Abu Yusuf, a member of the executive committee of the Palestine Liberation Organization. "This is the land of the Palestinian state and any colonialist settler building or expropriation of land or cutting trees is a war crime against the Palestinian people."
State land declarations are often the precursor to expansion of the settlements, which are considered illegal by the international community. With about 1,200 residents who depend on agriculture for their livelihood, Wadi Fukin is situated in a valley between the expanding West Bank settlement of Beitar Ilit and the town of Tzur Hadassah, just inside of Israel's internationally recognized borders. The tree uprooting took place near Tzur Hadassah.
It follows almost a year after Wadi Fukin lost another 250 acres to a state land declaration that also severely impacted on other nearby Palestinian villages and which settler leaders said at the time would enable expansion. "In the future we will be an island with the settlements all around us, like a jail," said Wadi Fukin mayor Ahmed Sukkar.
Davidi Perl, a local settler leader, in remarks to The Independent, said the government is right to remove trees planted on state land. ''There is no justification for uprooting trees without reason," he said. ''But if they invaded state land and put trees there of course it's justified to uproot them and transfer them to another place. It's the obligation of the state to guard state land and if it's invaded, you have to make sure it remains state land."
Mohammed Sukkar, who lost twenty olive trees Thursday, said his father and grandfather grew wheat on the land and that it has belonged to his family for ''more than hundreds of years." He shifted to olives so that he could make oil, he said. Mr Sukkar, a relative of the mayor, said his trees were just ''beginning to grow olives we can use." he said.
Israeli authorities say that state land declarations are made only after completion of a thorough check to make sure the land is not privately owned.
Mr Manasra said that five years ago he cleared his land with tractors and brought in soil so that he could plant the olive and almond trees. He said he had purchased the land from an uncle and that it had belonged to his family for more than a hundred years. "I planted the trees so that my family could live from them. We have a family of more than twenty people. How will they live?"
The destruction of the trees was condemned by Hagit Ofran, who monitors settlements for the dovish organization Peace Now. "Unfortunately this is part of Israeli policies in the occupied territories meant to limit the Palestinian presence and expand the settlements," she said. "I think this harms the Israeli interest and takes us further from getting to peace and a two state solution."
Join our new commenting forum
Join thought-provoking conversations, follow other Independent readers and see their replies