Israel: Calls for inquiry into police shooting of Palestinian assailant as he lay on ground
One of the bloodier episodes since a wave of Palestinian violence began in October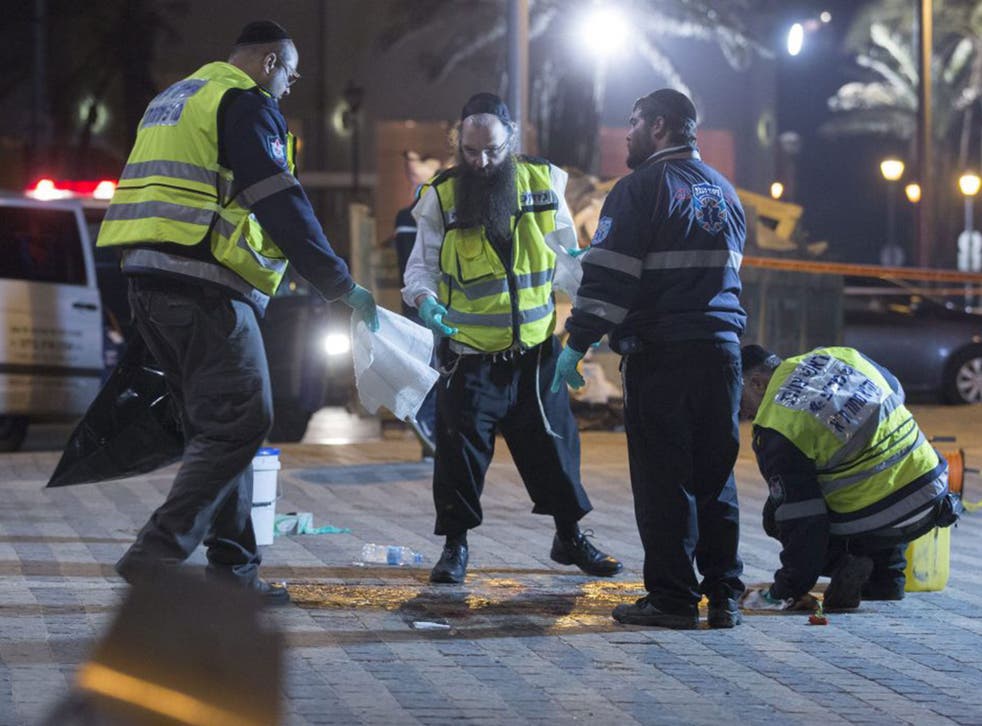 Israel's leading human rights organisation has called for a "transparent" investigation into the conduct of a police officer who was captured on video apparently shooting a Palestinian assailant as he lay on the ground motionless.
The country's Justice Ministry has said it is "looking into the incident" but that no formal investigation had been opened on Thursday.
The incident came after the Palestinian, Bashar Masalha, stabbed to death an American tourist and wounded a number of Israelis in an attack in Jaffa, near Tel Aviv on Tuesday, that was one of the bloodier episodes since a wave of Palestinian violence began in October.
Video of the incident appears to show the policeman standing near Mr Masalha who is lying on the ground and not moving, having already been shot by officers. A man from the crowd apparently encourages the policeman to shoot, urging "Give it to him in the head. Give it to him in the head my brother. Way to go." What sounds like a shot rings out and another voice says: "Why are you shooting needlessly?" Another person adds: "Don't fire any more."
The aftermath of the stabbings has focused renewed attention on charges by human rights groups that Israeli forces are killing Palestinian assailants after they no longer pose a threat. Police deny the accusations.
Sarit Michaeli of the B'tselem group called for an investigation and said that it needs to be "effective, prompt, transparent and unbiased".
"On its face this seems like something that raises suspicions of disproportionate use of force against a person already subdued." Ms Michaeli said. "Our concern is that there are cases of people being killed when they could be arrested.''
Among previous cases Ms Michaeli cited was an officer in October shooting a Palestinian teen as she lay on the ground injured after she and a cousin had carried out an attack using scissors. The policeman was investigated and cleared. Officials told Channel Two television that there was no evidence of criminal intent.
The Israeli–Palestinian conflict intensifies

Show all 10
In December, B'tselem listed 12 cases in Israel and the West Bank from the previous three months which it said "paint a grave picture of excessive and unwarranted use of lethal gunfire, which in some cases is tantamount to summary executionof assailants or suspected assailants".
Micky Rosenfeld, the police spokesman, dismissed B'tselem's criticism and says that police use of force is "proportionate''. "Each terrorist attack is different. Where police can make arrests, they arrest. In immediate life threatening situations our police have to open fire and kill the terrorists," he said.
Last month, the Israeli army chief of staff, Lt-Gen Gadi Eisenkot, implied that on some occasions security forces were using unnecessary lethal force against young Palestinianscarrying out stabbing attacks. "When there is a 13-year-old girl holding scissors or a knife and there is some distance between her and the soldiers, I don't want to see a soldier emptying his magazine at a girl like that even if she is committing a very serious act. Rather he should use the force necessary to fulfil the objective."
Join our new commenting forum
Join thought-provoking conversations, follow other Independent readers and see their replies