Israel-Gaza conflict: At least 100 dead in 24 hours in Rafah
Israeli military react to apparent capture of one of their soldiers before declaring him killed in battle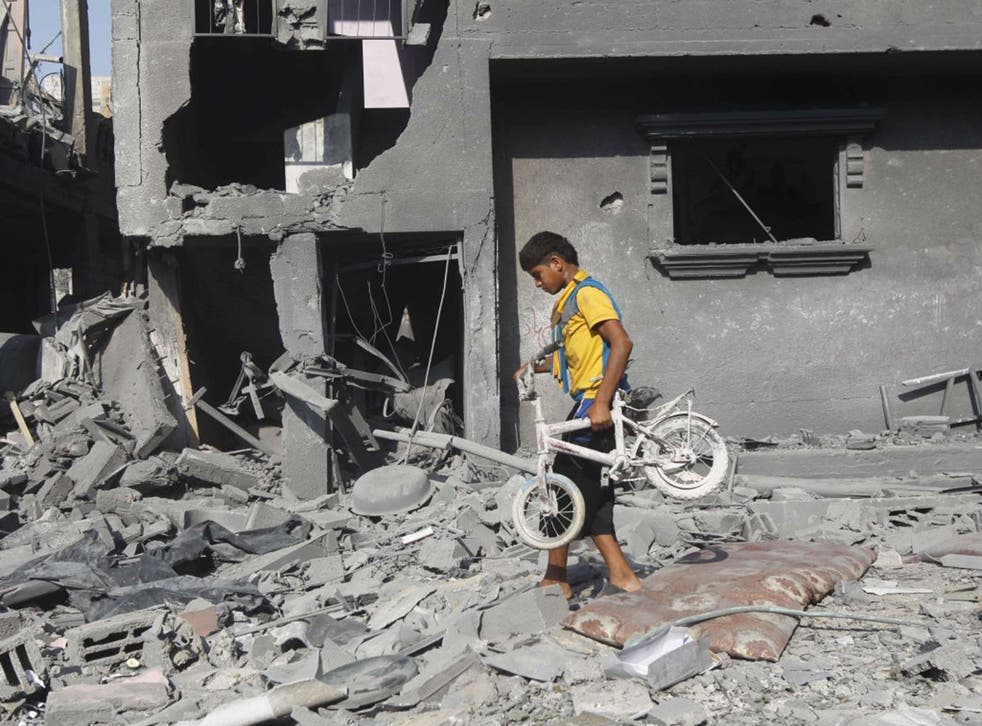 Shajah Zorab was asleep in her home when it was hit by a missile. She woke up in hospital with severe injuries, covered in bandages. The nine-year-old has been asking for her mother, but no one had the heart to tell her that she was dead, along with 20 other members of her family.
Shajah also did not know that she has been rescued twice while unconscious, the second time from al-Najjar Hospital, when shells started crashing in, or that the ambulance she had been in had been fired on. But she was awake to hear the massive explosion in the afternoon which destroyed a house nearby, belonging to the Taha family, killing four of them.
The death toll in Rafah has risen to more than 100 in 24 hours since the Israeli military unleashed its fury on the town after announcing that one of its soldiers, Second Lieutenant Hadar Goldin, had been captured and two others killed in an ambush in which a suicide bomber was used. Last night, Israel's military declared that the missing 23-year-old had been killed in battle on Friday.
Fifty-four bodies had to be left at al-Najjar when it was evacuated. Many among the more than 200 injured had to be taken to local clinics which do not have the resources to treat them adequately because of dangers on the main roads going out.
A 72-hour ceasefire, which was supposed to be the precursor to a peace deal, was officially cancelled by Benjamin Netanyahu's government, although the cancellation had already been announced by the air strikes and tank rounds. Talks due to take place in Cairo, with expectations of progress after weeks of diplomatic impasse while the body count rose, were postponed.
The Israeli military told people in the north of Gaza, by leaflets and text messages, that they were now free to go home. Not many have homes to go back to: weeks of relentless bombardment had reduced entire neighbourhoods to rubble in many towns, but it did alleviate fears of a full-scale occupation.
For the people of Rafah, however, there has been no respite. Artillery strikes continued throughout the afternoon, interspersed with a few missiles. Overhead, there were sounds of drones, ever-present here, and, infrequently, the ominous blades of Apaches. At one point there were two bursts of fire from one of the helicopter gunships over the George Street area; what was targeted below was unclear.
In pictures: Israel-Gaza conflict

Show all 124
Israeli troops had sealed off parts of the town and carried out searches for Lt Goldin and his captors during the night, but there were no overt signs of them during the day. However, local people pointed out high-rise buildings from where snipers had been shooting a few hours earlier. Ambulances passed through the area slowly, with their tailgates open, to show they were not carrying gunmen. Half a mile away lay the twisted skeleton of an ambulance; five people inside had died: two injured children and their father, the driver and a nurse.
The onslaught, and targeted strikes, had led to rumours of spies providing information to the Israeli forces. At the Kuwaiti Hospital, where some of the injured from al-Najjar had been evacuated, there was a great deal of scrutiny. "How did you get here? Which route?"
One Hamas security official advised me to have a look at a particular spot on the road if I had the time. There, in front of a shot-up car on the pavement, was a pool of oil and blood. "Abdullah Fahjan, al-Aqsa TV, he was killed there yesterday," said Yassir al-Sabah. The Hamas broadcasting station had been designated as a "terror network" by Israel; its offices in Gaza City bombed, although on this occasion it appeared to be the sad result of occupational hazard.
Death was never far away on this street. A missile had gone through a first-floor window, killing Maha Ala Hillal, a 30-year-old nurse. A door lay on front of the house; it had been blown 100 yards from what had been the home of the Sarafandi family.
Eighteen people had died there in the morning, the youngest of them, two boys, Qusai, six, and two-year-old Mohammed. One of the only two bodies dug up so far had been of their father, Rami al-Sarafandi. "He was a policeman, a traffic policeman," said Yasser al-Sabah. "He was not a terrorist. But there was no warning. They killed him, his whole family. If he was so dangerous, why didn't they try to kill him before? It is to do with the soldier getting captured by the resistance. They are using that to take revenge on everyone."
Dr Abdullah Shahada, the director of al-Najjar, had moved to Kuwaiti Hospital. "We had to evacuate everyone from al-Najjar. They were firing on the place. We had to leave 54 bodies there and we have so many very serious injuries."
Waving his arm at the injured lying on stretchers outside in the courtyard, with medical staff among them, he went on: "That is now our A&E, under a tree. This is just a small private hospital. There are just 10 beds here, and we have new cases coming in all the time.
"The big problem was that because of the ceasefire, a lot of families had been coming back to Rafah and they got caught when the bombing started. It was indiscriminate. It was as if they were very angry. We have not had this until now.
"But the behaviour of the Israelis have been very bad this time, worse than any of the other wars we have had in Gaza. They are much more vicious; in the past we could at least transfer prisoners, but this time they are shooting at ambulances. But everywhere, so much of the shooting is random. That's one of the reasons why we have so many casualties who are children."
Lying in her hospital bed, in a ward where male and female, old and young, had been put together because of a lack of space, Shajah Zorab whispered that she was in pain, and again asked about her parents, brothers and sisters. Outside, in the corridor, her aunt, Soha, wiping her eyes, asked: "What can I tell her? What can one tell a nine-year-old girl about something like this? We have got to get through today, tonight, then think about this again.
"The timing was so unlucky. Mustapha, her father, has an Egyptian passport. He went to Egypt to get passports for the children and his wife. He called to say he had found someone who could get it done quickly – they would all go to Egypt. Then there was the ceasefire and we thought he had three more days to it. But Shajah will live, Inshallah, and her father will take her away from here. There is no future, no peace, no hope in Gaza."
Profile: Hadar Goldin
Second-Lieutenant Hadar Goldin, a 23-year-old from Kfar Saba, not too far from Tel Aviv, is reported to have spent two stints in Cambridge during his childhood.
He is believed to have three other siblings – twin Tzur, as well as Ayelet and Menahem. His father, Simha, is the director of a diaspora research centre at Tel Aviv University – and reportedly also worked as an academic while in Cambridge. Lt Goldin was also said to be engaged.
Barry Landy of the Cambridge Traditional Jewish Congregation told The Jewish Chronicle: "Hadar was a nice boy. The first time they came, he was 12. The second time, he was 15; on the second occasion, he did his bar mitzvah here."
Dr Goldin said after his son went missing that he was sure the Israeli Defence Force would "turn over every stone" to bring his son back safe. Lt Goldin gave an interview last year with his twin brother in which they said that their grandfathers were Holocaust survivors who took part in Israel's war of independence in 1948 and that their father was a reservist regiment commander. The brothers said they had been brought up with a "lot of love".
Hannah Somerville
Join our new commenting forum
Join thought-provoking conversations, follow other Independent readers and see their replies