Israel-Palestine conflict: Hamas anniversary parade sees militants display rockets and heavy weapons as they vow to destroy Israel
Group marched through Gaza to mark its 27th year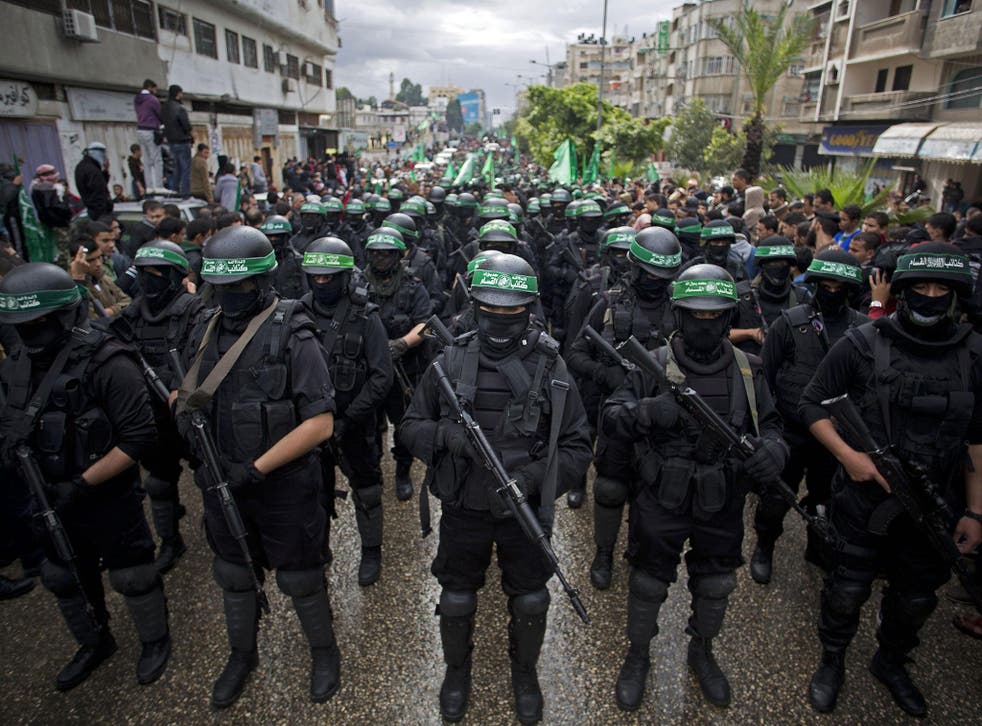 Around 2,000 armed Hamas militants have paraded through the streets of Gaza, as the group vowed to destroy "this illusion called Israel" on the 27th anniversary of its founding.
It was the group's largest show of force since the end of a 50-day war between it and Israel in the summer, and included the display of rockets and other heavy weaponry.
Hamas leaders watched on from a stage set to the side of the parade, including the former Gazan prime minister Ismail Haniyeh, who was seen brandishing an assault rifle and flashing a V-for-victory sign.
Another senior figure, Khalil al-Hayya, said the Islamist group remained committed to its founding charter pledge to end the state of Israel.
In pictures: Israel-Gaza conflict

Show all 124
Referring to the movement's armed wing, he said: "This illusion called Israel will be removed. It will be removed at the hands of the Qassam Brigades."
Sunday's march came three-and-a-half months after the end of the conflict that saw around 2,200 Palestinians and 72 Israelis killed, over which both sides have continued to claim victory.
Abu Ubaida, a representative for the brigades, said another confrontation with Israel might be inevitable unless the project to rebuild tens of thousands of homes damaged or destroyed in the Gaza Strip is accelerated.
"We will accept no less than the rebuilding of everything that was destroyed by the savage Zionist aggression," the masked spokesman said.
Meanwhile, the Israeli prime minister Benjamin Netanyahu was preparing for a diplomatic battle against the Palestinian president Mahmoud Abbas, who has asked the UN Security Council to set November 2016 as the deadline for ending Israeli occupation of lands sought for a Palestinian state.
Netanyahu is meeting with US Secretary of State John Kerry in Rome on Monday to discuss the resolution, which he said would "lead Islamic extremists to the outskirts of Tel Aviv and the heart of Jerusalem".
Join our new commenting forum
Join thought-provoking conversations, follow other Independent readers and see their replies