Israeli defence minister: Next war with Hamas will be the last because 'we will completely destroy them'
Hardliner Avigdor Lieberman says he has 'no intention' of starting a new war but warns Hamas' 'crazy policies' will bring about Gaza's end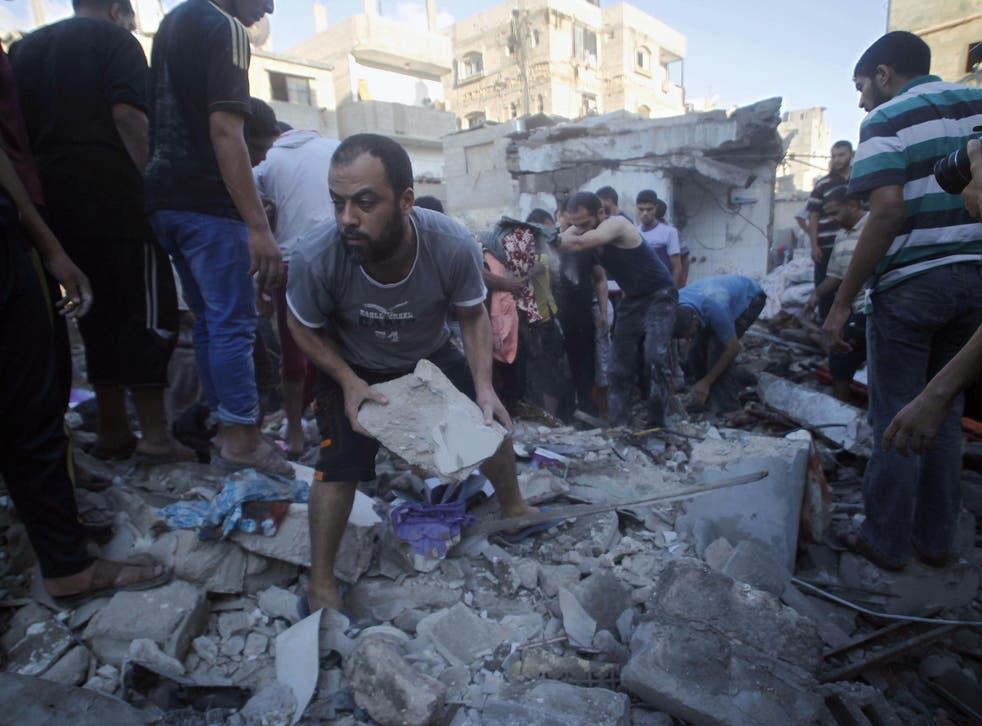 Israel's Defence Minister Avigdor Lieberman has said in an interview that any future hostilities between the Jewish state and Hamas militants in the Gaza Strip will be the last, "because we will completely destroy them".
Mr Lieberman made the comments in a rare "hearts and minds" interview with Jerusalem-based Palestinian newspaper al-Quds, published on Monday, in which he insisted that all Palestinians have a duty to deter the Hamas movement from what he called its goal of destroying the Israeli state.
"As minister of defence, I would like to clarify that we have no intention of starting a new war against our neighbours in the Gaza Strip or the West Bank, Lebanon or Syria," he said, while adding that ordinary Palestinians in both the Palestinian Authority-controlled West Bank and Hamas-run Gaza Strip must urge Hamas to "stop your crazy policies".
"In Gaza, like the Iranians, they intend to eliminate the state of Israel ... If they impose the next war on Israel, it will be their last. I would like to emphasise again: it will be their last confrontation because we will completely destroy them," he said.
The comments have sparked outrage on Palestinian social media platforms, particularly among those supportive of Hamas, with critics sending messages blasting the "media normalisation" of Israeli policy in the decision to interview Mr Lieberman, whom some dubbed a "murderer".
"The conflict with the enemy isn't only about power, it is also ideological and cultural... therefore, any type of normalisation with Israel must be forbidden," one such commenter said.
Palestine, yes, but Israelis draw the line at Jerusalem

Show all 2
Hamas won local elections in the Gaza Strip in 2006, and after fighting with Palestine's Fatah party, took complete control of the area in June 2007. There have been four short but bloody conflicts between Gaza and Israel since.
Mr Lieberman, who took office in May, made a series of threats directed at Ismail Haniya, Hamas' Gaza leader, before taking up the post. He has since backed away from the statements and has said he is committed to "responsible, reasonably policy".
He serves under Israeli Prime Minister Benjamin Netanyahu in what is seen as the most right-wing administration in Israeli history: many government members are publicly opposed to recognising a Palestinian state.
President Obama addresses Palestine in UN speech
Mr Lieberman himself says he believes in a two-state solution, and is critical of Israeli settlements in the West Bank – one of the major stumbling blocks to any peace deal.
In the interview with al-Quds Mr Lieberman also levelled criticism at the West Bank's Palestinian Authority President Mahmoud Abbas, whom he said has not done enough to curb more violent factions of the movement for Palestinian statehood.
Local elections in Gaza and the West Bank that were expected earlier this year have been suspended several times after disagreements between Hamas and Mr Abbas' Fatah party.
Hamas are widely expected to make gains in the West Bank if elections are held in the near future.
Register for free to continue reading
Registration is a free and easy way to support our truly independent journalism
By registering, you will also enjoy limited access to Premium articles, exclusive newsletters, commenting, and virtual events with our leading journalists
Already have an account? sign in
Register for free to continue reading
Registration is a free and easy way to support our truly independent journalism
By registering, you will also enjoy limited access to Premium articles, exclusive newsletters, commenting, and virtual events with our leading journalists
Already have an account? sign in
Join our new commenting forum
Join thought-provoking conversations, follow other Independent readers and see their replies