Israel's Arab leaders join forces in attempt to oust Benjamin Netanyahu and influence future government
The country's Arab population – a fifth of the total – has traditionally been under-represented on the national stage because of political feuding. A historic deal promises to change all that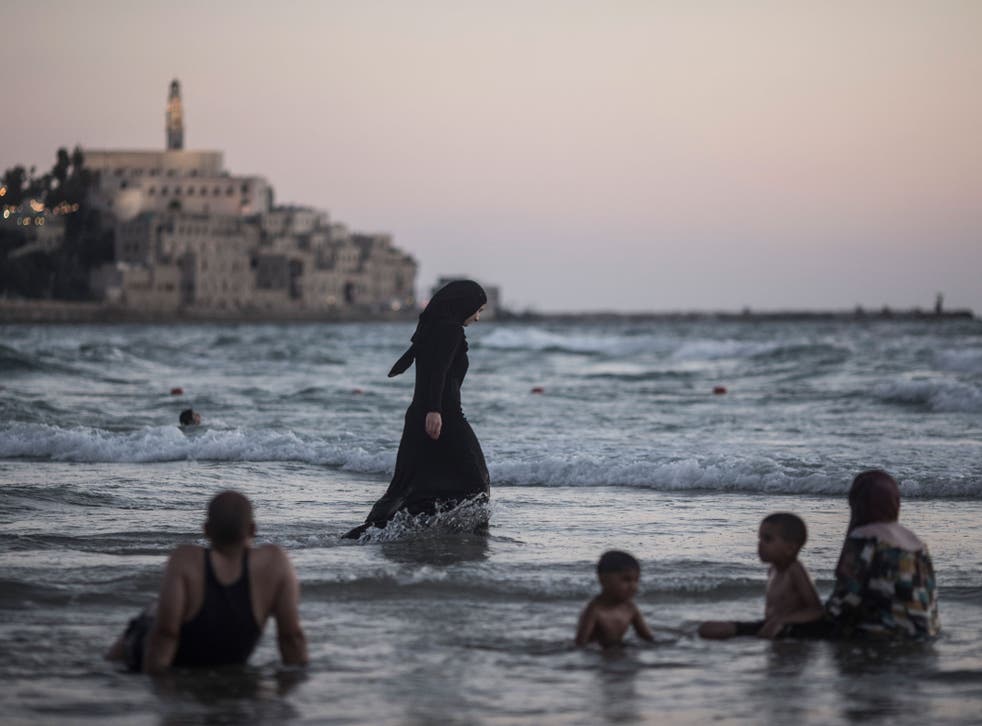 For years Arabs have been effectively marginalised in Israel's political life. But at the weekend leaders of the country's substantial Arab minority launched an alliance which puts them on course to become a powerful force in next month's general election – with the potential to tip the outcome against the Prime Minister, Benjamin Netanyahu.
Five previously fractious political groupings that divided the Arab vote between them agreed to field a single "Joint List" with the aim of toppling the Israeli leader, whom they blame for a further deterioration in their own standing and conditions, and for harming fellow Palestinians in the West Bank and Gaza.
There was standing room only in a Nazareth hall on Saturday night, as 1,500 supporters gave their backing to the combined list of Arab candidates under Israel's system of proportional representation.
"We are no longer investing our energy in defeating each other; on the contrary we are joining our forces to grow bigger and bigger," said Aida Touma, a socialist and feminist from the Hadash party who shares prominence on the list alongside such others as Masoud Ganaim, an Islamic fundamentalist.
Such an alliance was previously unthinkable because of ideological and personal rivalries. But Arab leaders judged it imperative after the Israeli parliament, the Knesset, changed the law raising the threshold for a party to enter parliament from 2 per cent of the overall vote to 3.25 per cent.
For smaller parties, it was either join together or die. The alliance also answers the demands of Arab voters for a united legislative effort, and its formation has raised hopes for a degree of empowerment and change.
Arab citizens, who are the descendants of Arabs who were not displaced during Israel's creation in 1948, make up about 20 per cent of Israel's population but their Knesset representation has always been markedly smaller, due to fragmentation of the vote and a lower turnout than among Jewish Israelis.
This point was hammered home to the activists, who were urged to capitalise on excitement over the unity effort to get the vote out. "You have to go house to house. As a united list we are acceptable to all the people," Jamal Zahalka, leader of the Balad party, exhorted. "Divide the country into neighbourhoods and stoke the conscience of every person so that they will not only vote, but will help us work for the success of the list."
According to a poll last week by Maariv newspaper, Mr Netanyahu's Likud party is on course to secure 24 seats in the 17 March election and his Labour party-led challenger, the Zionist Camp, is likely to win 23. The Joint List is forecast to secure 13 seats, which would make it the third-largest grouping in parliament, and list leaders have set their sights on 15, which would be four more than the separate Arab groupings held in the previous Knesset.
In a battle between Mr Netanyahu, as head of the right-of-centre bloc of parties, and his opponents from the centre left to put together a coalition majority with at least 61 of the 120 Knesset seats, a Joint List Arab grouping could have a vital impact.
Leaders of the Joint List do not want it to become a formal coalition partner because it does not want to bear ministerial responsibility for the occupation of Palestinian territories, or for wars.
But it could emerge as a kingmaker for the centre-left Zionist Camp by recommending its leader, Isaac Herzog, to Israel's President in post-election consultations and guaranteeing that he would have a blocking majority to thwart no-confidence votes.
"How the Joint List does could be very important," said Leslie Susser, political editor for The Jerusalem Report magazine. "This will be a key point in the election. Those extra seats could be decisive."
The Joint List's strategists calculate that a rise in the turnout of Arab voters from the 56 per cent who took part in recent elections to 65 per cent will win the extra seats needed. In addition Ms Touma is targeting women voters and the List is also making an effort to woo left-wing Jewish voters. At the event, a Jewish politician from Hadash, Dov Khenin, took the podium to the sound of John Lennon's "Imagine" and declared: "This list is our answer to racism."
Ms Touma said more seats in parliament would enable the list to play an active role in the Knesset's committees, including decisions about budgets. "We will expose all those budgets that are going to 'security', which are actually endangering people," she said.
Mr Ganaim, No 2 on the list, said: "If it serves equality and peace, we will consider being a blocking majority."
In exchange the group's leaders may be able to extract concessions for their constituents, as Arab parties did when they formed a blocking majority to prevent the unseating of then Prime Minister, Yitzhak Rabin, from 1992 to 1995.
Israel's Arab citizens face discrimination in employment, land use, provision of government services and other areas and many of them believe that the police has a light hand on the trigger when operating in Arab locales, something the police deny. Their leaders say an already bad situation has become worse under the Netanyahu government, which they accuse of supporting legislation that promotes discrimination.
A spokesman for Mr Netanyahu, Mark Regev, denied any discriminatory policies and said that the government promoted affirmative action for Arab citizens and aimed to "narrow the gaps'' between Jews and Arabs.
Join our new commenting forum
Join thought-provoking conversations, follow other Independent readers and see their replies