Israel-Gaza violence: At least 15 Palestinians killed as Israel 'takes the gloves off' by ordering air strikes on Gaza Strip
Attacks kill at least 15, and Hamas militants respond with rocket strikes on Jerusalem. Ben Lynfield reports from Ashdod in southern Israel on the impact continuous bombardments are having on residents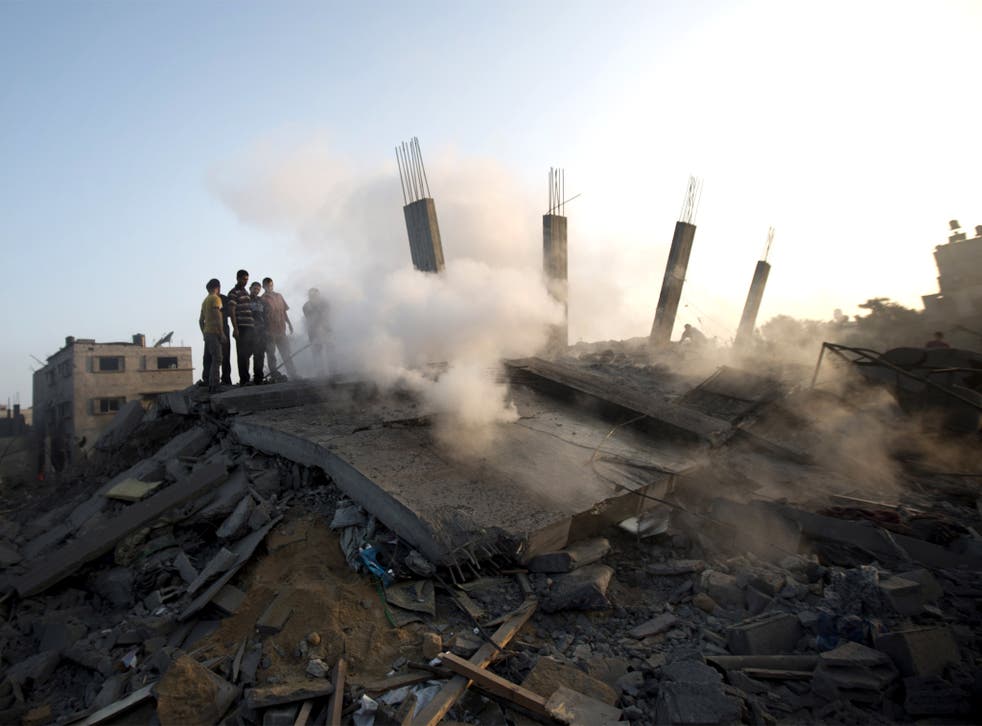 Israeli air strikes on the Gaza Strip have killed at least 15 Palestinians, according to Gaza officials, on the first day of what promises to be a sustained military operation aimed at dealing a blow to the militant group Hamas and halting cross-border rocket attacks.
It came ahead of a night that saw air raid sirens wail across the city of Jerusalem in what appeared to be retaliatory rocket attack by Gaza militants. Two faint booms could be heard from downtown Jerusalem shortly after the sirens went off late this evening. It was not clear whether it was a rocket strike, or whether an incoming projectile had been intercepted. Israeli Channel 10 TV said one rocket hit a house near Jerusalem, but there were no injuries.
In Gaza, residents huddled indoors during the aerial onslaught, which was reinforced by shelling from Israeli navy ships. Residents of Ashdod, about 20 miles south of Tel Aviv, and elsewhere in southern Israel rushed to safety rooms when alarms sounded, as more than 70 rockets were fired from Gaza into Israel, according to the army's count.
In pictures: Israel launches further air strikes on Gaza

Show all 105
A military spokeswoman said the Israeli air force carried out 50 strikes in Gaza overnight on Monday and another 40 today. The army named the bombardments "Operation Protective Edge" and a senior Israeli official said an all-out ground operation into the Strip was "not a preference but it is an option".
The Israeli army spokesman announced that the army had succeeded in foiling an attempted attack on a military base in southern Israel by several gunmen armed with grenades. "The terrorists approached from the coast. Infantry forces were immediately called to the scene and with the assistance of IAF aircraft and Israeli navy made contact with the terrorists, killing four of the perpetrators. One soldier was lightly injured. Troops were searching for other "infiltrators'' the announcement said.
The official added: "We have instructed the military to prepare for it so that if contingencies demand it, it will be ready. We are hitting Hamas hard and don't want to come out of this with a situation that in two weeks we face more rocketing. We don't want an artificial ending that doesn't solve the issue. We want people in southern Israel to live a normal life."
Some of the Israeli targets were allegedly the homes of militants. Reuters, citing the Hamas interior ministry, reported from Gaza that at least six people were killed and about 25 wounded in an attack on a house. Residents told the agency the dwelling belonged to the family of a Hamas member and the casualties occurred when it came under attack for a second time today. Residents said that, after the first strike, people gathered on the roof to serve as human shields, hoping their presence would prevent a second attack. The army said it was checking the matter. A child was killed and two others wounded in an air strike in Gaza City in the early evening, the Palestinian news agency Ma'an reported.
Reuters said four other people died in an Israeli air strike on a car in Gaza City, according to medical officials, and that one of them was identified by a pro-Hamas website as a commander of the group's armed wing.
Raed Atamneh, a resident of the northern Gaza town of Beit Hanoun, told The Independent by telephone that it was not safe to be outside since Israeli aircraft "are attacking all over the Gaza Strip, from Beit Hanoun to Rafah [in the south]". He said a water tank of the municipality near his home had been hit. "My kids are all so scared. I tell them to be quiet and God willing, God will help us. They ask me, 'why do the Israelis attack us'. I don't have an answer. I tell them this is the Israelis."

Reuters reported that during one Israeli attack that destroyed a home, the Palestinian interior ministry said the family had received a telephone call from an Israeli officer telling them to leave. The ministry said nine neighbours were wounded.
The Israeli government sanctioned the call-up of 40,000 reservist troops today. Officials were quoted locally as telling the country's military to conduct a "continuous, long and forceful operation in Gaza", and to "take off the gloves".
But the strikes, the most intensive since an eight-day war almost two years ago, were not powerful enough to satisfy hard-right Israeli politicians. "The paradox is that in order for us not to go in, the other side has to be convinced we are willing to go to the end," the Tourism minister, Uzi Landau, told Israel Radio.
Yaacov Amidror, the former head of Israel's National Security Council, said: "I don't envy Palestinian civilians. They have a regime that is not taking into consideration the problems of citizens and are using citizens as shields.
"We have a very limited goal, to go back to a situation where we don't have rockets against our citizens. But if it deteriorates and Hamas won't understand what we can do, we will have no choice but to do the big operation. If they don't stop, we go to the second stage, the land operation.''
Meanwhile, the armed wing of Hamas threatened an "earthquake" in response. Hamas is believed to have rockets that can travel beyond Tel Aviv and Jerusalem. Tonight, air-raid sirens could be heard in Tel Aviv. In the city of Ashdod, one person was wounded by shrapnel from a rocket. .
"I hide in my store. It's very dangerous," said Albert Cohen, 74, a liquor store owner in the low-income area of Even Ezra. "I'm not afraid for myself, I'm afraid for my grandchildren." In a nearby shop, a worker responded to the siren by saying: "Everything's OK. We're going to **** the Arabs."
Join our new commenting forum
Join thought-provoking conversations, follow other Independent readers and see their replies