Israel vents fury at ally Turkey over 'barbaric' TV drama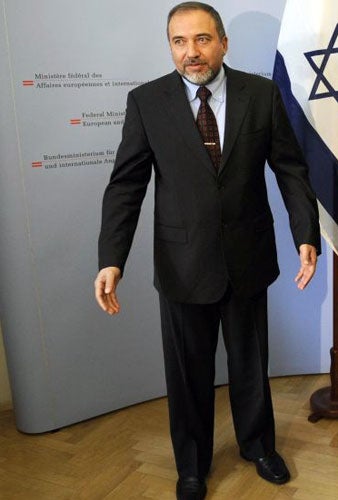 Israel's increasingly troubled relations with its main ally in the Muslim world took a turn yesterday when it formally protested to Turkey over the "incitement" generated by a television series featuring fictional scenes of barbaric acts by Israeli soldiers.
The airing of the series, on Turkish state television, coincides with tensions triggered by a decision last week by Ankara to exclude Israel – which it has severely criticised over last winter's war in Gaza – from a planned Nato air exercise.
The acting Turkish ambassador, Ceylan Ozen, was summoned yesterday to the Israeli foreign ministry in protest at the drama series Ayrilik which shows soldiers brutalising Palestinians. In one abbreviated sequence shown on YouTube, a soldier is seen gratuitously shooting a girl at close range, killing her. In another, Palestinians are apparently about to be executed by a firing squad.
Mr Lieberman said this week that the broadcast was "incitement of the most severe kind... under government sponsorship," and added: "Such a drama series, which doesn't even have the slightest link to reality and which presents Israeli soldiers as murderers of innocent children, isn't worthy of being broadcast even by enemy states and certainly not in a state which has full diplomatic relations with Israel."
Relations between the two countries have been severely strained by Turkish criticism of the military offensive against Hamas in Gaza.
In January, Tayyip Erdogan, the Turkish Prime Minister, walked out of a televised panel discussion in Davos in Switzerland, in which Israel's President, Shimon Peres, had been defending the military operation.
The air exercise planned for this week was cancelled after the US and Italy refused to take part in response to the Turkish decision to bar Israel. Mr Erdogan said later that "diplomatic sensitivities" had led his government to stop Israel participating.
Naor Gilon, the Israeli Foreign Ministry's deputy director for Western Europe, told the Turkish diplomat that "this kind of incitement is likely to lead to physical harm being done to Jews and Israelis who arrive in Turkey as tourists".
Selcuk Cobanoglu, the producer of the television series, told the Israeli media yesterday that it was made clear before each episode that the production was was fictional.
The series had not intended to denigrate the Israel Defence Forces as a whole but only a group who had killed Palestinian children.
He said: "It is very important that I stress that we love the people in Israel. We love the Israelis."
Join our commenting forum
Join thought-provoking conversations, follow other Independent readers and see their replies