Israel violence: Government plans to expel families of Palestinian assailants from occupied West Bank to Gaza Strip
Visiting US Secretary of State John Kerry has expressed solidarity with Israel, referring to the wave of attacks as 'a challenge to all civilised people'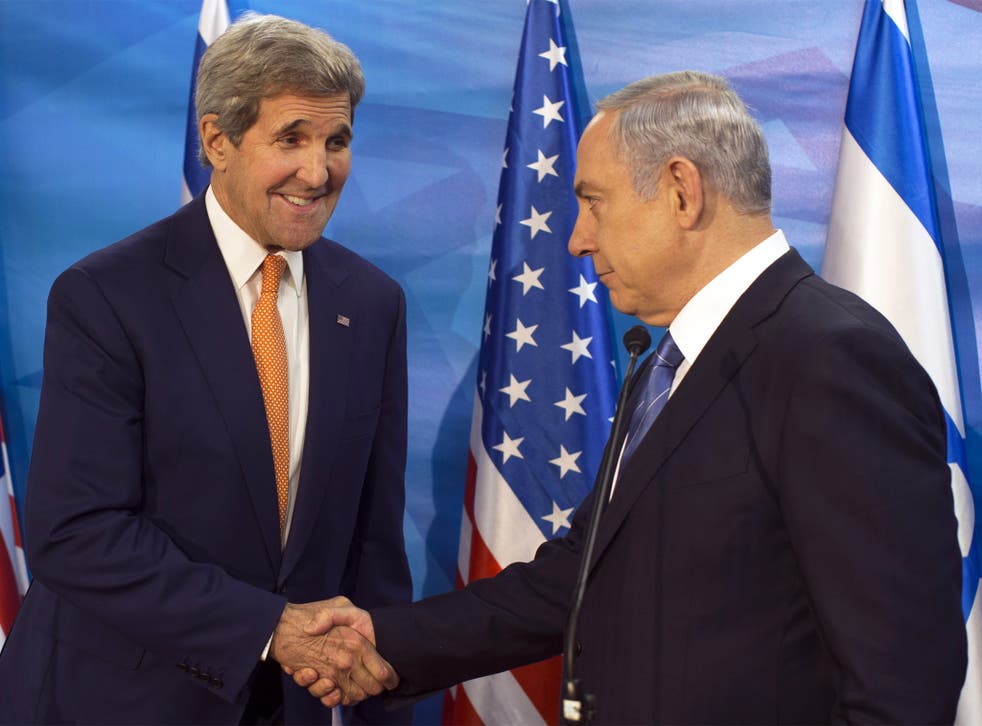 Israel is considering a new tactic in its battle against a wave of Palestinian violence: the expulsion of parents and siblings of assailants from the occupied West Bank to the Gaza Strip, the blockaded and impoverished territory controlled by Hamas.
The proposed step would be taken against relatives who knew in advance of plans for an attack or supported it, Haaretz newspaper reported. Spokespeople for the defence ministry and security services declined to comment on the report. Haaretz said the step, criticised by human rights groups as collective punishment, would need to be approved by the government's legal adviser before it could be adopted.
Israel already demolishes the family homes of assailants, arguing that this deters future attacks. But despite the policy, troop reinforcements and other efforts, attacks have continued. A Palestinian driver rammed his car into a checkpoint in the northern West Bank on Tuesday, lightly wounding two army officers and a border policeman, before being shot and wounded, a police spokeswoman said.
The visiting US Secretary of State John Kerry met with the Israeli Prime Minister Benjamin Netanyahu and President Reuven Rivlin and expressed solidarity with Israel. Referring to Palestinian attacks, he said: "This is a challenge to all civilised people. We have a responsibility to condemn that violence, to make it clear that you know no frustration, no politics, no ideology, no emotion, justifies taking innocent lives. I stand here with you to express our outrage at this kind of violence, to condemn this violence and to make it clear that Israel not only has a right to defend itself, but has an obligation to do so." Mr Kerry was due to meet the Palestinian President Mahmoud Abbas in Ramallah in the evening.
Speaking to The Independent, Basil Abu Yusuf, a member of the PLO executive committee, accused Mr Kerry of "reversing the roles of who is the victim and who is the executioner".
"He sees what happens with liquidations of Palestinian youths by the occupation army and settlers that are at the level of war crimes and he sees the colonial settlement and the ongoing aggression against blessed al-Aqsa mosque," he said. "Yet he speaks of what he calls Palestinian terrorism and not of the crimes and organised terrorism of the occupation."
Nineteen Israelis and 89 Palestinians have died since a fresh wave of violence began in mid-September, according to the Associated Press. Israeli officials say 57 of the Palestinians killed were engaged in stabbing, shooting or car attacks against civilians or soldiers.
Dalia Kerstein, director of the human rights group HaMoked, said that deporting relatives to Gaza would be a violation of the Fourth Geneva Convention. "If relatives knew about an attack or committed an offence they should be placed on trial," she said.
In another step, Mr Netanyahu said on Sunday that Israel intends to cancel work permits of relatives of Palestinian assailants. According to a defence official, the ban will apply not only to immediate relatives but also to grandparents, aunts, uncles and cousins of attackers.
Join our new commenting forum
Join thought-provoking conversations, follow other Independent readers and see their replies