Israel withdraws cartoon that mocked reporters' coverage of last summer's Gaza war
It was released as part of the government's public relations preparations for the impending release of a UN report on the conflict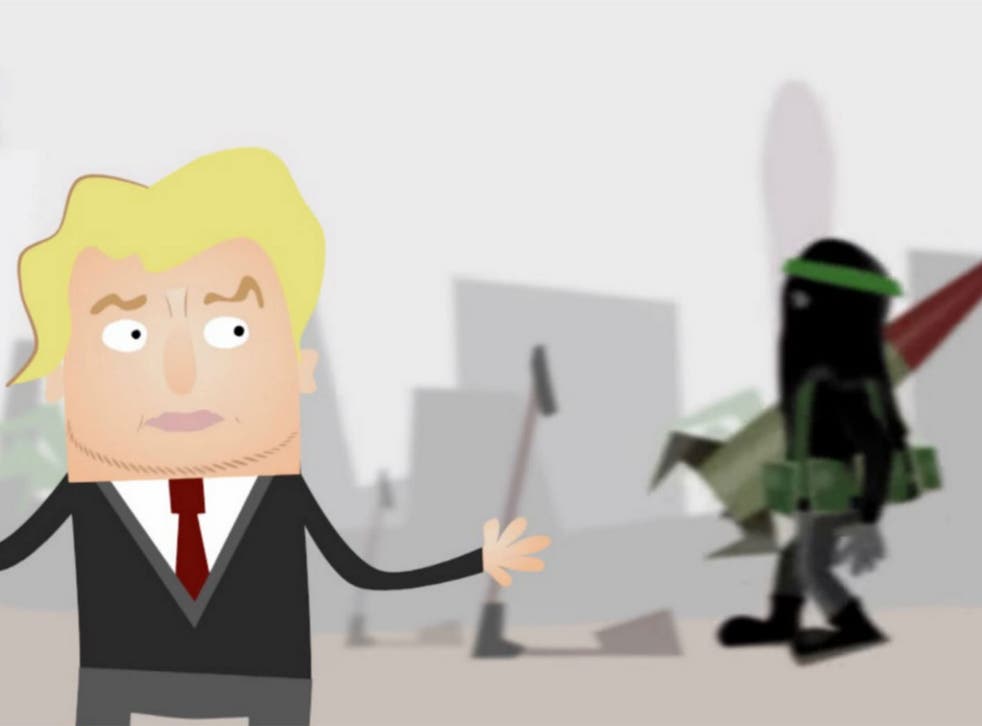 The Israeli government has withdrawn a cartoon it produced that mocked foreign journalists' purportedly clueless coverage of last summer's Gaza war, but it steered clear of any apology or admission it had made a mistake by issuing the broadside.
The cartoon shows a foreign correspondent reporting from Gaza while a militant fires a rocket behind him. The correspondent says: "There are no terrorists here, just ordinary people."
Later, the reporter, speaking from a tunnel that Hamas militants can be seen using to attack Israel, says it is "a fascinating attempt by Hamas to build a subway system". Towards the end of the clip, a narrator gives the correspondent a pair of glasses and says: "Maybe now you'll see the reality of life under Hamas rule."
The cartoon was part of Israel's public relations preparations for the impending release of a UN report on the conflict, which resulted in the deaths of more than 2,100 Palestinians, mostly civilians according to the UN, and 72 Israelis, the vast majority being soldiers. The report is expected to accuse Israel of war crimes, while Israel says that it is Hamas that perpetrated such crimes by firing rockets indiscriminately and from civilian areas.
But the cartoon raised the ire of the Foreign Press Association in Israel, which last week issued a statement saying that it was "surprised and alarmed" by the "misleading and poorly conceived" video.
Emmanuel Nahshon, the foreign ministry spokesman, told the New York Times last week that it was only "an attempt to poke gentle fun at some journalists who choose not to see reality". But today he said the video was pulled because it had been misunderstood. "The goal was to show the way Hamas operates and its crimes, but it took on a spin of being an attack on foreign journalists and that was not the intention."
Uri Dromi, who served as director of the government press office under Yitzhak Rabin, said: "They should have just said 'we're sorry, this is stupid' and taken it off. Being entrenched in this strange explanation makes it even worse and is not helpful."
Join our new commenting forum
Join thought-provoking conversations, follow other Independent readers and see their replies