Israel-Gaza conflict: Turkish protesters raise Palestinian flag outside Israeli consulate in Istanbul
Demonstrators condemned Israel's ground offensive on Gaza
Antonia Molloy
Friday 18 July 2014 11:38 Comments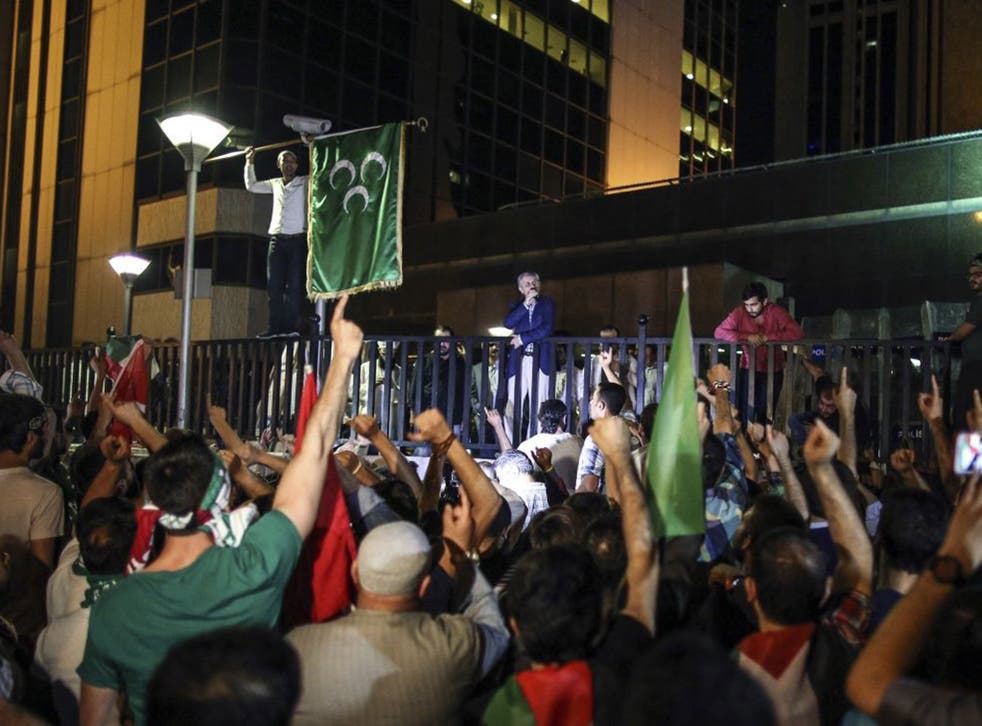 Turkish police today fired tear gas at protesters outside the Israeli consulate in Istanbul, as demonstrators pelted the building with stones in condemnation of Israel's ground offensive on Gaza.
According to local media reports, the crowd chanted "Murderer Israel, get out of Palestine", as they smashed windows, while anti-Jewish graffiti was scrawled across one of the building's walls.
The protesters attempted to enter the consulate a number of times and lit a fire outside, according to Algemeiner.
Meanwhile, in the capital Ankara, demonstrators waved Turkish and Palestinian flags outside the Israeli embassy and chanted slogans. Windows were broken but police reportedly did not intervene.
Earlier in the week, Turkish newspaper the Daily Sabah reported that protesters left a black wreath at the embassy's gate in Ankara and held a banner declaring: "Israel is killing again."
And in Istanbul, activists gathered in the popular tourist spot Sultan Ahmet Square, to hand out pamphlets disparaging Israeli politics in Gaza.
Nearly 20 Palestinians and an Israeli soldier were killed in Gaza today after Israel launched a ground operation aimed at destroying tunnels and halting rocket fire by the territory's Hamas rulers.
Israel stepped up its 11-day campaign against Hamas by dispatching tanks and soldiers yesterday, following Hamas's rejection of an Egyptian ceasefire plan earlier in the week.
The Israeli military announced its first casualty since the start of the ground offensive. The soldier was killed in the northern Gaza strip but the circumstances of his death remain unclear.
Hamas's military wing said it ambushed Israeli units in the northern town of Beit Lahiya and caused casualties, but Israeli media said it was likely a case of friendly fire.
Gaza health officials said 19 Palestinians have been killed since the ground operation began late yesterday. The military said it killed 14 militants in different exchanges of fire. It was not immediately clear if the militants were among those reported killed by Gaza authorities.
Israeli aircraft have struck more than 2,000 targets in Gaza and 260 Palestinians have been killed since the start of the fighting.
The Israeli military said 50 rockets have been fired at Israel since the start of its ground operation, out of more than 1,500 since the fighting began last week. An Israeli civilian was killed earlier this week.
The country said it launched an open-ended assault on several fronts, with the primary aim being to destroy underground tunnels into Israel built by Hamas that could be used to carry out attacks.
Israeli officials have said the goal is to weaken Hamas militarily and have not addressed the possibility of driving the Islamic militants from power.
However, Hamas has survived Israeli offensives in the past, including a major ground operation in January 2009 from which it emerged militarily weaker, but then recovered. Hamas has since assembled thousands of rockets and built a system of underground bunkers.
Israel had been reticent about launching a ground offensive for fear of endangering its own soldiers and drawing international condemnation over Palestinian civilian deaths.
But Israeli public opinion appears to strongly support the offensive after days of unrelenting rocket fire from Gaza and years of southern Israeli residents living under the threat.
Israel's Cabinet was set to meet later today to be briefed on the assault.
Additional reporting by agencies
Register for free to continue reading
Registration is a free and easy way to support our truly independent journalism
By registering, you will also enjoy limited access to Premium articles, exclusive newsletters, commenting, and virtual events with our leading journalists
Already have an account? sign in
Join our new commenting forum
Join thought-provoking conversations, follow other Independent readers and see their replies