Israeli soldiers filmed 'blindfolding and detaining disabled 11-year-old Palestinian boy accused of throwing stones'
In the video the boy can be seen to be pushed up against the rear end of a jeep before his hands are tied behind his back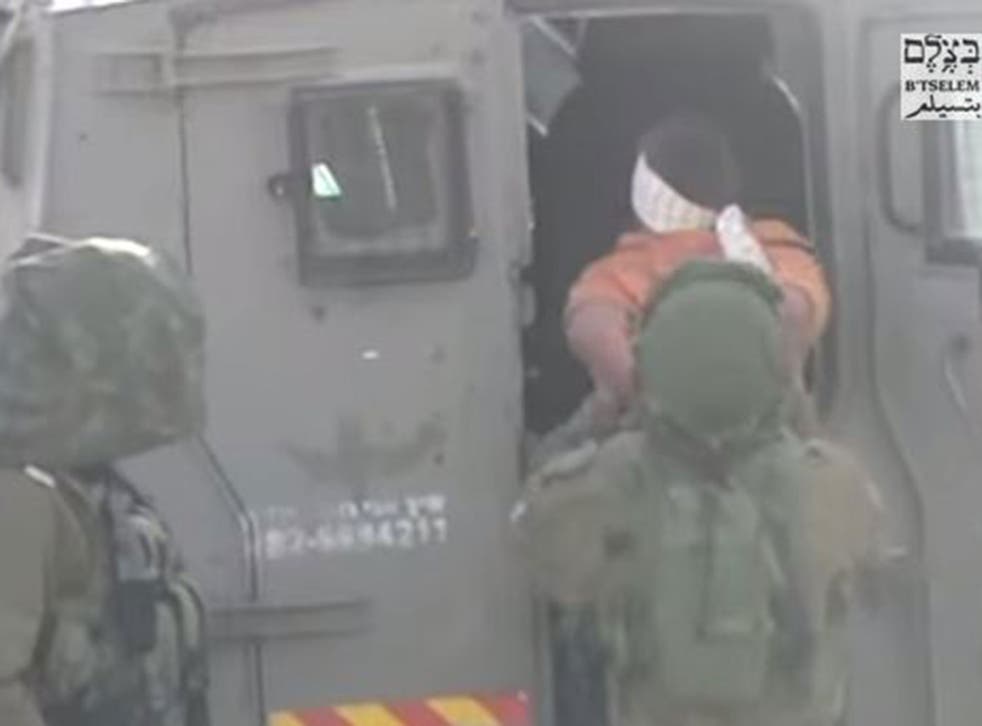 Video footage has emerged of Israeli soldiers allegedly detaining a disabled 11-year-old Palestinian boy, who had been accused of throwing stones.
In the video the boy can be seen to be pushed up against the rear end of a jeep before his hands are tied behind his back.
He is then blindfolded and placed into the back of the vehicle by the two soldiers.
The footage, filmed in the Palestinian city of Hebron, was this week published online by Israeli human rights group B'Tselem.
The organisation said the boy was briefly detained after Palestinian children had thrown stones at soldiers on Sunday.
It said the boy was held in the jeep for 15 minutes until his father arrived and convinced the soldiers to release his son, who the group said had a learning disability.
According to B'Tselem, the incident took place near the settlement of Kiryat Arba, on the outskirts of the city.
In a separate incident on Wednesday in Jerusalem, a Palestinian with a history of anti-Israel violence slammed his car into a crowded railway station, killing a three-month-old baby girl and wounding eight people in what police called a terror attack.
Jeruslam mayor Nik Barkat said the girl and her parents, injured in the incident, were US citizens.
The violence came after months of tensions between members of the Jewish and Palestinian populations in east Jerusalem. Palestinians have demanded the section of the city to be their future capital.
The area has experienced unrest and near-daily attacks on the city's light rail by Palestinian youths since a wave of violence over the summer, capped by the 50-day war between Israel and Hamas militants in Gaza.
Additional reporting by Press Association
Join our new commenting forum
Join thought-provoking conversations, follow other Independent readers and see their replies