Istanbul airport attack: Ataturk bombing is latest in series of incidents since Turkey joined war against Isis
Officials said that 28 people were killed and up to 60 injured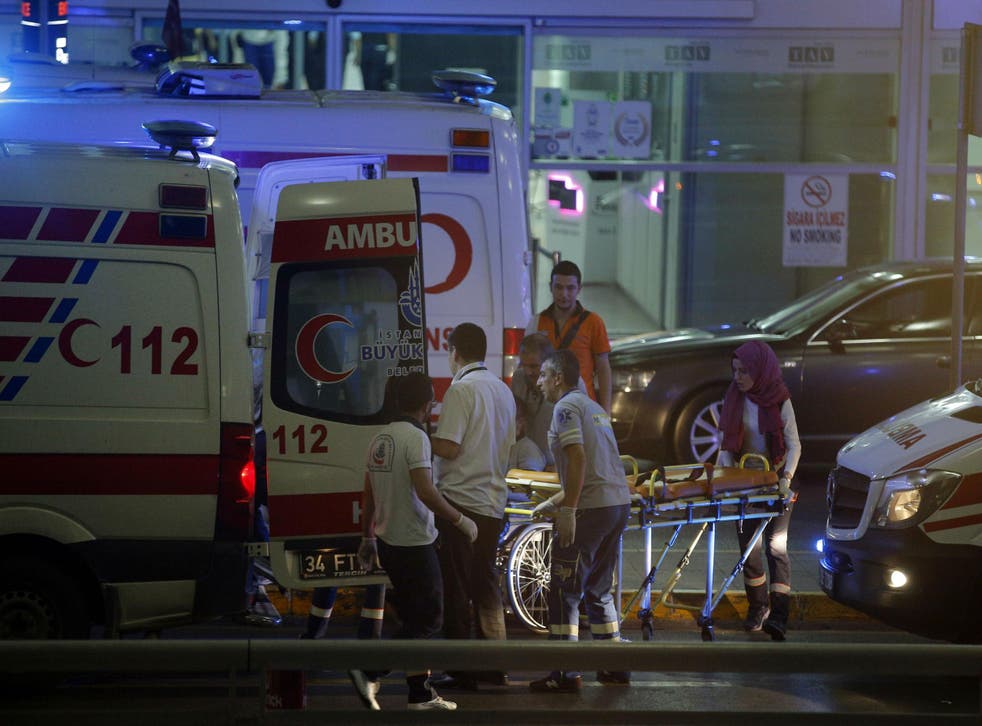 Casualties and chaos, fatalities and fear. Turkey has seen all of this before.
The assault on the Istanbul's Ataturk airport - a strike involving two explosions that left at least 25 people dead - is just the latest in a series of attacks to rock Turkey in recent months.
Experts said that the Muslim country, a member of Nato and a nation that sits at the threshold of Asia and Europe, had been hit three times by Isis over the past 12 months in attacks that killed at least 50 people. Other attacks - usually on military or police targets - have involved the banned Kurdistan Workers' Party (PKK) or one of its offshoots.
Turkey's justice minister, Bekir Bozdag, said on Tuesday evening that based on preliminary information, in the latest attack "a terrorist at the international terminal entrance first opened fire with a Kalashnikov and then blew himself up".
Another official told the Associated Press said two attackers detonated explosives at the entrance of the heavily guarded international terminal - a hub for Turkish Airlines - after police fired at them.
Attack at Ataturk International airport in Istanbul

Show all 20
The previous attacks included two in Istanbul targeting tourists — which the authorities have blamed on Isis, which have made a stronghold in neighboring Syria. The border between the two nations is largely porous.
The attacks have increased in scale and frequency, scaring off tourists and hurting the economy, which relies heavily on tourism revenues.
Earlier this month, a car bomb attack targeting a police bus has killed seven officers and four civilians in central Istanbul. No group has claimed it, but President Recep Tayyip Erdogan pointed to the involvement of Kurdish militants.
In January, an Isis suicide bomber targeted foreign tourists who were visiting Istanbul's Hippodrome of Constantinople, the historic social center of the Byzantine Empire's capital. In total, 11 people were killed and 14 were wounded. On March 19, the city was hit by another Isis suicide bombing that killed four people.
On March 29, the United States issued a Turkey travel warning, asking that travelers exercise caution in large public settings.
"Foreign and US tourists have been explicitly targeted by international and indigenous terrorist organisations," it said,
In December 2015, a Kurdish separatist group launched a mortar attack in the Sabiha Gokcen airport, killing one person.
In July 2015, Turkey joined the US-led alliance in the fight against Isis, permitting the US Airforce to use their bases for airstrikes in Syria.
The southern portion of Turkey borders Syria, making the country especially vulnerable to missile strikes and direct attacks by Isis militants who cross the border.
Register for free to continue reading
Registration is a free and easy way to support our truly independent journalism
By registering, you will also enjoy limited access to Premium articles, exclusive newsletters, commenting, and virtual events with our leading journalists
Already have an account? sign in
Register for free to continue reading
Registration is a free and easy way to support our truly independent journalism
By registering, you will also enjoy limited access to Premium articles, exclusive newsletters, commenting, and virtual events with our leading journalists
Already have an account? sign in
Join our new commenting forum
Join thought-provoking conversations, follow other Independent readers and see their replies