Jerusalem synagogue attack: Israeli PM vows to respond with a 'heavy hand' after four killed in Har Nof 'by terrorists with knives'
Police say they shot and killed both suspects at the scene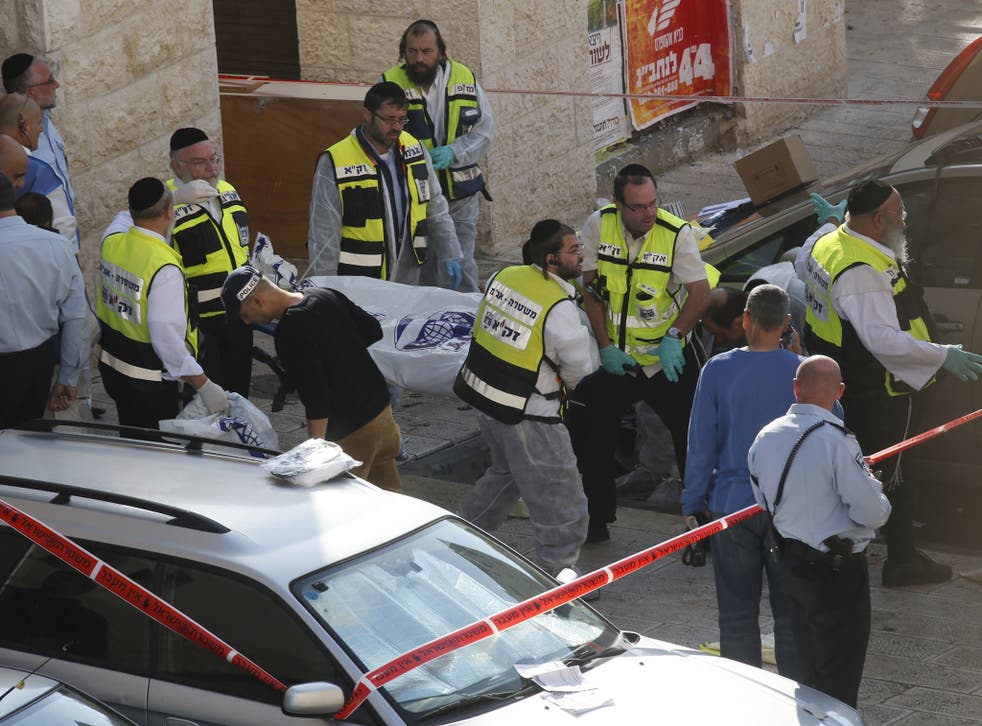 Israeli Prime Minister Benjamin Netanyahu has vowed to "respond with a heavy hand" after at least four people were killed and eight injured in what Israeli police described as a "terrorist" attack on a synagogue in Jerusalem.
Mr Netanyahu condemned Tuesday's violence as a "cruel murder of Jews who came to pray and were killed by despicable murderers".
Palestinian President Mahmoud Abbas denounced the bloodshed in a statement, saying: "The presidency condemns the attack on Jewish worshippers in their place of prayer and condemns the killing of civilians no matter who is doing it."
A British-born man has been identified as one of the four killed in the attack.
Mr Rosenfeld said two police officers were among those injured in the attack, the deadliest to occur in Jerusalem for years.
Police said the attackers were Palestinians from East Jerusalem. The Popular Front for the Liberation of Palestine, a militant group, said the cousins were its members.
A PFLP statement did not specify whether the group instructed the cousins to carry out the attack. Hamas, the militant Palestinian group that runs the Gaza Strip, praised the attack.
The US Secretary of State John Kerry responded angrily to the attack and demanded that the Palestinian leadership take immediate steps to end incitement to violence.
Mr Kerry, who spoke before meeting in London with British Foreign Secretary Philip Hammond, said the violence witnessed on Tuesday "has no place anywhere".
"Innocent people who had come to worship died in the sanctuary of a synagogue. They were hatcheted, hacked and murdered in that holy place in an act of pure terror and senseless brutality and murder.
"I call on Palestinians at every single level of leadership to condemn this in the most powerful terms."
One man who was praying at the time of the attack told Israeli Channel 2 TV news: "I tried to escape. The man with the knife approached me. There was a chair and table between us ... my prayer shawl got caught. I left it there and escaped."
In pictures: Jerusalem synagogue attack

Show all 20
The violence comes amid high tensions in the city, with a wave of attacks killing at least six people in recent weeks.
Two weeks ago, a Palestinian driver was shot dead by Israeli police after ramming his car into a crowd at a tram stop in East Jerusalem, killing a border policeman and wounding 13 others.
A Palestinian bus driver was found hanging in his vehicle in a Jewish part of Jerusalem late Sunday, which was ruled a suicide by an inquest.
His relatives insisted that Yousef al-Ramouni, 32, was murdered because he was Arab.
Join our new commenting forum
Join thought-provoking conversations, follow other Independent readers and see their replies