Jihadists construct the Atomium bomb: YouTube video threat to Belgian tourist attraction
A plot to attack the Belgian capital stokes fears Europe will targeted by radicalised fighters returning from Syria. Charlotte McDonald-Gibson reports from Brussels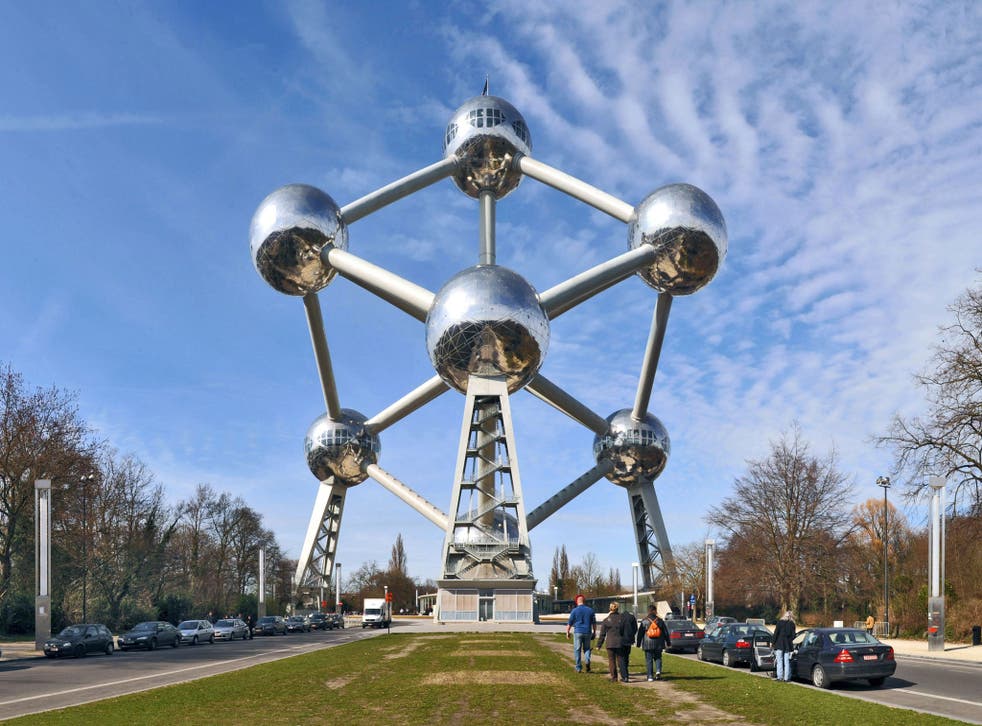 The video clip posted on the YouTube account of Belgian teenager Brian De Mulder was brief, but the threat to one of Belgium's biggest tourist attractions was chilling and clear.
Over the black-and-white flag of one of Syria's Islamist rebel groups, a voice chants: "Bombs are falling. Atomium, I hear a bang. Body parts are everywhere."
Mr De Mulder, 19, is one of hundreds of Europeans currently in Syria and believed to be fighting alongside the rebel groups trying to topple President Bashar al-Assad.
While it is not clear if he himself posted the threat against the Atomium, a huge monument of stainless steel spheres built for the 1958 World Fair, the video reflects the worst fears of law-enforcement agencies and governments across Europe.
Since Syria splintered into civil war in 2011, European Muslims – including up to 300 Britons – with motives ranging from idealism to more radical ideologies have been travelling there in increasing numbers. Now, dozens are returning home, and the fear is that they are no longer impressionable youngsters, but battle-hardened extremists.
"By the time they have returned," says Rob Wainwright, director of the EU-wide policing body Europol, "their extremist views might have been more entrenched and there is clearly a potential danger to society in terms of how they might manifest their views in direct action."
The International Centre for the Study of Radicalisation last month estimated 1,900 Western Europeans are fighting in the Syrian conflict, more than triple the 600 there last year.
Many are joining the extreme Islamist rebel groups including the al-Nusra Front, an al-Qa'ida affiliate blacklisted by the UN security council, according to The International Centre for Counter Terrorism (ICCT), a think-tank based in The Hague.
The Dutch government was so concerned that these men and women could become radicalised and use their combat experience in attacks back home that they raised their terrorism threat level. France's Minister of Interior, Manuel Valls, has called the phenomenon "a ticking time bomb".
Dimitri Bontinck, from the Belgian city of Antwerp, does not regard his son as a ticking time bomb. He sees Jejoen as a young man with a bright future, who needs the love of his family and the support of the state to reintegrate back into society after eight months in Syria.
Jejoen, 18, travelled to Syria in March after converting to Islam and becoming involved with the outlawed group Sharia4Belgium. He returned home in October and was arrested.
Mr Bontinck says his son transported medical supplies, but the Belgian authorities suspected him of associating with a terrorist group or helping to recruit other youngsters. He spent seven weeks in jail, before being released under a curfew.
The Mayor of Antwerp, Bart De Wever, has also introduced a policy to strip people who travel to Syria of their right to residence. The local authorities have started the process to remove Jejoen from the civic register, his father says.
"Do you really think that this is the right way to bring children back?" asks Mr Bontinck. "In this way, nobody will ever return. This is stigmatising these children."
Mr De Wever says his policy distinguishes between hardened fighters and "youngsters who have been misled by radical recruiters, or people who have travelled to Syria to help the suffering population".
"They deserve a second chance," he tells The Independent. But, he adds: "There is a hard core of fanatic fighters who have actively fought against all values our society stands for... To be frank, I don't want these violent fanatics to return to Antwerp."
The ICCT study found that governments across Europe have been puzzling over the legal options. Many are giving financial and logistical support to the rebels. This means authorities would struggle to criminalise the act of associating with a broad rebel movement that they themselves recognise as the legitimate rulers of Syria.
France has criminalised returning home after committing terrorist acts abroad, or attending terrorist training camps with the intention of returning home and staging attacks. In September, British police arrested four men suspected of attending terrorist training in Syria.
Nations are also focusing on preventing people leaving in the first place, with some confiscating the passports of potential fighters.
In the meantime, the families of the young men and women in Syria fret over their wellbeing. Mr De Mulder's aunt and sister have spoken of their devastation when he disowned them on his Facebook page. A father from Norway went to Turkey to retrieve his two teenage daughters who went to Syria to fight. One German family organised to have their 16-year-old son kidnapped and returned home.
Mr Bontinck sympathises with every one of them; he is just glad to have his boy back.
Join our new commenting forum
Join thought-provoking conversations, follow other Independent readers and see their replies