Jordanian jets strike Isis targets with missiles bearing the message: 'For you - the enemies of Islam'
Strikes were launched in response to the burning alive of a Jordanian pilot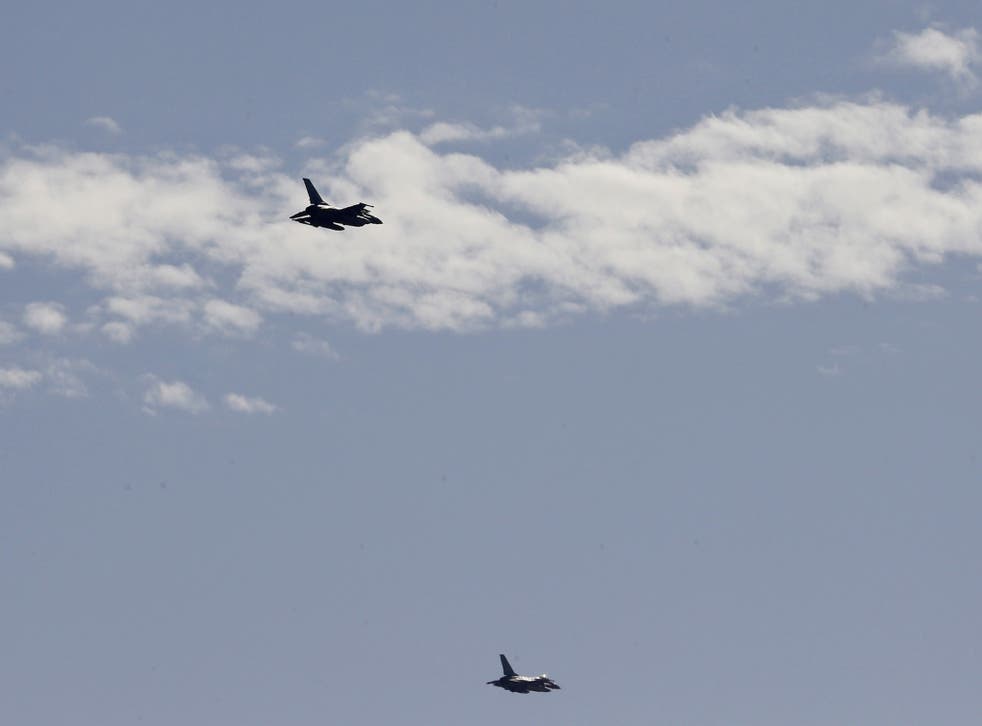 Dozens of Jordanian fighter jets have launched bombing raids on Isis targets, hitting what are believed to have been training centres and weapons caches, two days after the militants released footage showing the burning alive of a downed Jordanian pilot.
Video footage released by the Jordanian military showed some of the strikes, including one that set off a fire ball. Elsewhere pilots could be seen chalking messages on their missiles, including one that read: "For you, the enemies of Islam."
A statement read on Jordanian state television declared: "This the beginning and you will get to know the Jordanians."
As he sat with the pilot's father, Safi al-Kaseasbeh, the king pointed to the planes roaring overhead, the Associated Press said. Mr Kaseasbeh told mourners that the planes had struck targets in Raqqa, Isis's de facto capital and the site the where his son was captured by fighters when his F-16 fighter plane went down in December.
Earlier this week, Isis released another video that showed some people in Raqqa chanting "God is great" as they watched footage of the Jordanian pilot being burned alive.
Mr Kaseasbeh told CNN that the King had told him that 30 Jordanian fighter jets participated in the strikes.
In pictures: Anti-Isis protests in Jordan

Show all 15
"The homeland is entrusted to you all," Mr Kaseasbeh said, in a reference to Jordan's armed forces. "For you troops to honour Muath is to uphold your oath and to follow in his footsteps as soldiers for God, his prophet and Islam in defending this dear homeland."
Jordan said in September it was joining the US-led coalition against Isis, along with Bahrain, Qatar, Saudi Arabia and the United Arab Emirates.
On Thursday, the US military said the coalition had launched nine nine air strikes in Iraq and three in Syria against Isis targets since Wednesday. The so-called Combined Joint Task Force said the strikes in Syria hit near Kobani, the border city recently recaptured by Kurdish forces fighting the Islamic militant group.
The strikes in Iraq were concentrated in the oil-producing north, targeting militants near seven cities including Kirkuk, Falluja, Mosul and Baiji, the task force said in a statement.
Also on Thursday, the Republican Speaker of the US House of Representatives, John Boehner, said he believed Mr Obama to seek congressional authorisation for using military force against Isis soon and also called for speeding up assistance to Jordan.
"It is also going to be incumbent upon the president to go out there and make the case to the American people," he said, according to Reuters.
Join our new commenting forum
Join thought-provoking conversations, follow other Independent readers and see their replies