King Abdullah dead: Saudi monarch has died, according to state TV
There had been a flurry of rumours about the monarch's declining health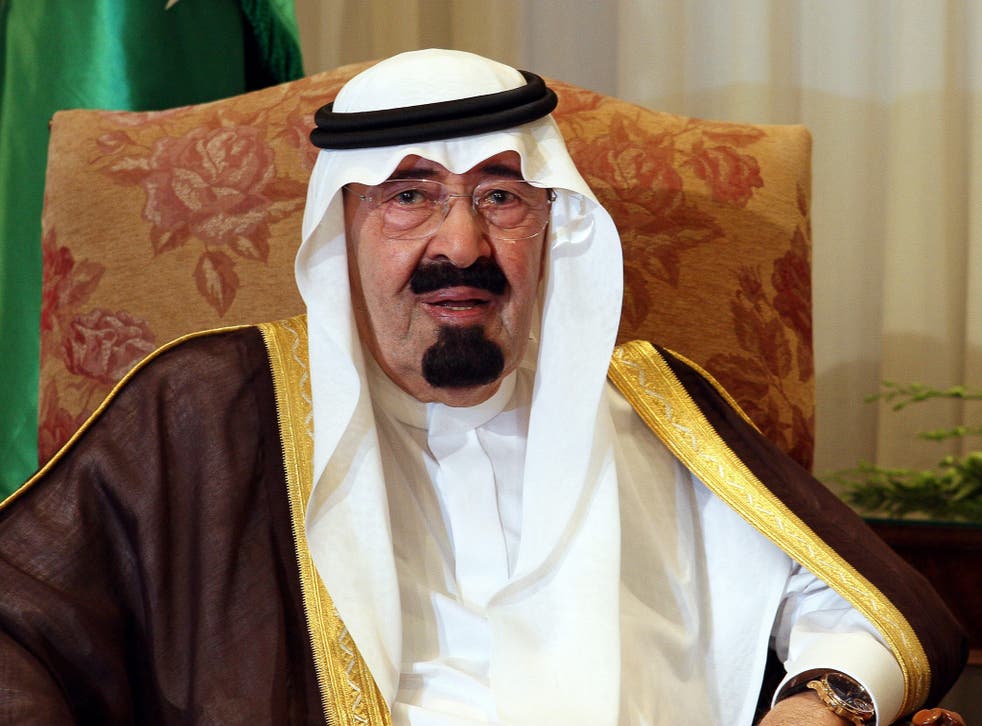 Saudi state TV says King Abdullah, the purported US ally who joined Washington's fight against al-Qaeda, has died following a swirl of reports and rumours about his sagging health.
The station said the monarch had died on Friday, after he had been hospitalised with pneumonia last month. His 79-year-old half brother, Crown Prince Salman, who recently has taken on the ailing monarch's responsibilities despite being said to be in poor health and suffering from dementia himself, was named as the successor.
The announcement came in statement read by a presenter on Saudi state TV, which aired video of worshippers at the Kaaba in Mecca, the Associated Press said.
King Abdullah ibn Abd al-Aziz Al Saud, who took power in 2005 after the death of his half-brother King Fahd, is thought to be either 90 or 91, although official accounts are unclear. He had undergone surgery in the past few years related to a herniated disc.
Most assessments of King Abdullah's reign suggested he had sought to moderinise, though not democratise, the conservative Muslim kingdom with small but significant reforms, including greater opportunities for women.
Yet some voices were more scepitcal. They pointed out that when the Arab Spring happened, King Abdullah responded with a domestic security crackdown and populist economic measures designed at dampening public protest.
In recent weeks, Saudi Arabia has been at the centre of intense international criticism over the flogging of Raif Badawi, a blogger who was sentenced last May to 10 years in prison and 1,000 lashes for "insulting Islam" and disobedience.
"Saudi Arabia stepped up arrests, trials, and convictions of peaceful dissidents, and forcibly dispersed peaceful demonstrations by citizens in 2013," Human Rights Watch said its 2014 report. "Authorities continued to violate the rights of nine million Saudi women and girls and nine million foreign workers. As in past years, authorities subjected thousands of people to unfair trials and arbitrary detention... Courts convicted seven human rights defenders and others for peaceful expression or assembly demanding political and human rights reforms."
The Washington Post said that while observers in Riyadh widely predicted a smooth transition to Prince Salman, his poor health means his rule could be relatively short. Should there be a power struggle to succeed him, it could leave a policy vacuum in the Middle East at a critical time.
"The kingdom's leadership is arguably actually at a crossroads, with two royal factions vying for preeminence. The outcome could produce a whole range of new faces in positions of power in Riyadh," Simon Henderson, an expert on the Saudi Arabia at the Washington Institute for Near East Policy, wrote on the Foreign Policy website as rumours about King Abdullah's health swirled.
He added: "This could emerge as a problem for Washington, as experienced hands could be replaced with merely ambitious ones."
King Abdullah was born in Riyadh in 1924, one of the dozens of sons of Saudi Arabia's founder, King Abdul-Aziz Al Saud. Like all Abdul-Aziz's sons, Abdullah had only rudimentary education. Tall and heavyset, he felt more at home in the Nejd, the kingdom's desert heartland, riding stallions and hunting with falcons, the Associated Press said.
Abdullah was selected as crown prince in 1982 on the day his half-brother Fahd ascended to the throne. The decision was challenged by a full brother of Fahd, Prince Sultan, who wanted the title for himself. But the family eventually closed ranks behind Abdullah to prevent splits.
He became de facto ruler in 1995 when a stroke incapacitated King Fahd. King Abdullah was believed to have long rankled at the closeness of the alliance with the United States, and as regent he pressed Washington to withdraw the troops it had deployed in the kingdom since the 1990 Iraqi invasion of Kuwait. The US did so in 2003.
When al-Qaeada militants in 2003 began a wave of violence in the kingdom aimed at toppling the monarchy, King Abdullah cracked down hard. For the next three years, security forces battled militants, finally forcing them to flee to neighboring Yemen.
One immediate consequence of the king's death was that it meant Britain's 88-year-old Queen Elizabeth II is now the world's oldest living reigning monarch.
The succession process is conducted by the Allegiance Council, a body created by King Abdullah to ensure a smooth transition of power. It consists of 35 senior princes, all sons and grandsons of Abdulaziz, who meet in secret to choose a new leader when the king dies.
The vast al Saud family is believed to be riven by factions who angle for power. But historically, the family has managed to come together with the primary goal of preserving its iron rule.
Join our new commenting forum
Join thought-provoking conversations, follow other Independent readers and see their replies