King Abdullah: UN Secretary-General Ban Ki-moon praises Saudi Arabia's 'remarkable progress' under rule
Ban Ki-moon shied away from addressing the country's human rights record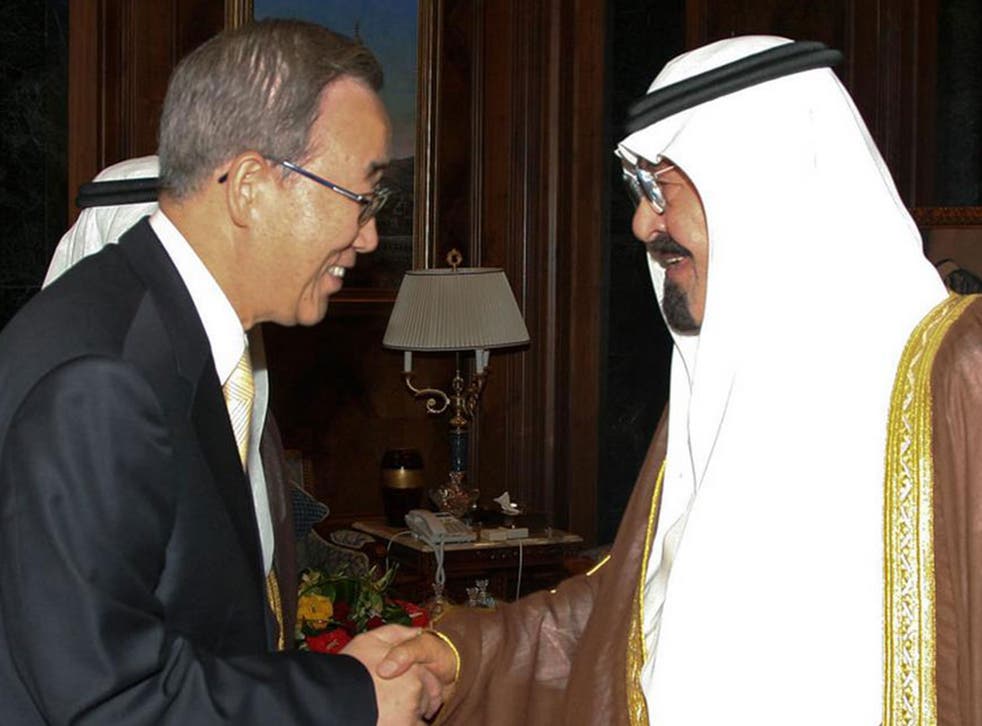 The Secretary-General of the United Nations has joined in the global outpouring of praise for Saudi Arabia's late King Abdullah.
His death on Friday has prompted a controversial wave of reverential tributes from world leaders, even as outrage continues over the public beheading of a woman in Mecca and the country's human rights abuses.
Ban Ki-moon made no mention of those issues in his carefully-worded statement, saying he learnt of King Abdullah's death "with sadness".
He extended his condolences to the bereaved Saudi royal family as well as the country's government and people, highlighting "major contributions" the King made.
"Under his leadership over many decades in different high-level positions in Government, the Kingdom of Saudi Arabia achieved remarkable progress and prosperity for its people," Mr Ban added.
"As the driving force behind the Arab Peace Initiative, King Abdullah left a tangible legacy that can still point the way toward peace in the Middle East.
"King Abdullah's leadership will be remembered throughout the Arab and Islamic worlds and the international community."
His peace plan for Israel and Palestine was globally praised, proposing Saudi peace with Israel and full Arab recognition for the nation, in return for a Palestinian state and Israeli military withdrawal from all of Gaza, the West Bank and Golan.
The Secretary-General also expressed gratitude for the King's "generous humanitarian and developmental support" for efforts across the Middle East.
King Abdullah dead: Reaction from around the world

Show all 8
The UN's World Food Programme (WFP) echoed his comments, saying that in 2008 Saudi Arabia donated $500 million to help mitigate global food prices soaring. It was the largest single donation that the UN agency has ever received from a donor nation.
"He was a true humanitarian leader, always on the side of the world's hungry poor," WFP Executive Director Ertharin Cousin said. "When we struggled to save lives and to feed people fleeing from conflict or natural disasters, we could always count on the King's generosity at the most difficult moments."
The agency said King Abdullah also authorised a $500 million contribution to UN relief efforts for displaced Iraqis fleeing the conflict and donated a further $104 million towards humanitarian efforts for Syrian refugees.
"King Abdullah Bin Abdulaziz Al-Saud worked tirelessly to improve the lives of his people and people suffering far from his homeland. The world and especially the people he helped will never forget his life-saving support," Ms Cousin said.
"On behalf of WFP staff and the millions of people he helped us serve around the world, we express our deep condolences to the Saudi people at the loss of a true, outstanding world leader."
Barack Obama said King Abdullah was "candid and had the courage of his convictions", while David Cameron noted his "commitment to peace" and said he "strengthened understanding between faiths".
The Queen, understood to be a personal friend, said the late king would "be long remembered by all who work for peace and understanding" as both Prince Charles and the Prime Minister made their way to join foreign dignitaries in Saudi Arabia to pay their respects.
Britain has close economic, political and intelligence ties with Saudi Arabia, viewing it as a key market for UK defence exports and a crucial ally to keep Islamist militants at bay.
Flags were lowered across England and Wales yesterday in tribute to the late monarch after an instruction from Whitehall, while campaigners and MPs said the officially sanctioned show of sympathy made a mockery of Saudi Arabia's dismal human rights record.
Its strict enforcement of a Wahhabist interpretation of Sharia law mandates dozens of executions by beheading a year, punishments for "witchcraft", floggings for drunkenness and the amputation of hands for theft.
Women are shackled by the male guardian system which means they cannot marry, travel, attend university or get a passport without the approval of a husband, father, brother or even son.
Under King Abdullah's leadership, women were allowed to sit on the ruling Shura Council for the first time, but it is still illegal for them to drive to work.
Human Rights Watch acknowledged "marginal advances" during his reign but said it "failed to secure the fundamental rights of Saudi citizens to free expression, association, and assembly".
While the spread of internet and social media empowered Saudis to speak openly about social and political issues, authorities sought to halt online criticism through intimidation, arrests, prosecutions, and lengthy prison sentences, the group said.
"King Abdullah came to power promising reforms, but his agenda fell far short of achieving lasting institutional gains on basic rights for Saudi citizens," said Joe Stork, deputy Middle East director. "King Salman, the new ruler, should move the country forward by ending intolerance for free expression, rooting out gender and sectarian discrimination, and fostering a fair and impartial judicial system."
Join our new commenting forum
Join thought-provoking conversations, follow other Independent readers and see their replies