Kobani 'back in Kurdish hands' after Isis militants desert city
Photographs posted on social media appeared to show male and female Kurdish fighters shaking hands and Kurdish flags flying over recaptured territory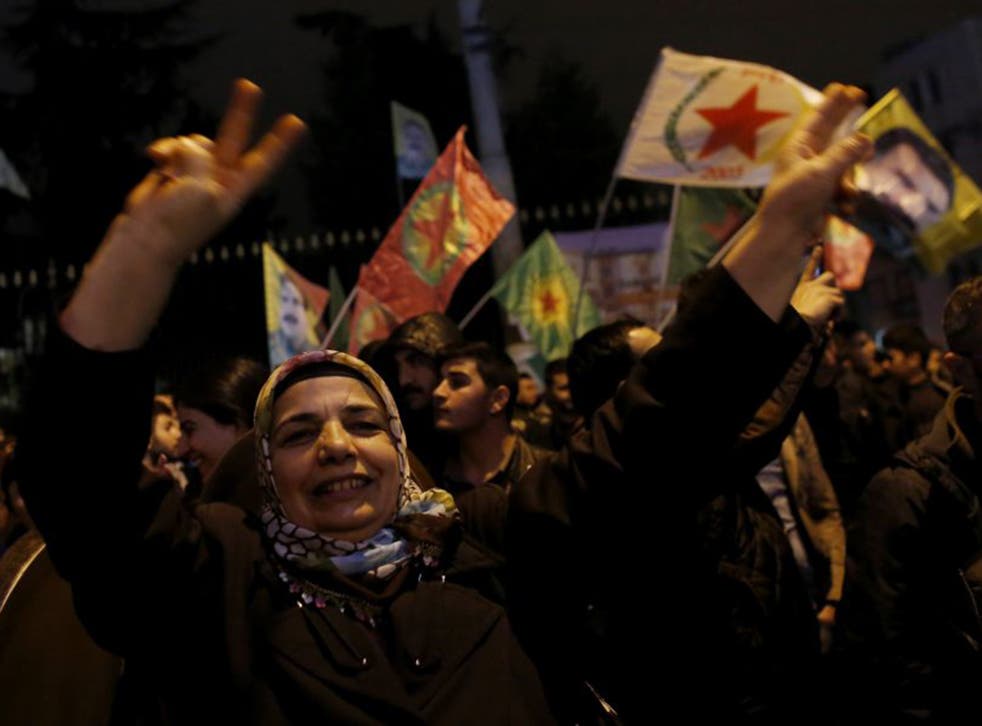 The raging war for the Syrian border city of Kobani, the backdrop of a totemic four-month battle between coalition-backed Kurdish and Iraqi forces and militant fighters from Isis, appeared to be drawing towards a conclusion last night amid reports that the region was finally back in control of Kurdish forces.
Kurdish fighters from the People's Protection Units (YPG) backed by Iraq's Kurdish peshmerga forces claimed to have wrestled back ownership of the city pushing Isis fighters out of the area in a battle that has killed over 1,300 people, according the London-based monitoring group Syrian Observatory for Human Rights.
The group yesterday suggested that Isis (also known as Islamic State) militants had deserted much of the area. "I can see the YPG flag flying over Kobani. There are the sounds of jets flying above," Tevfik Kanat, a Turkish Kurd near the border told Reuters yesterday. "People are dancing and singing, there are fireworks. Everyone feels a huge sense of relief."
A message on the official website of the Kurdistan presidency said: "Today we received the news of liberation of defiant Kobani. I congratulate all people of Kurdistan … This is the victory of humanity over the barbaric terrorists … It is an honour for people of Kurdistan to face the most evil terrorist organisation … and defeat it."
But some Isis supporters took to social media insisting the battle was still raging. "It is untrue (what) had been said in the media about the takeover ... still fierce battles ongoing," one tweeted.
Isis fighters in Kobani (2014): Civilians flee as militants enter Syria-Turkey border

Show all 22
Capturing the city, also known under its Arabic name of Ayn Arab, would have given Isis a direct link between its positions in the Syrian province of Aleppo and its stronghold of Raqqa, to the east. Such is its significance that Isis released a video in October featuring British hostage John Cantlie conveying the message that Islamic State fighters had pushed deep inside despite the US-led air strikes, which began on 23 September.
Washington has treated the reports cautiously. The Pentagon last night said it was too early to concede that the Kurdish forces in Kobani had defeated Isis, however a spokesman said that Kurds clearly had "the momentum".
There will be wider questions over what Isis does next. Activists believe it may take one to two days for the city to be fully cleared of all Isis fighters and mines, while the 200,000 Kurds that fled Kobani to Turkey during the fighting are also likely to wait some time before considering a return to the area.
Join our new commenting forum
Join thought-provoking conversations, follow other Independent readers and see their replies