Kurdish referendum: Iran closes border with Iraqi Kurdistan over independence vote fears
Decision - which comes at request of Baghdad government - shows Tehran respects 'Iraq's territorial integrity' and the 'democratic process', spokesperson says
Monday 25 September 2017 13:32 BST
Comments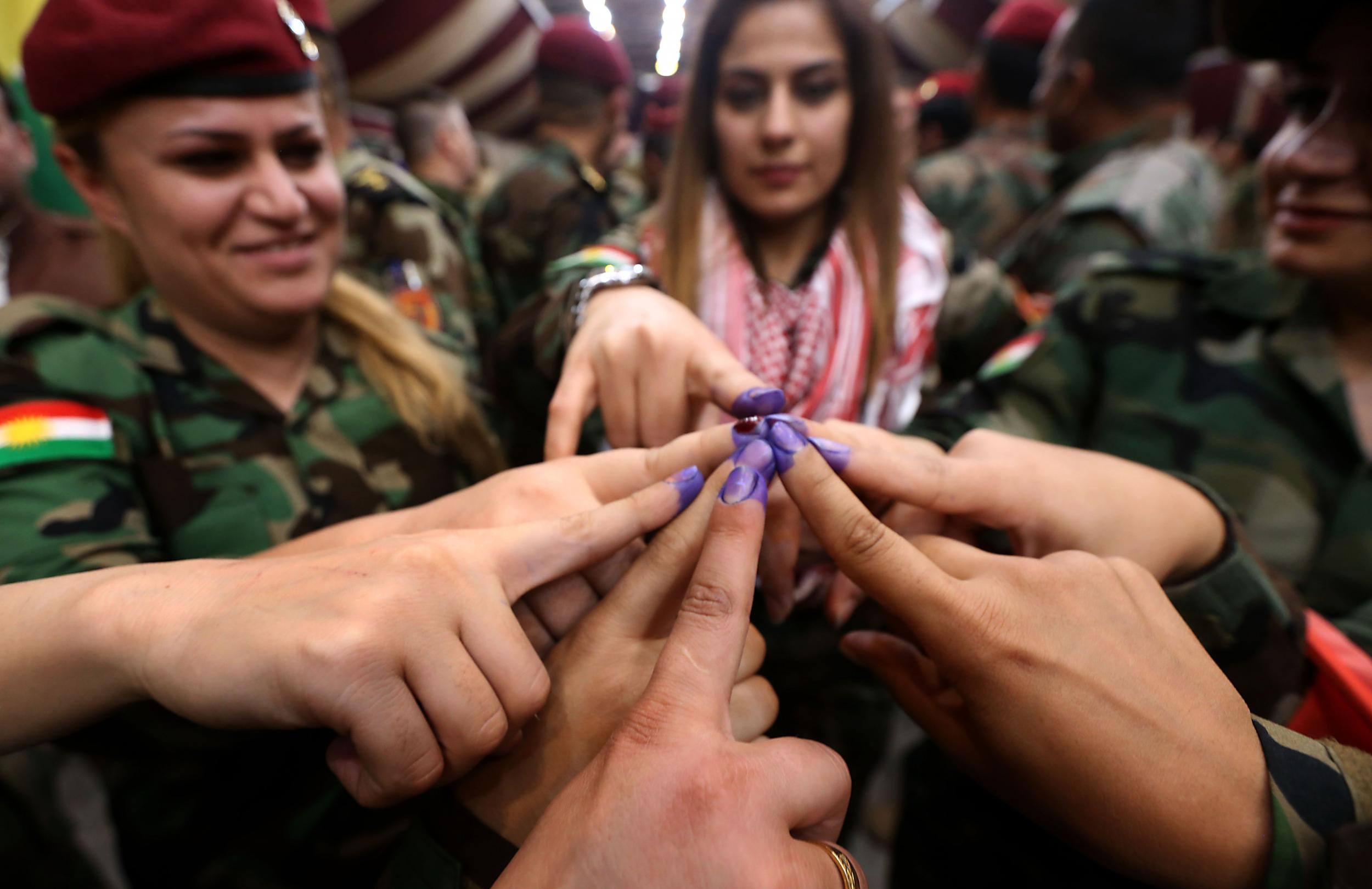 Iran has closed its border with the Kurdish region of Iraq at the request of Baghdad, a statement from the Iranian foreign ministry has said. Land crossings into Iran were shut to Iraqi Kurdistan on Monday, as Iraq's 8.4 million Kurds lined up at polling stations to vote in a referendum on creating an independent state.
The decision follows the closure of both Iranian and Turkish airspace to Iraq on Sunday.
The poll on support for Kurdish independence - which is non-binding and not recognised by Baghdad - has angered the central government, which sees it as a Kurdish attempt to exert greater control over Iraq's oil reserves.
Ths US has repeatedly attempted to persuade the Iraqi Kurdish Regional Government (KRG) to delay the referendum, fearing further friction between Irbil and Baghdad could derail the fight against Isis.
Iraqi woman solving uniform shortage for Kurdish fighters
The KRG is controversially holding the referendum in areas in the north of the country into which its forces have advanced in the fight to defeat Isis, which are ethnically mixed. Increasing unrest in these areas in recent days has led to worries that the likely "yes" result could lead to Arab-Kurdish violence.
The most iconic images from the war in Iraq
Show all 20
Iran has previously described the independence referendum as "untimely and wrong", and reiterated its support for Iraq's territorial integrity and the "democratic process".
Foreign ministry spokesperson Bahram Ghasemi said on Monday that the vote could "lead to developments and happenings that could affect all people of the region and especially Kurdish people".
The Kurdish people - who number roughly 30 million across several countries - were left stateless when the Ottoman Empire collapsed a century ago.
Iran, which also has a significant Kurdish population, is also opposed to the creation of an independent Kurdistan, which could fuel the desire for Kurdish independence in its own territories as well as in Syria and Turkey. Tehran and Baghdad have been closely allied since 2003, when the US-led invasion toppled dictator Saddam Hussein.
News agencies contributed to this report
Join our commenting forum
Join thought-provoking conversations, follow other Independent readers and see their replies