The length of rope used to execute Saddam Hussein could be sold for at least $7 million
The rope is kept on a bronze statue of the toppled leader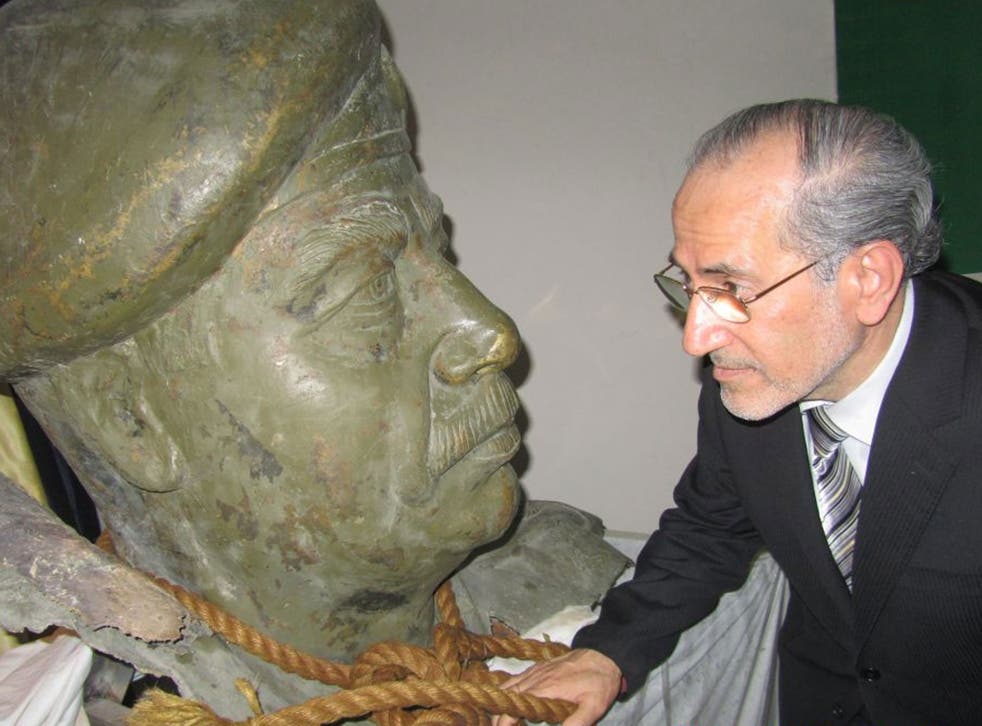 A bidding war starting at $7 million (£4.5 million) has been sparked for the rope used to hang Iraqi leader Saddam Hussein.
The rope, which is kept by a former home minister who was tortured three times by Saddam's regime, is reportedly wanted by two Kuwaiti businessmen, a wealthy Israeli family, a bank and an Iranian religious organisation.
The Iraq War: A timeline

Show all 16
Dr Mowaffak al-Rubaie, who led the former president to his death in 2006, keeps it wrapped around the neck of a statue of Saddam in his living room in northern Baghdad, according to Arabic news site Al Araby.
Dr al-Rubaie – who has not yet confirmed or denied the impending sale – is said to want more than the reported $7 million for the length of rope and is expected to engage in negotiations with the potential buyers.
He claims that he ordered his men to bring him back some of the rope after the toppled dictator was hung by the state.
Dr al-Rubaie had told The Independent that he "thought it appropriate" to drape it around the bronze bust that Americans removed from Saddam's palace.
The money collected from the rope sale "covered in hatred and ignorance" should go towards the treasury to be used for the public's benefit as the law prohibits the sale for private gain, human rights activist Ahmed Saeed had said.
The Shia Muslim, who practiced as a neurologist and surgeon in Britain for 24 years while in exile before he led Saddam to the gallows, was persecuted and even sentenced to death in absentia for his beliefs – although he said that he believes the leader "was not a religious man".
The now-member of the Iraqi parliament had said of the day Saddam was executed: "I was hoping to see him show some remorse for the terrible crimes, the hundreds of thousands of his own citizens that he and his henchmen killed.
"But there was nothing. I could see he was not a religious man. We had to remind him to say 'Allahu Akbar' ['God is greatest'] as he was about to die."
Saddam, who suffocated Shia and Kurdish movements that sought to overthrow his Ba'ath government, was captured in 2003 by a US-UK military coalition.
He was accused of storing weapons of mass destruction – and their existence was put into doubt as none have reportedly been found and no nuclear bomb had been built.
Join our new commenting forum
Join thought-provoking conversations, follow other Independent readers and see their replies