Madaya: Convoy of food and medicine reaches the starving in besieged Syrian town
Médecins Sans Frontières said that five people, including a nine-year-old boy, died in Madaya on Sunday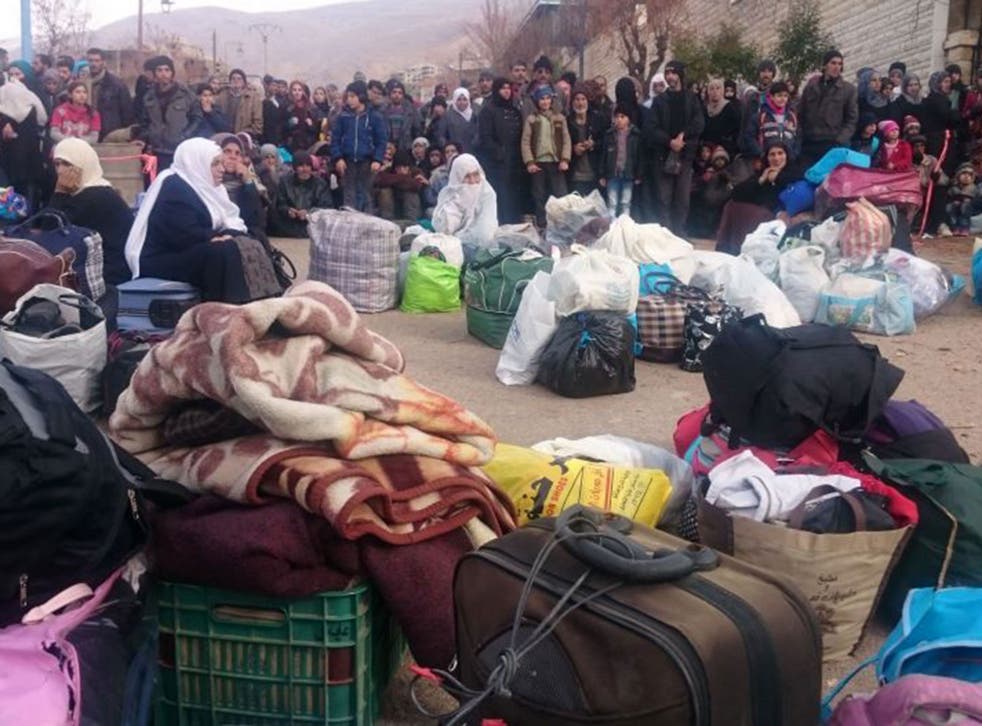 Supplies of food and medicine have finally reached starving residents in the Syrian town of Madaya after six months under a punishing siege. The Syrian government gave permission for a convoy of aid from the United Nations and Syrian Arab Red Crescent, following months of refusals, and after an international outcry at images of skeletal corpses and reports of families forced to eat grass, weeds and cats.
The International Committee of the Red Crescent (ICRC) confirmed that the first lorries entered the town as darkness fell, with distribution due to continue through the night.
Convoys also reached two towns besieged by Islamist rebels in the north of Syria as part of an elaborate three-way agreement.
It was too late for some, however. The Médecins Sans Frontières (MSF) aid agency said that five people, including a nine-year-old boy, died in Madaya on Sunday. The charity said that the medics it supported in the town had reported 28 deaths from starvation since the start of December, when supplies started running out. There were also 10 people suffering from severe starvation needing urgent hospital care, and 200 more malnourished patients, it said.
The mountain town, which lies near the Lebanese border just 15 miles from the Syrian capital Damascus, has been under siege by government forces and its allies from the Iranian-backed Lebanese militia Hezbollah.
Its fate has been bound with the pro-government, predominantly Shia villages of Kefraya and Fua in the province of Idlib as part of a UN-sponsored truce. They have been besieged since March by hardline Islamist rebels seeking to topple the Syrian president Bashar al-Assad. They, too, are said to have been suffering shortages of food and medicine, although they have received some aid drops from the government via helicopter.
The UN deal enabled one initial delivery of aid to get through to the three towns in October. Since then, no supplies have reached Madaya. Its estimated 40,000 inhabitants – battling the cold weather and snow – have grown increasingly desperate amid severe shortages of food and medicine. Prices soared to as much as $250 (£170) for a bag of rice, forcing people to scavenge for supplies.
The UN said it hoped that today's delivery of food, medical items and blankets would be the first in a series of convoys to reach the town in the coming week. Marianne Gasser, head of the ICRC delegation in Syria, warned that "it must not be just a one-off distribution". She said: "To relieve the suffering of these tens of thousands of people, there has to be regular access to these areas."
In pictures: Syria conflict

Show all 40
Ahead of the trucks' arrival, Hezbollah's television channel Al-Manar showed a group of men, women and children waiting to greet the convoy.
Speaking to the station, they accused fighters of hoarding supplies and selling them to civilians at vast prices. The same charge has been levelled at the Hezbollah forces surrounding the town, who are accused of making huge profits from bags of food.
"Our children are dying of hunger," one school teacher told the channel, adding that she had walked to the entrance of the town to make sure she received assistance.
Both sides in the Syrian conflict have been accused of using siege and starvation as a weapon of war. The United Nations estimates that almost 400,000 people are being subjected to such tactics, though some estimates put the figure far higher.
The aid to the besieged towns came as it was reported that at least 12 pupils were killed along with their teacher in a suspected Russian airstrike in Aleppo province.
The Syrian Observatory for Human Rights, a pro-opposition monitoring group, said that the strike took place in the town of Anjara, about nine miles to the west of Aleppo, Syria's largest city.
Images shared by Syrian activists on social media showed a destroyed classroom, with blood-stained textbooks strewn across the floor.
Join our new commenting forum
Join thought-provoking conversations, follow other Independent readers and see their replies