Madaya: The two other Syrian villages where 20,000 people have been starving under rebel siege
Foua and Kefraya, two pro-government villages in Idlib, have been surrounded by Islamist rebels for months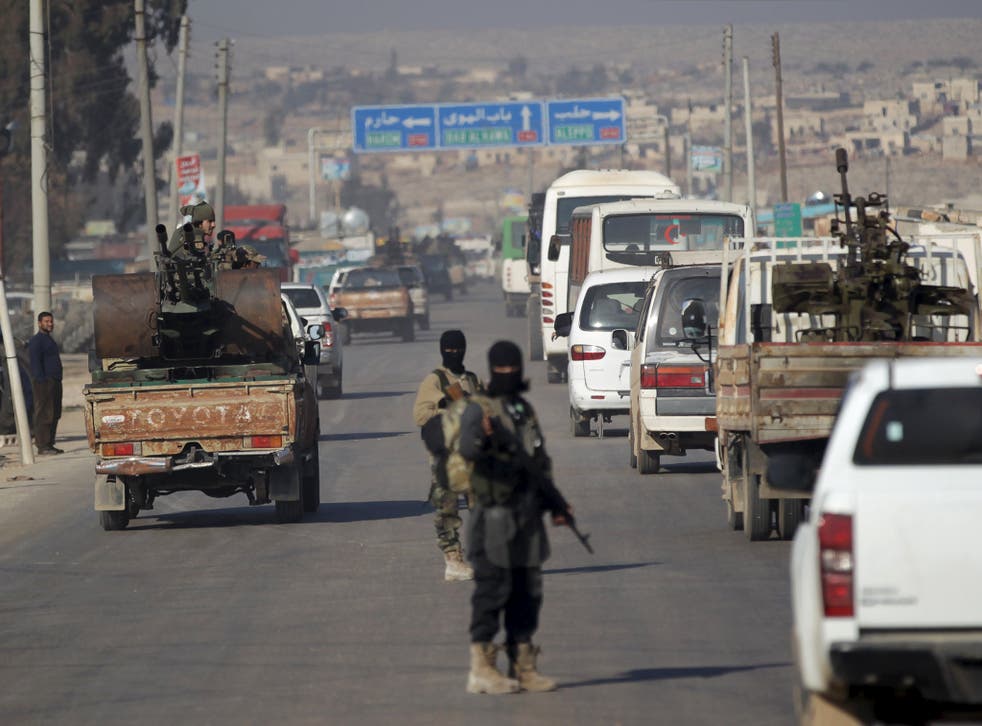 When aid workers finally reached the besieged Syrian town of Madaya they described "malnourished, starving" crowds of people desperately in need of medical help.
The convoy entered on Monday to bring the first food and medical relief for months to 40,000 residents trapped by the Syrian regime and Hezbollah.
But Madaya was not the only town receiving aid - Bashar al-Assad's regime lifted the blockade to give the United Nations and other agencies access on the condition that other areas besieged by Islamist rebels would also receive help.
Aid reaches starving Madaya
A pact also allowed aid into two villages where 20,000 people have been facing starvation largely unnoticed by the international community.
have been surrounded by Jaysh al-Fatah (Army of Conquest), led by al-Qaeda affiliate Jabhat al-Musra and Islamists Ahrar ash-Sham since March last year. Foua and Kefraya
That was when the rebel coalition captured Idlib city from regime forces and continued its offensive through the surrounding countryside.
The Sunni rebels swiftly targeted Foua and Kefraya – predominantly loyalist Shia villages lying less than a mile apart.
A series of suicide bombings, kidnappings and shelling started, with government troops being forced to retreat from the surrounding area.
The fall of a nearby regime air base in September, where helicopters had been landing with food supplies, saw the situation worsen dramatically and stories emerged of people eating grass to survive.
The humanitarian crisis, running parallel with that of the government-surrounded Madaya and Zabadani, forced a deal known as the "four towns truce" to be struck allowing a shipment of aid in October and a following evacuation of more than 400 injured and sick civilians in December.
But until Monday, that was the last international aid to reach the areas.
Abu Yusuf, a student from Kefraya, told The Independent that although the Syrian government has helicopters at its disposal to make food drops it has not been enough.
"Helicopters dropped some provisions but in very small quantities and it wasn't enough for the residents," he said.
"Some aid came from the Red Crescent but it was a very small quantity and it was intercepted by the [armed] groups which stole from it before it reached Kefraya."
A spokesperson for the World Food Programme told The Independent 21 lorries reached the two Sunni villages on Monday with supplies intended to last 20,000 people for a month.
"We hope to follow up the food deliveries with further deliveries of medical supplies and blankets later this week as part of a coordinated operation into the besieged areas," he added.
The Syrian Arab Red Crescent (SARC), which was working the UN and Red Cross carried out the delivery, which it said contained 4,000 food packages, baby formula, specialist nutrition for pregnant women, high energy food, medical supplies and blankets.
In Madaya, which has an estimated population of double the size, 44 lorries arrived with 7,800 food parcels including rice and lentils and corresponding levels of other supplies.
The UN said it had received "credible reports" of people dying from starvation and being killed or injured while trying to leave the town, lying in mountains near the Lebanese border.
In pictures: Syria conflict
Show all 40
Accounts of at least 23 deaths, images of emaciated children and reports of people resorting to eating cats, dogs, leaves and grass to survive have shocked the world.
Some Assad supporters and politicians have said the photos were faked, while others alleged the anti-government rebels controlling Madaya were withholding food from residents.
The UN has long denounced the use of starvation by all sides in the Syrian conflict as a weapon of war, which could eventually be pursued as a war crime or a crime against humanity.
At least 15 sieges continue across Syria, with an estimated 400,000 people trapped in worsening conditions.
Only 10 per cent of all requests to access those areas have been approved and delivered in the past year and humanitarian agencies and international governments have called for Monday's deliveries to be the start of many more.
The issue is expected to be one of many key points in upcoming peace talks scheduled to be brokered by the UN in Geneva on 25 January.