Mecca crane collapse that killed at least 107 caught on video
Amateur footage captures the moment the crane smashes through the roof of Islam's holiest site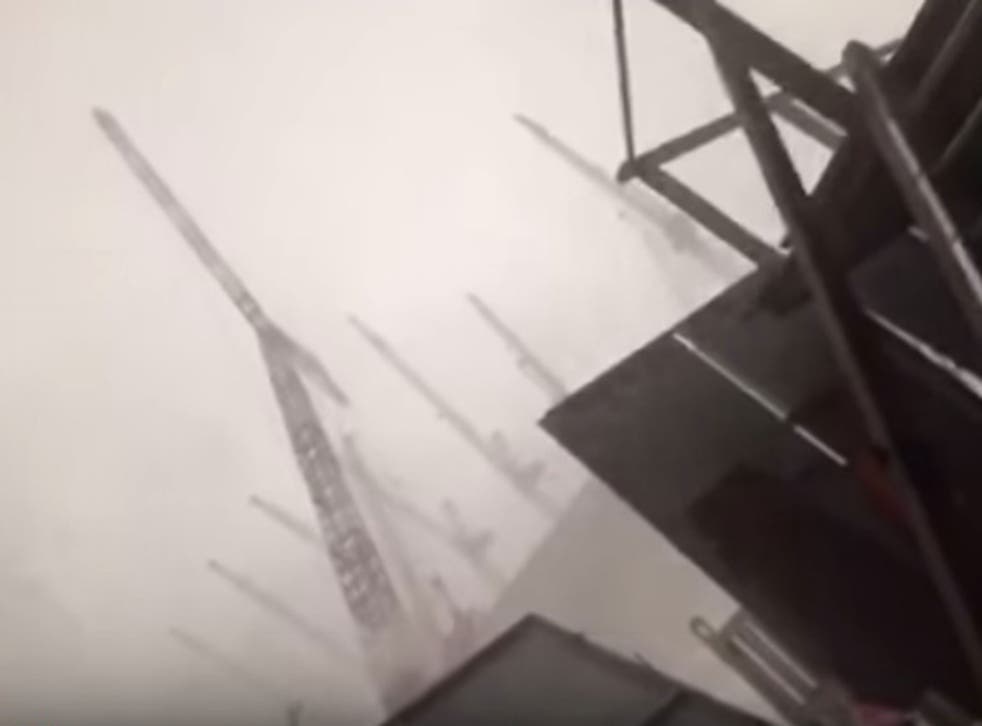 Amateur footage has emerged showing the moment a huge crane was blown through the roof of Mecca's Grand Mosque, killing 107 and injuring more than 230.
The footage, posted on social media, shows the massive red and white crane buffed by winds in a violent rainstorm.
The crane leans and then falls steadily - as if in slow motion - onto the third floor roof of the the Masjid al-Haram.
Men - believed to be construction workers - filming the collapse from behind barriers cry out in anguish as they watch the disaster unfold.
A resounding boom is heard as the crane hits the building.
SCROLL DOWN FOR VIDEO
The crane can then be seen to buckle and bend as it tears through the roof.
A violent rainstorm and strong winds brought down as constructions workers were trying to make the huge complex safer for the millions of visiting Hajj pilgrims expected in the coming weeks.
Tons of rubble and debris rained down scores of people gathering in the mosque for 6.30pm prayers when a section of the crane crashed through the roof.
Photographs inside the mosque show a grisly scene, with police and onlookers attending to numerous bodies strewn around the polished mosque floor in pools of blood.
Register for free to continue reading
Registration is a free and easy way to support our truly independent journalism
By registering, you will also enjoy limited access to Premium articles, exclusive newsletters, commenting, and virtual events with our leading journalists
Already have an account? sign in
Register for free to continue reading
Registration is a free and easy way to support our truly independent journalism
By registering, you will also enjoy limited access to Premium articles, exclusive newsletters, commenting, and virtual events with our leading journalists
Already have an account? sign in
Join our new commenting forum
Join thought-provoking conversations, follow other Independent readers and see their replies