Morsi's decree sparks rival rallies in Egypt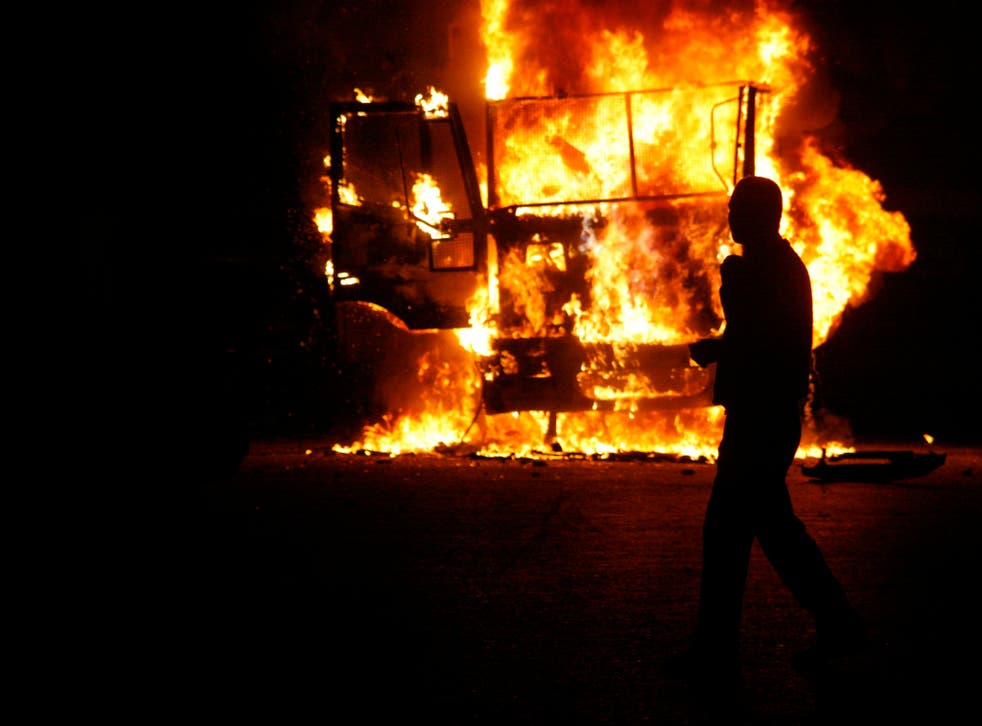 A decree by Egyptian President Mohammed Morsi granting himself extensive new powers triggered dueling demonstrations Friday by supporters and opponents.
Hundreds of protesters gathered in Tahrir Square to denounce the move, chanting "Leave! Leave!" and comparing Morsi to ousted autocrat Hosni Mubarak, whose 30-year rule was ended by Egypt's Arab Spring uprising last year. Several miles away, members of the Muslim Brotherhood movement, with which Morsi is affiliated, rallied in front of the presidential palace to show support for the country's first democratically elected president.
The atmosphere at each demonstration laid bare the divisions facing Egyptian society. In Tahrir Square, the crowd was largely liberal, secular and well-educated. In front of the presidential palace was a far more religious crowd, a mixture of educated Muslim Brotherhood supporters and people whose tattered clothes suggested that their hopes for their nation outstripped their financial means.
Morsi addressed the cheering crowd in front of the ornate palace for about 45 minutes.
"My duty is to move forward with the goals of the revolution and eliminate all obstacles of the past that we have," he said.
State television reported that offices of the Muslim Brotherhood and its Freedom and Justice Party in several cities were torched by protesters angry at Morsi's decree Thursday, which exempted his decisions from judicial review and ordered retrials for former top officials, including Mubarak.
The decree, issued a day after Morsi won international praise for fostering a cease-fire in the Gaza Strip, appears to leave few if any checks on his power. The president said all of the decisions he has made since he took office in June — and until a new constitution is adopted and a parliament elected — were final and not subject to appeal or review.
The announcement, read on state television by Morsi's spokesman and broadcast repeatedly with accompanying nationalistic songs, shocked many in this struggling country, and street protests quickly erupted.
In the port city of Alexandria, protesters stormed the Muslim Brotherhood headquarters Friday, threw books and chairs into the street and set them on fire, Reuters news agency reported. It said supporters and opponents of the president also threw rocks at each other near a mosque in Alexandria.
In Washington, a State Department official said the Obama administration is pressing the Morsi government to explain his assertions of extrajudicial power, declarations that "have raised concerns" in the United States.
In their meeting in Cairo on Wednesday before the announcement of the cease-fire between Israel and Palestinian militants in the Gaza Strip, Secretary of State Hillary Rodham Clinton stressed to Morsi the importance of an "inclusive constitution that protects the rights and advances the aspirations of all Egyptians, including women and Egyptians of all faiths," said the official, who insisted on anonymity in discussing diplomatic contacts between the two governments.
"Among the aspirations of the revolution was to ensure that power would not be overly concentrated in the hands of one person or institution," the official said. "We encourage all parties to work together, and we call for Egyptian leaders to resolve these issues through democratic dialogue."
In Geneva, a spokesman for the U.N. High Commissioner for Human Rights also said Morsi's decree raises serious concerns.
"We are very concerned about the possible huge ramifications of this declaration on human rights and the rule of law in Egypt," Rupert Colville told reporters Friday. "We also fear this could lead to a very volatile situation over the next few days, starting today in fact."
Morsi's broad assertion of control came less than 24 hours after a diplomatic triumph in arranging the cease-fire in Gaza had given new credence to Morsi's international bona fides. And it raised questions about whether Egypt might be headed to a return of its Mubarak-era arrangement on the world stage: a country praised for bringing stability to a volatile region and tolerated for abusing rights at home.
Muslim Brotherhood officials said the measures were necessary to ensure the country's full and healthy return to democracy.
"This level of immunity for presidential decrees is indeed unprecedented, but it is necessary, and it is controlled by a time frame that ends with the election of a new parliament," said Gehad el-Haddad, a senior Muslim Brotherhood adviser. "This constitutional declaration cements the way forward in terms of time frame and powers."
But the decision raised immediate concerns among many liberal activists who had already been worried that Morsi had taken a distinctly authoritarian air in the three months since he swept out the top ranks of the military and sidelined what had long been a powerful independent institution in Egypt. Egypt's short-lived parliament was dismissed by the country's high court shortly before Morsi took power, so legislative powers also are concentrated under the president. Taking the courts out of the equation means there will be no judicial review of Morsi's decisions.
Morsi was elected in June, narrowly triumphing over a Mubarak-era cabinet minister, Ahmed Shafiq, with 52 percent of the vote.
"The President may take the necessary actions and measures to protect the country and the goals of the revolution," the decree read in part.
"Morsi today usurped all state powers & appointed himself Egypt's new pharaoh," wrote former liberal presidential candidate Mohamed ElBaradei on Twitter. "A major blow to the revolution that cld have dire consequences."
The implications on the international stage seemed less clear. Just hours before the announcement, Morsi had been winning plaudits from Israel, Hamas and the United States for having brokered the cease-fire between Israel and Hamas, the Muslim Brotherhood offshoot that rules the Palestinian enclave of the Gaza Strip. Over Tuesday and Wednesday, Morsi and President Obama spoke by telephone three times, White House officials said.
"Morsi chose an interesting time to issue this decree, right after this success with the Gaza cease-fire," said Shadi Hamid, an Egypt expert at the Brookings Doha Center in Qatar. "In some ways, there is a real danger of returning to the Mubarak-era situation where the U.S. really cares about the foreign policy and turns a blind eye to domestic abuses."
But Hamid also noted that Morsi has had broad unilateral power since the August military overhaul but had not frequently exercised it.
In the decree, Morsi declared the retrial of senior officials accused in the deaths of protesters during the country's 2011 revolution, a measure that appeared targeted at Mubarak and his associates. And he dismissed Egypt's Mubarak-era prosecutor general, immediately swearing in a new one.
In June, Mubarak and his former interior minister were sentenced to life in prison for failing to stop the killing of protesters. The judge noted that prosecutors had not presented any evidence that Mubarak or his top officials were directly involved in the killings. Mubarak and his sons were cleared of corruption charges because the statute of limitations had run out. The verdict triggered protests by Muslim Brotherhood members.
Morsi on Thursday also said the Islamist-dominated body that is drafting a new constitution could not be dismissed, and he extended its mandate by two months. It now has until February to finish its work. The constitution is expected to be put to a referendum, followed by legislative elections.
Minutes before the decree was announced in Cairo late Thursday afternoon — shortly before the start of Egypt's weekend — Muslim Brotherhood supporters of Morsi gathered in front of the country's high court. Waving red, white, black and gold Egyptian flags, they chanted in favor of broader measures against a judiciary that remains dominated by Mubarak-era appointees.
But a competing crowd filled Tahrir Square. Some demonstrators brandished posters with split images of the faces of Mubarak and Morsi. The crowd continued to grow late into the night.
The attention of the world over the last week was focused on Egypt's dramatic intercession to end the Israeli bombardment of the Gaza Strip and stop Palestinian rockets from being fired into Israel. But at home, the body writing the country's new constitution was fracturing over disputes about the role of religion in the document. Tahrir Square filled with demonstrators protesting economic problems and the acquittals and light sentences of Mubarak-era officials on charges of corruption and human rights abuses.
Those acquittals, as well the problems with the drafting of the constitution, appear to have spurred Morsi to act. The removal of Prosecutor General Abdel Meguid Mahmoud may please the secular activists who took part in the street protests that toppled Mubarak, analysts said, but the broader removal of checks and balances will not.
In removing Mahmoud, "he is pleasing the revolutionary youth," said Mustapha Kamel el-Sayed, a professor of political science at the American University in Cairo. "But he is giving himself absolute authority."
Morsi tried to dismiss the top prosecutor in October but had to back down after Mahmoud refused to leave, saying that the president had no right to push him out. This time, Morsi put a time limit on what had previously been a lifetime appointment, forcing Mahmoud to step down after six years. He appointed Talaat Ibrahim, 54, an independent judge who local news accounts said had challenged Mubarak's 2005 election on grounds of fraud and had been living in Kuwait since 2007. The swearing-in ceremony was rushed onto state TV.
"These are decisions that will stir up a storm of criticism," said Hassan Nafaa, a political science professor at Cairo University. "Dr. Mohamed Morsi has decided to put himself in the position of the sole protector of the revolution and its spokesman."
- - -
William Branigin and Joby Warrick in Washington and Ingy Hassieb in Cairo contributed to this report.
Join our new commenting forum
Join thought-provoking conversations, follow other Independent readers and see their replies