For 100,000 trapped civilians, the battle for Mosul has reached its final but deadliest stage
Residents of historic Old City are being sealed into their homes to stop them fleeing as last 300 militants fight to the death for what was once Isis's biggest stronghold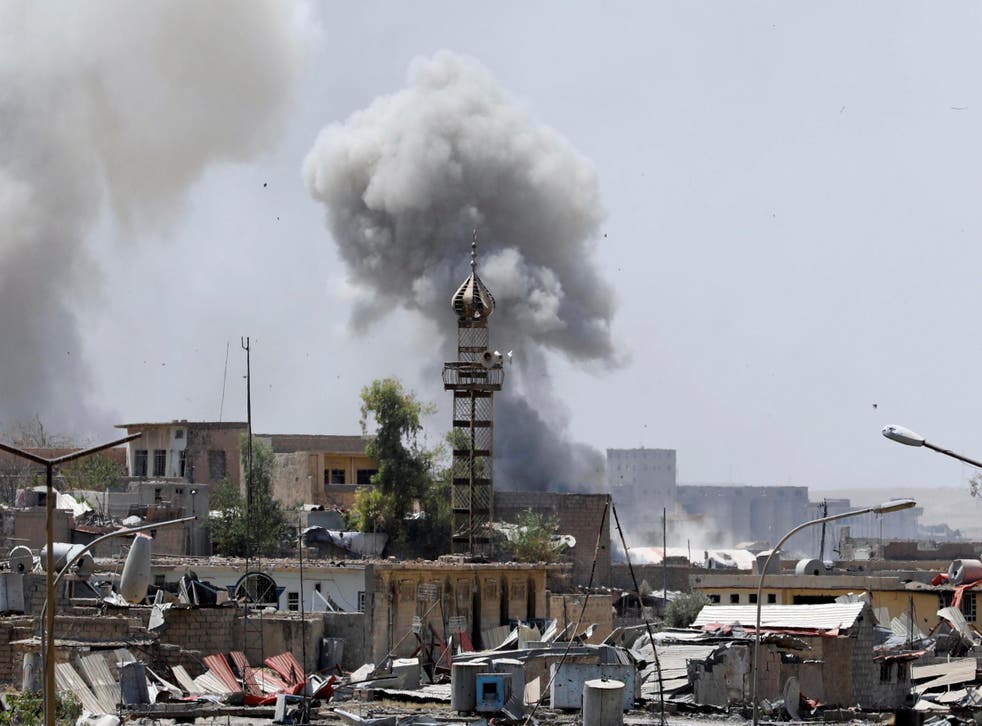 US-backed Iraqi coalition forces are facing intense resistance from the last Isis fighters holed up in the city of Mosul. Up to 100,000 civilians remain trapped in the militant-held Old City. The new offensive from the west and south – after a prolonged fight on the northern front –began on Sunday. It is the final push to remove Isis from the city.
"This is the final chapter," said Lieutenant General Abdul Ghani al-Assadi, senior commander in Mosul of Counter Terrorism Service, on state television. But he added that house-to-house fighting on narrow streets was not an "easy task".
Isis shoots down Iraqi Army Helicopter above Mosul
The historic district of winding alleyways is the last pocket of Mosul under jihadist control – but the fight to free the city, once the jewel in the so-called caliphate's crown, has been long and bloody.
"The operation now is about street fighting. Air and artillery strikes will be limited because the area is heavily populated and the buildings fragile," Sabah al-Numan, spokesperson for the elite Counter Terrorism Service, told al-Hadath TV..
Initially both Iraqi and US forces were hopeful Operation Inherent Resolve, launched in October, would be completed by the end of the year. Fierce fighting from Isis – hundreds of whose soldiers killed themselves in suicide bombings or defended their positions to the death – has slowed the operation. In nine months of fighting a total of 850,000 people have fled their homes and thousands of civilians have been killed by US-led coalition bombing, as well as at the hands of Isis. The Iraqi government has refused to release soldier casualty figures for fear the high toll would damage troops' morale.
In pictures: Mosul offensive

Show all 40
The coalition now believes there are fewer than 300 militants holed up in the historic Old City, but in their grasp are hundreds of thousands of civilians who are being used as human shields while water, food and medical supplies run dangerously low.
Civilians have been told to flee but Isis snipers, improvised explosive devices and airstrikes make the journey to safety too perilous for many. In the past three weeks casualties have intensified because Iraqi forces could not fully secure exit corridors. Isis snipers have killed around 230 people as they have tried to cross the Tigris River in small boats, according to the UN.
Those who have managed to get to liberated parts of the city or in internally displaced persons (IDP) camps in the region have spoken of families barricaded into their homes and doors and windows welded shut to stop them fleeing.
"An estimated 50,000 children are in grave danger as the fighting in Mosul enters what is likely to be its deadliest phase yet," Save the Children said in a statement on Sunday.
Isis swept across more than a third of Iraq from neighbouring Syria in a series of surprise attacks in the summer of 2014. Its position as a powerful player in the region was assured when its fighters stormed Mosul, Iraq's rich, cosmopolitan second city, before the occupation home to 1.5 million people.
The fall of Mosul is dovetailing with the operation to retake Isis's de facto capital of Raqqa in northern Syria. Faced with a fight to the death with no prospect of surrender, Isis is more likely than ever to use Raqqa's 220,000 civilians as human shields.
"We've already seen in Mosul the coalition using very high concentrations of firepower on densely populated areas," Chris Woods of Air Wars, an organisation monitoring US-led strikes in Syria and Iraq, recently told The Independent. "The concerns we have for Raqqa are even greater."
Register for free to continue reading
Registration is a free and easy way to support our truly independent journalism
By registering, you will also enjoy limited access to Premium articles, exclusive newsletters, commenting, and virtual events with our leading journalists
Already have an account? sign in
Register for free to continue reading
Registration is a free and easy way to support our truly independent journalism
By registering, you will also enjoy limited access to Premium articles, exclusive newsletters, commenting, and virtual events with our leading journalists
Already have an account? sign in
Join our new commenting forum
Join thought-provoking conversations, follow other Independent readers and see their replies