Mosul: Isis shoots dead 40 civilians and 'hangs bodies from electricity poles'
Residents in the Isis-held northern Iraqi city of Mosul have been executed on suspicion of treason, UN report says, as jihadis step up brutal tactics to keep civilian population in line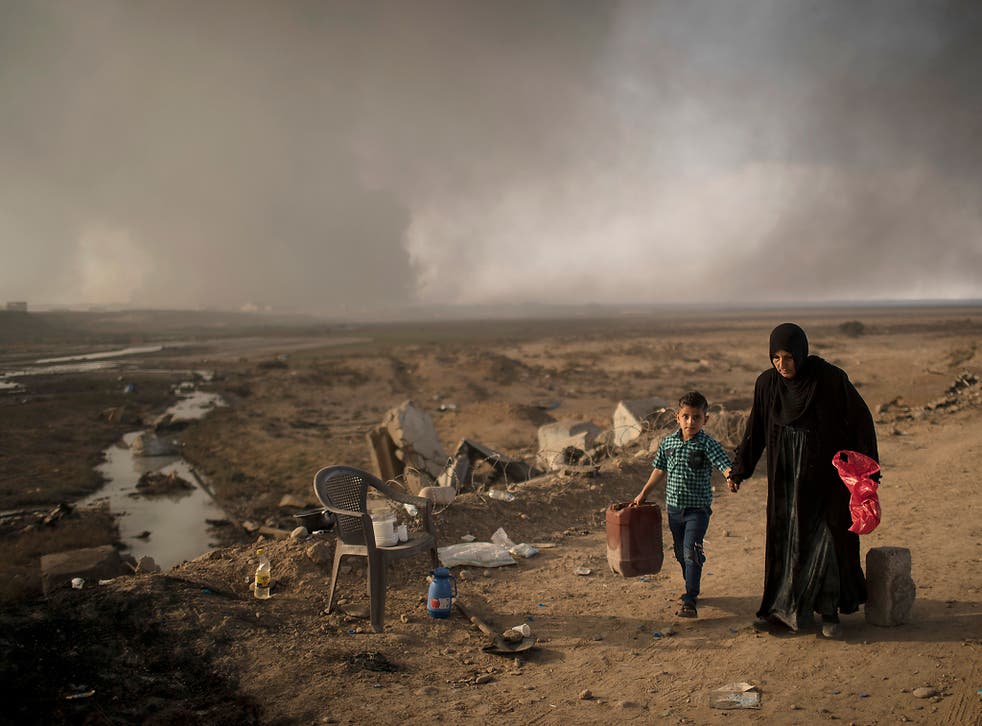 At least 40 civilians have been shot and killed and their bodies displayed from electricity poles in the Isis-controlled city of Mosul, the UN has said.
The latest crackdown on residents suspected of treason against Isis' so-called caliphate was reported by the UN's Human Rights Commissioner on Thursday, citing reliable sources within the city.
Another man was reportedly executed in a public square for ignoring Isis' new ban on mobile phones.
The reports are the latest examples of how the jihadis are growing ever more ruthless in their attempts to suppress signs of rebellion as Iraqi coalition forces advance on Mosul to end the group's two-year-long occupation of the city.
The UN said that the recent killings were preceded by hastily-organised kangaroo courts in which the defendants were forced to don orange jumpsuits with signs reading "traitors and agents of the ISF" (Iraqi Security Forces) before being sentenced to death for "treason and collaboration". One source cited escaped death by playing dead during one of the mass shootings.
Around 20 more people were also shot dead on Wednesday at Ghabat, in the north of the city, for supposedly leaking intelligence information to outside sources.
The executions are the latest in a string of atrocities reported by freed civilians as the US-backed forces recapture more and more Isis territory.
In pictures: Mosul offensive

Show all 40
"The devil himself would be astounded by [Isis'] methods of torture. It is beyond the imagination," Ahmed, a former English teacher from Hammam al-Alil, south of Mosul, said when the town was liberated last week.
He recalled listening to the cries of agony coming from a detention centre across the street from his home as Isis fighters dragged civilians outside to be executed in the middle of the night.
Since the offensive began four weeks ago there have been multiple reports from the UN and rights groups of civilians being executed for trying to flee fighting or for suspected links to the Iraqi police. Their bodies have either been buried in shallow graves or thrown into the Tigris river in order to scare other locals into submission.
Thousands more civilians have been forcibly driven deeper into Isis territory on trucks and minibuses for use at strategic locations as human shields. One source told the UN that a group of women and children who had not walked fast enough because one of their number was physically disabled had been shot at the roadside for delaying the rest of the convoy.
Mosul battle: Civilians flee ahead of fighting
Speaking on Thursday the UN High Commissioner for Human Rights, Zeid Raad al-Hussein, also expressed concern for the welfare of children and teenagers recruited as spies and fighters. Isis' media channel released a video on Wednesday of children no older than 14 shooting four suspected police informants dead.
Elite Iraqi Counter Terrorism Service units have managed to infiltrate Mosul's eastern suburbs. The coalition is currently preparing to enter the city from the south as well, although resistance in the form of Isis suicide bomb and car attacks, sniper and mortar fire and improvised explosive devices has presented a challenging urban battlefield for the US-backed troops.
More than 45,000 people from surrounding towns and villages on the Nineveh plain have arrived at displacement camps so far, but aid groups warn up to 700,000 are expected to need humanitarian assistance as they flee fighting.
Join our new commenting forum
Join thought-provoking conversations, follow other Independent readers and see their replies