Muslim Brotherhood leader Mohamed Badie and 13 members sentenced to death by Egyptian court
All 14 members of the Brotherhood were found guilty of inciting violence against the state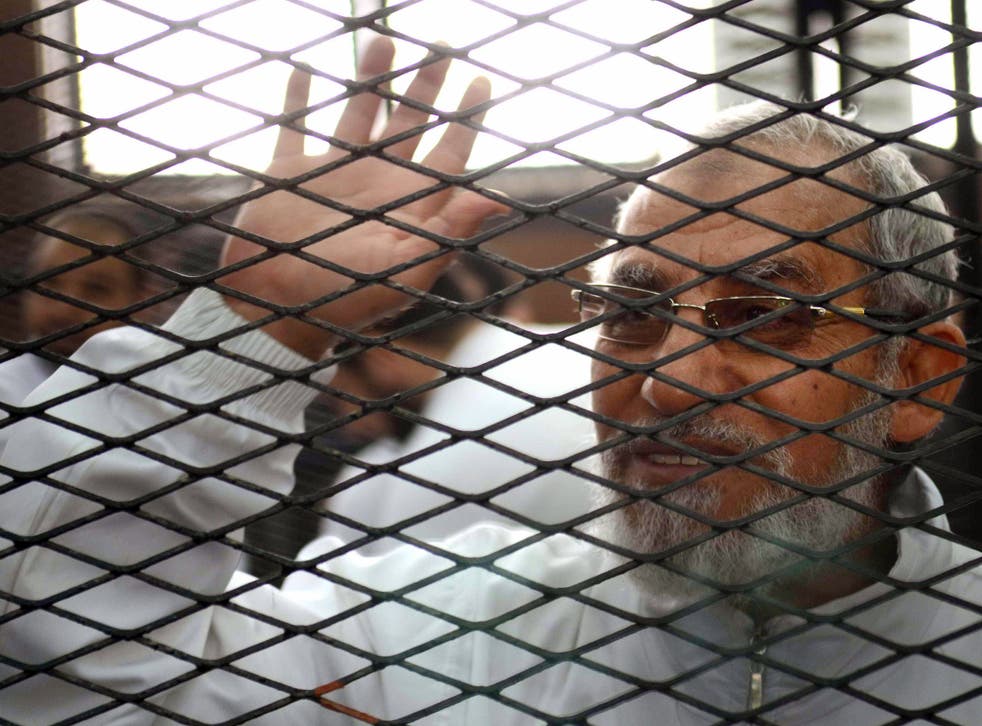 The leader of the Muslim Brotherhood has been sentenced to death for inciting violence against the state, an Egyptian court has confirmed.
Mohamed Badie and 13 other senior members of the group were sentenced on 16 March, with a formal issue for the ruling after consultation with the grand mufti, Egypt's highest Islamic legal official, made on 11 April.
All 14 members of the Brotherhood, which was denounced as a "terrorist organisation" and banned in 2013, were found guilty of inciting violence against the state.
Hundreds of people have been sentenced to death following the crackdown on the Brotherhood, however only one death sentence has been carried out so far.
The sentences can be appealed before Egypt's highest civilian court in a process that could take years to reach a final verdict
The court session for the Muslim Brotherhood members was broadcast live on television. Two of the defendants were sentenced to death in absentia.
The case is rooted in violence that rocked Egypt after the military-led coup against Islamist President Mohammed Morsi, whose supporters set up protest encampments in Cairo.
Security forces ended the sit-ins, with violence, resulting in the death of hundreds of people. In retaliation, many police stations and churches came under attack by alleged Morsi supporters.
The Giza Criminal Court convicted Brotherhood Supreme Guide Mohammed Badie and 13 others of orchestrating the violence.
David Cameron pulled a long-awaited report on the Muslim Brotherhood which was due in March, in an apparent attempt to avert a potential row with Saudi Arabia and Egypt.
A decision on the UK's attitude to the Muslim Brotherhood was predicted to be put off until after the general election.
Additional reporting by Reuters
Join our new commenting forum
Join thought-provoking conversations, follow other Independent readers and see their replies