New Isis images show brutal execution of eight Iraqi policemen accused of 'informing' on group
Hostages are shown to be wearing microphones – suggesting a video could also emerge of the killing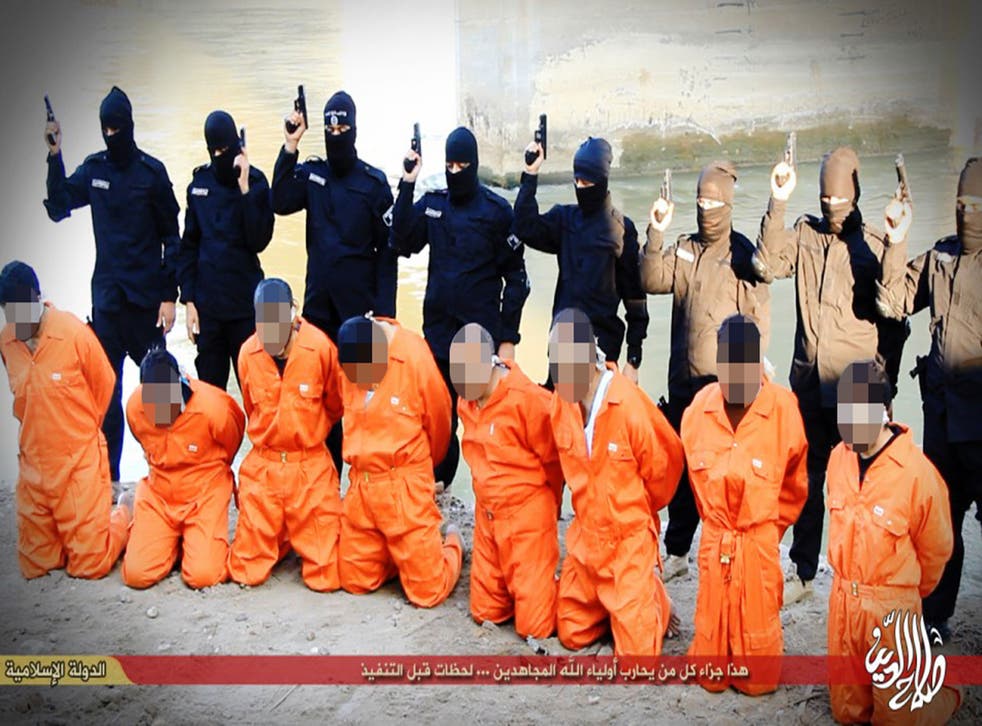 Isis has released gruesome photos purporting to show the brutal execution of Iraqi police and men it accused of informing on the group.
A series of pictures entitled 'Day of Retribution' show eight men dressed in orange jumpsuits kneeling on the floor. Twelve balaclava-clad men dressed in black are seen holding hand guns in the air behind them.
The captives are also wearing microphones – suggesting a video could follow the photos. It is not yet known how long the men were held hostage by militants before their deaths.
The images, which were first reported by the Daily Mail, show the handcuffed hostages in both group and individual photos.
The men are then blindfolded, led towards the river and executed with a single bullet to the head.
Charlie Winter, a researcher at counter-extremism think tank the Quilliam Foundation, said the pictures had created "quite a buzz" among Isis supporters in the 24 hours since their release, with one page containing the images viewed over 55,000 times.
He told The Independent some of the hostages were suspected of helping the "crusader coalition" by the group.
According to Mr Winter, the text alongside the photos reads: "The Special Security Forces of the Islamic State, upon receiving precise intelligence, were able to infiltrate this network of apostates who were working to help the Safavid [Iraqi] government.
Timeline: The emergence of Isis

Show all 40
He said: "Some are accused of giving information to Iraqi army, while another is accused off showing planes where to bomb."
Four men are named as Iraqi policemen, while one portrait image claims to show a police captain named Hissam Salah.
"Two other men are described as informers and one more is not identified," he added.
"The pictures were first shared by an Isis media account before being circulated on Twitter using just a hashtag to ensure it is seen by a bigger audience."
Mr Winter said the photos could be part of a forthcoming video or production by Isis.
"They've done it in the past where they only release stills from a video. It is usually part of a bigger, longer release which will show a number of different things."
Join our new commenting forum
Join thought-provoking conversations, follow other Independent readers and see their replies