The new suffragettes: Courage in Cairo - the Arab women's awakening
Continuing our week-long celebration of campaigners whose commitment merits comparison to that of the original suffragettes, Catrina Stewart talks to a young Egyptian whose heroism has inspired tens of thousands of supporters across the Middle East and beyond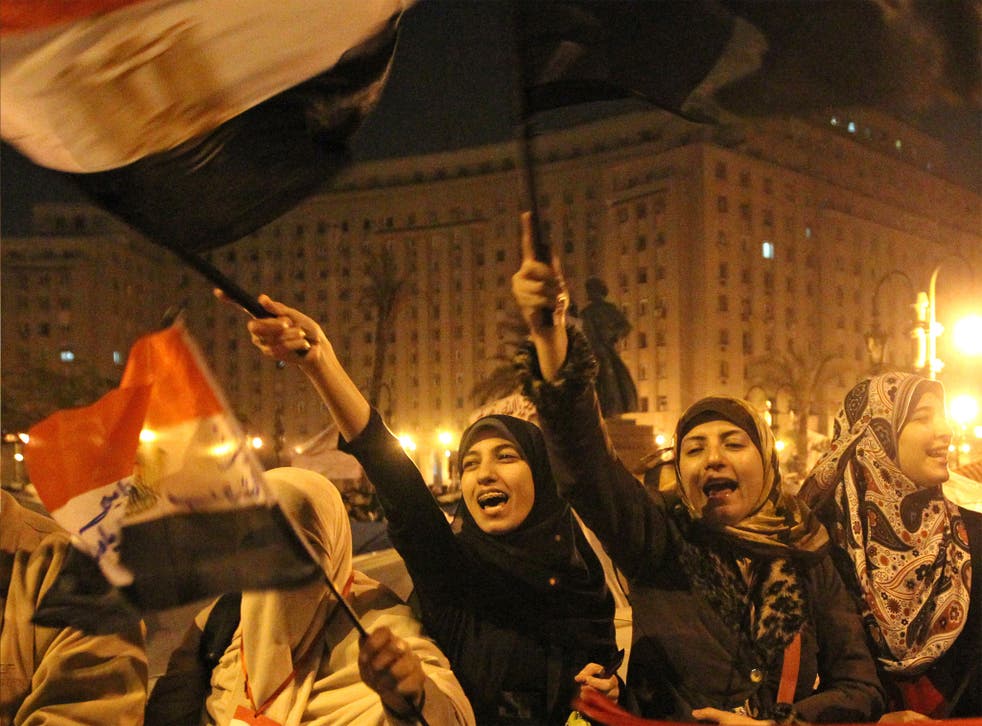 When Doria Shafiq stormed Egypt's parliament in 1951 to demand women's suffrage, she fired the imagination of her countrywomen and was transformed overnight into a national celebrity. More than 60 years later, her story is little known, her tragic tale largely edited out of modern Egyptian history.
Although instrumental in winning women the right to vote in 1956, Shafiq would pay dearly for it. She was placed under house arrest by Gamal Nasser's regime in 1957 and spent the next 18 years in seclusion. Her writings were banned and her name expunged from the Egyptian press and textbooks. She ended her life in 1975 by plunging to her death from a balcony.
Shafiq was the last of the country's so-called "exotic heroines", and her demise closely mirrored that of the women's rights movement in Egypt. Until, that is, 2011, when the popular uprising that ousted Hosni Mubarak, the longtime ruler, ushered in a new generation of women eager to flex their newly-acquired freedoms.
Before the revolution, Sally Zohney was like most young Egyptian women: politically apathetic. Her personal struggles were confined to the home as she attempted to stretch the boundaries taken for granted in Egypt. She hoped for political change, of course, but it took a national uprising to give women like her a voice.
Among Ms Zohney's first acts during the revolution was to disregard her anxious parents and join the men protesting in Tahrir Square.
"I would get scared a lot and would run a lot," she says by telephone from Mecca in Saudi Arabia, where she is on religious pilgrimage. "But I didn't want to be asked 10 years later where I was, and say that I was at home." As Egyptians focused on the core demands of bread, dignity and justice, Ms Zohney underwent an enormous personal liberation that started with challenging her parents – who later came to support her despite the dangers – and a society that would keep her at home.
But even as women were revelling in their new freedoms – nearly half of the protesters calling for Mubarak's departure were women – many, including some of the most prominent female activists to emerge from the revolution, argued that those protests were about democracy, and that those who wanted to claim women's rights should bide their time.
Yet there was a risk that, if excluded from the democracy-building process, women would lose the rights they already had. Ms Zohney says it was precisely the moment to act.
The revolution "was liberating for women who had never questioned their rights before," she says. "We started to pay attention to these issues: how many women there are in parliament; the articles concerning women in the constitution; women in public life. It had never happened [to our generation] before."
Remarkable women have emerged from the revolution: Mona Seif, who spread awareness with images from Tahrir; Asmaa Mahfouz, whose video inciting protesters to action is credited by some with starting the revolution; Samira Ibrahim, who went public about virginity tests performed on female detainees.
But few have galvanised women across the Arab world to challenge societal taboos in the way that Ms Zohney has. After the revolution, she helped found Baheya Ya Masr, a women's advocacy group, and she is one of four organisers behind the uprising of women in the Arab world, a project that started out on Facebook to prevent women being forgotten in the euphoria surrounding the Arab revolts.
With over 100,000 followers, the idea has snowballed into one of the most talked-about social phenomena in the region. Women from across the Arab world post their photographs and stories, challenging the patriarchal nature of their society and speaking out about their experiences of rape and domestic violence.
Support has come from unexpected quarters. A teenage Saudi boy posted: "I am with the uprising of women in the Arab world because I am 16 years old and, according to the law, I am the guardian of my widowed mother. Revolt, mother! You are strong, you are free!''
Another post shows a Syrian girl with cropped hair holding out her passport with a picture of her former veiled self, saying: "I am with the uprising of women in the Arab world because for 20 years I was not allowed to feel the wind in my hair and on my body." The photograph attracted a slew of complaints, prompting Facebook to remove the post, only to reinstate it later.
Yet Ms Zohney is aware how fragile such signs of progress are. Feminists such as Shafiq, or Huda Shaarawi, who famously removed her veil when she alighted from a train in 1923, have been an inspiration for many Egyptian women. But where are their achievements now? "I read their biographies. It's the same thing. We are back to square one, back to the same demands of the 1920s," she says.
While the 1950s is seen by some as the heyday for the women's rights movement in Egypt, it is also true that Suzanne Mubarak, the deposed first lady, secured many important rights for women during the Mubarak era. This feminist legacy is now tainted by her ties to the regime.
One of Mubarak's achievements, the adoption of a female parliamentary quota in 2009, was repealed by the transitional military rulers within weeks of her husband's fall, while others, such as the law allowing women to divorce their husbands, are under threat.
Since the Muslim Brotherhood and the Salafists swept parliamentary elections held over six weeks in 2011-2012, and a Brotherhood-backed president was elected, Islamists have achieved an unprecedented say in shaping Egypt. Under the ruling Brotherhood's watch, activists have noted the adoption of an increasingly strident anti-women tone by hardline preachers and some television channels, while Islamist politicians are accused of selling out women in the new constitution.
In its most revealing move yet, the Brotherhood earlier this year attempted to block a UN declaration on women's rights, warning that freedoms such as the right to travel and work without a male guardian's permission, and the right to accuse their husbands of marital rape, would lead to the "complete disintegration of society".
Vast swathes of Egypt remain deeply conservative, with women denied many of the freedoms taken for granted by Cairo's liberal elite. Issues such as domestic violence and female circumcision (also known as female genital mutilation) remain barely addressed, or are even condoned, while women, even though allowed to vote, rarely exercise that right.
The problem, says Ms Zohney, is "the abuse of the religious discourse. We are conservative by nature [in Egypt] and we tend not to argue when it comes to religion. Where people are illiterate, the imam knows best," she says, adding that women in underdeveloped communities are particularly susceptible to religious edicts allowing the marriage of a nine-year-old girl or denying a woman the right to inherit. "These are the challenges, because people do not challenge them."
Instead, she complains, people focus on the superficial issues. "There will never be a law saying you should wear a veil," she says, pointing out that efforts to put women in their place have so far been emphatically rebuffed. "Saying Egypt will be Afghanistan is just ridiculous."
"Women [now] know what they want. If the national discourse tells women: 'You don't belong in government', women will challenge that, because they know it comes with a specific interest to eliminate them. The only positive is that, at a ground level, women are more aware of the risks of losing their rights."
Not all agree. Dalia Ziada, a leading women's rights campaigner, says that a Brotherhood-led Egypt will ultimately lead, 10 years from now, to a country that is unrecognisable. "They [the Brotherhood] don't believe women have a role to play except serving the man and working in the house," she says. "An illiterate woman with no knowledge of religion will be deceived. We will end up being like Pakistan… or something even worse."
Join our new commenting forum
Join thought-provoking conversations, follow other Independent readers and see their replies