Nimr al-Nimr execution: Sectarian fault lines widen across Middle East after Saudi Arabia's beheading of Shia cleric
Kuwait becomes latest ally of Sunni Muslim kingdom to cut ties with Iran following attack on Saudi embassy in Tehran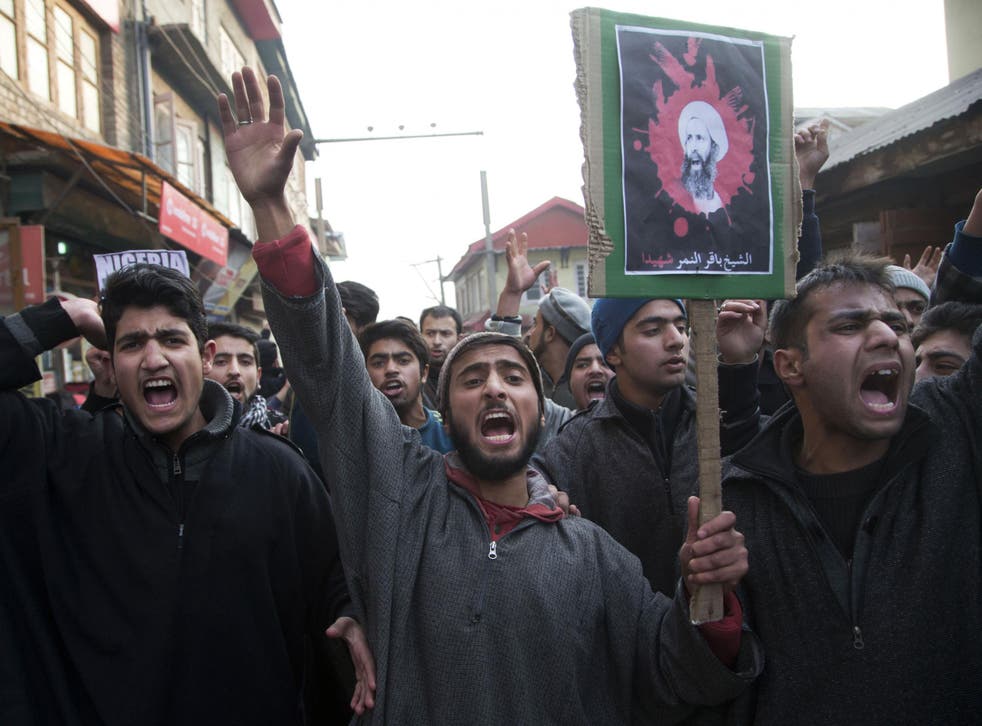 Repercussions from Saudi Arabia's execution of the Shia Muslim cleric Sheikh Nimr al-Nimr have continued, with bitter recriminations and sectarian divisions threatening to derail attempts to end the wars in Syria and Yemen.
Kuwait recalled its ambassador from Iran after Sunni-led Saudi Arabia and its allies, Bahrain and Sudan, also broke off diplomatic relations with the Shia state, and the United Arab Emirates downgraded its mission in Tehran.
The increasingly aggressive diplomatic moves came after the Saudi embassy in Tehran was ransacked and set alight on Saturday in retaliation for Riyadh ordering the execution of Sheikh Nimr, a Shia cleric, and 46 others. Hundreds of Shia marched through Sunni-ruled Bahrain on Tuesday in protest against the killing.
Meanwhile, Iran chose this volatile moment to show footage on state television of an underground depot storing Emad guided missiles, which the US says can be fitted with nuclear warheads and whose existence violates a UN Security Council resolution agreed in 2010. Another missile depot was shown on Iranian TV three months ago.
The move came even as the US and the European Union continued working towards lifting sanctions on Tehran following the nuclear deal reached last July – a deal which has been scathingly criticised by Saudi Arabia, Israel and the Republican right in the US.
Iran has largely abided by the terms of the agreement, but its President, Hassan Rouhani, has agreed to expand the nuclear programme under pressure, it is believed, from powerful conservative factions in the country.
The missiles are a further complicating factor as the historic enmity between Shia and Sunni states reaches one of its most critical moments. A ceasefire in Yemen, where a Saudi-led coalition is fighting Iranian-backed Houthi rebels, has already collapsed. Now talks about the Syrian war, due to be held in Geneva later this month, may be in jeopardy.
Saudi Arabia, the foremost backer of Syrian Sunni rebels fighting Bashar al-Assad's regime, insisted that it would attend the Geneva meeting. But the Saudis have been suspicious of the talks from the outset, claiming that they are designed to entrench Iranian interests in Syria. Diplomats say that recent developments show that Riyadh is determined to counter what it sees as a growing Shia influence.
In Washington, the White House spokesman, Josh Earnest, said: "We have a very difficult situation we are trying to navigate, in terms of reaching a political resolution for the situation inside Syria. It's very difficult to get everybody around a table and it's certainly going to be even more difficult if you have the Saudis and the Iranians trading public barbs and public expressions of antagonism."
In Tehran, President Rouhani said: "The Saudi government, in order to cover up its crime of beheading a religious leader, has resorted to a strange measure of severing its ties with the Islamic Republic. Such moves will never hide that great crime, criticism should not be responded to with beheading."
But some senior Iranian figures believe that Tehran's own response to the beheading has been ill thought out, and they have taken the unusual step of expressing their views. One official based abroad said the execution was not just another expression of the Saudis' brand of brutal, fundamentalist Wahhabism – as it has been portrayed in the West – but a Saudi plan to try to undermine the reintegration of Iran into the international fold.
"It was a trap by the Saudis," he claimed. "There were not enough police on the street to stop the crowd when they took out their anger on the [Saudi] embassy, and so the pictures were like the old days, of the American embassy being attacked, the British embassy being attacked. The Saudis are very worried about the progress we are making diplomatically, so they are trying to sabotage this."
Fazel Meybodi, a cleric in the Iranian holy city of Qum, said: "Saudi Arabia killed Sheikh al-Nimr at this sensitive time to widen the gulf between Sunni and Shia Muslims. Unfortunately, they had predicted our overreaction, and now they are using it against us to try to isolate Iran once again."
A commander in Iran's Revolutionary Guards also condemned the embassy the attack. Mohsen Kazemini said what happened was "wrong and mistaken", but insisted it was not a spontaneous act by demonstrators but one orchestrated by "rogue elements".
Parliamentary elections are due in Iran, as well as the election of a clerical council that chooses the nation's Supreme Leader. Mr Rouhani faces opposition from hardliners over the nuclear deal and the rapprochement with the West. Robert Emerson, a security analyst, said: "The moderates retaining influence will be good for Iran and the West, but if certain other parties in the region want Iran back in the cold, what's better than having the hardliners back in power in Tehran?"
Join our new commenting forum
Join thought-provoking conversations, follow other Independent readers and see their replies