Official civilian death toll from US air strikes against Isis in Syria and Iraq doubles to 41
A spokesperson for the US military said all possible precautions were taken to avoid 'collateral damage'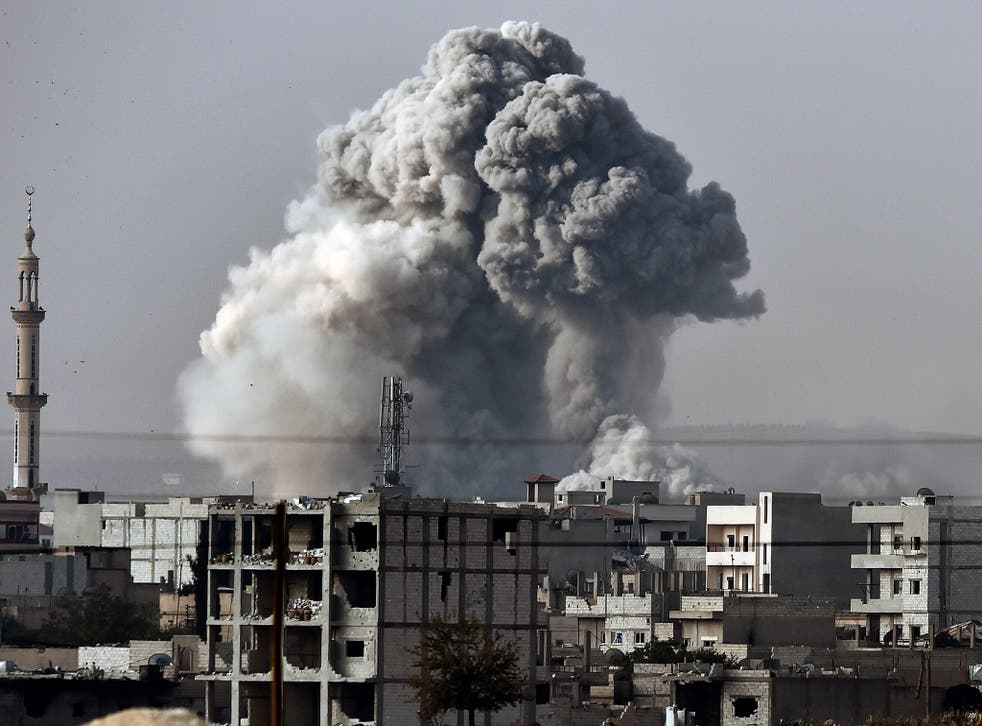 The number of confirmed civilian deaths in American air strikes against Isis in Iraq and Syria has almost doubled to 41.
US Central Command has concluded a new round of investigations into reports of innocent bystanders being killed in bombings campaigns against what it said were "legitimate targets".
At least 20 civilians died in US air strikes between September and February, including eight in a single attack on a mortar position used by militants, it said.
Colonel Patrick Ryder, a spokesperson for Central Command, said the casualties were "deeply regretted" but maintained that the campaign was the "the most precise air campaign in the history of warfare".
"There is no such thing as an intentional civilian casualty," he added.
"We are attempting to avoid civilian casualties, but in these cases, unfortunately, we assess that it was likely that civilians had died.
"In this type of armed conflict, particularly with an enemy who hides among the civilian population, there are going to be, unfortunately, civilian casualties at times."
An official report said the "preponderance of evidence" shows that 20 civilians were killed and 11 injured in nine separate US strikes.
The first was in Iraq on 10 September, when a vehicle drove into the target area near an Isis checkpoint in Kubaysah "after weapons were already in flight". Two civilians were killed and four were injured when their vehicle appeared in the target area.
The deadliest single strike was on 5 October in Atshanah, Iraq, when eight civilians died when a mortar position was hit.
In another apparent accident involving moving vehicles, two people were injured Al Huwayjah, Iraq, when a targeted Isis vehicle "unexpectedly" pulled off the road to where they were standing on 4 November.
Days later, a civilian was killed in an unspecified strike against Isis fighters in Ramadi, Iraq, and on 10 September, another bystander died during strikes against Siful Sujan, said to be an Isis external operations planner, in the group's de-facto Syrian capital of Raqqa.
Officials said another five civilians were killed when they "unexpectedly moved into the target location" near a checkpoint in Ramadi, Iraq, on 12 December.
Then on Christmas Eve, a passing motorcycle rider died when a missile hit a car carrying two Isis fighters in Tishreen, Syria.
One civilian was killed and five were injured near Mosul, Iraq, on 11 January during a highly publicised strike on five Isis militants guarding a cash distribution centre.
Operation Inherent Resolve released cockpit footage of the strike, showing the building explode into flames as cash burst into the air, hailing efforts to "disrupt and destroy Daesh financial operations".
The most recent confirmed incident came on 2 February, when a civilian was killed after driving near a targeted Isis vehicle in Al Ghazili, Syria.
"The Coalition takes all feasible precautions to avoid civilian casualties during the course of military operations," a statement from Central Command said.
"In all of the cases released (on Friday), assessments determined that although the strikes complied with the law of armed conflict and all appropriate precautions were taken, civilian casualties unfortunately did occur."
The 20 deaths nearly doubled the total number of acknowledged civilian casualties since the US-led air campaign began in 2014.
It has conducted nearly 12,000 air strikes in that time, which has also seen Russia start its own air campaign in support of President Bashar-al Assad in Syria.
In pictures: Russian air strikes in Syria

Show all 19
The Kremlin has criticised the US over "collateral damage" while denying claims that its strikes have killed hundreds of civilians in what human rights organisations have called "indiscriminate" bombing on rebel territory.
The number of civilian deaths acknowledged by the US now stands at 41, although the number is expected to rise as investigations into other incidents continue.
The US did not release the number of dead Isis militants, although the Pentagon recently claimed more than 25,000 jihadists had been killed in air strikes.
"Their ranks of fighters are estimated to be at the lowest levels in about two years, and more and more of them are realising that their cause is lost," Barack Obama said.
Monitors from the independent NGO said the civilian death toll from air strikes by the US-led coalition was due to pass 1,000 last month.
The figure was described in Parliament as "credible", sparking calls for Britain and other member states to release reports.
Additional reporting by AP
Join our new commenting forum
Join thought-provoking conversations, follow other Independent readers and see their replies