Palestinians lash out at West as Prime Minister Salam Fayyad quits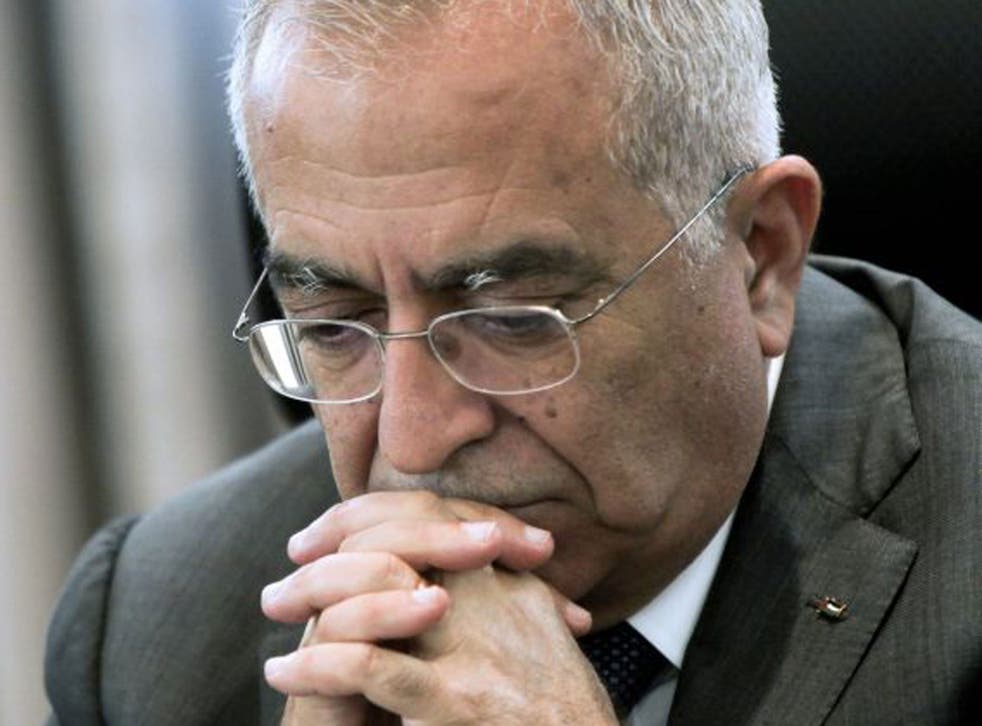 The West and Israel were tonight facing recriminations over the resignation of the Palestinian prime minister Salam Fayyad, as officials in Ramallah accused them of misjudging the consequences of their public support for the leader they had labelled a 'partner for peace'.
Dr Fayyad's departure came as a result of domestic disagreement, but officials in Ramallah said yesterday that the West's strident backing had undermined his authority and made the situation worse. They described a suggestion by the United States last week that Dr Fayyad "will stick around" as a "humiliating and completely unacceptable" intervention.
Western support is often unhelpful for Palestinian politicians dealing with a sceptical internal audience, and one senior Palestinian official said that he had come to be regarded as a "Western stooge," even by some in government. The official described the outlook for the peace process as "not very bright. There has to be a nice carrot. All we're getting is a stick."
One Western diplomat in the region told The Independent yesterday that his mission had been informed that the US last week received an unequivocal assurance from the Palestinian Prime Minister that he would continue in his post. The Israelis have remained silent on the resignation.
Dr Fayyad's resignation was accepted by Palestinian Authority President Mahmoud Abbas, three days after the US-educated economist and former International Monetary Fund official said he was planning to step down. It is understood that President Abbas accepted the decision despite calls to Ramallah from the US Secretary of State John Kerry, who pressed for Dr Fayyad to continue in the role.
"His resignation is not a surprise – he has been discussing it for months and I'm surprised that he has lasted as long as he did," said Hanan Ashrawi, a PLO executive committee member and an ally of Dr Fayyad. Dr Ashrawi added that the prime minister had shouldered the blame for the Palestinians' economic problems, many beyond his control. "But it is short sighted and irresponsible [for the West] to link everything to one person. If they have faith in the system, they have no need to worry," she said.
Other leading political figures in Ramallah were more scathing. "The American public statement [that Dr Fayyad would "stick around" that came from the State Department] was entirely damaging. Anyone who knows about the Palestinian mentality knows that it was humiliating and completely unacceptable," said a leading official who is close to Dr Fayyad. "They should have displayed better judgement – the statement made it look as though the prime minister was the West's choice; that he was doing the West's bidding. It was a bear hug."
In a statement published today, Foreign Secretary William Hague, said: "I regret to hear that Dr Salam Fayyad has resigned as Palestinian Prime Minister. Dr Fayyad has made an outstanding contribution to Palestinian state-building, as Finance Minister then as Prime Minister. He has been a close partner to successive British Governments."
It was difficult to escape the feeling that Dr Fayyad was overly close to the West in Arafat Square, in central Ramallah, yesterday. "He was a puppet," said 33 year-old Mohammed. "The Americans protected him, so what difference does it make? I'm unemployed. With or without Salam Fayyad, I'm still unemployed."
Nonetheless, recent hopes that American-led efforts to kick start the peace process between the Israelis and the Palestinians appear to have been damaged by the resignation. Mr Kerry has twice held meetings with the outgoing prime minister about potential areas of agreement since the visit to the region by Barack Obama last month.
Palestinian officials have privately expressed deep annoyance at what they consider to discussions around minor issues and a lack of willingness on behalf of the Americans to confront Israeli officials with what they consider to be key issues. Their ire is particularly focussed on West Bank settlements, which are considered illegal under international law, and Palestinian officials say, threaten a future contiguous Palestinian state. American officials at the consulate in Jerusalem did not return calls yesterday.
Dr Fayyad and President Abbas had a strained relationship that was brought to a head last month after resignation of the Palestinian Authority's finance minister, Nabeel Qassis. Dr Fayyad accepted the resignation, but Mr Abbas subsequently rejected it.
There are thought to be two potential candidates to replace Dr Fayyad; Mohammed Mustafa, the chief executive of the Palestinian Investment Fund and Rami Hamdallah, the president of An-Najah National University in Nablus.
Accidental killing of family 'unfortunate '
The Israel Defence Forces (IDF) will not order a criminal inquiry into the deaths of nine members of the same Palestinian family during last November's war with militants in Gaza, despite initial investigations revealing that a mistake had been made in identifying the target.
In total, 12 civilians were killed when an air strike hit a home to the north of Gaza City. Nine of the dead belonged to the al-Dalou family. In the aftermath, the IDF said that the strike had hit the home of Yahia Rabia, who was in charge of Hamas's rocket-attack programme. It became apparent that the al-Dalous' home was destroyed and Rabia escaped unharmed.
Military Advocate General Danny Efroni ruled that "the incident is not suspected of being a criminal offence, as the unfortunate outcome occurred despite efforts to reduce collateral damage".
Join our new commenting forum
Join thought-provoking conversations, follow other Independent readers and see their replies