Palmyra: family of Syrian scholar beheaded by Isis describe his final moments
'Our father was a man who served his city and country for decades. His murder was ugly and shameful'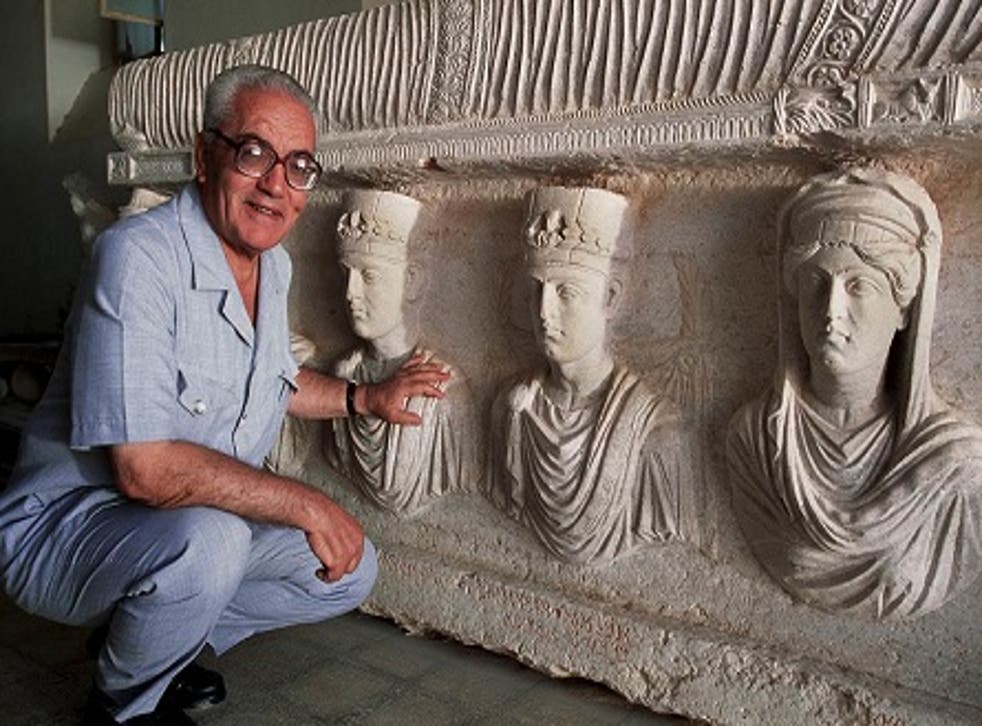 Relatives of the Syrian archaeologist who died rather than tell Isis where the ancient city of Palmyra's treasures were hidden have described his final moments and how they were forced to flee the city.
Before his death, Khaled al-Asaad, 81, who was chief of the Unesco world heritage site, had been dubbed "Mr Palmyra" in recognition of his work on the 2,000-year-old buildings and works of art in the city.
When Isis took control of the area, they tried to force him to reveal the locations of valuable antiquities.
"The main reason behind the execution of my father was that he refused to tell Isis about the locations of monuments that were still uncovered," his son Mohamed said in an interview with The Times.
"The news hit me like a thunderbolt. They took him to the main square of the city and beheaded him in front of people.
"Whoever tried to leave was killed as well. Our father was a man who served his city and country for decades. His murder was ugly and shameful."
Mohamed added that his family only learned that Mr Asaad was dead when they read a propaganda post about the execution online. Fearing for their own lives, the family abandoned the city, unable to collect Mr Asaad's body. It was hung from traffic lights, with his severed head placed below. A sign tied around his midriff described Mr Asaad as a "directory of idolatory" and an "apostate".
In Pictures: Isis loses control of Palmyra

Show all 4
Mr Asaad was born in the area in 1934. He studied history at Damascus University, but as an archaelogist he was entirely self-taught.
He devoted four decades to the excavation and preservation of ruins in Palmyra, before retiring in 2003. Another son, Walid, took over his role at the Unesco site.
Mohamed al-Asaad added that Walid, like his father, had been questioned over the location of "gold and treasures" in the city known as the "Pearl of the Desert".
Stolen artefacts and "treasure" are an important source of revenue for the Islamist militants, particularly since the US started bombing Isis-controlled oil fields.
But they also destroyed several historic remains. The Temple of Bel was a Mesopotamian place of worship, considered one of the best-preserved ruins in the region, while parts of the Temple of Baalshamin were up to 2,200 years old. The Arch of Triumph was a secular structure dating from the same era.
Isis consider the preservation of non-Islamic relics and places of worship to be heretical, and destroyed all three of these monuments, in whole or in part.
Join our new commenting forum
Join thought-provoking conversations, follow other Independent readers and see their replies