Palmyra: Isis pictured launching new assault on artefacts in ancient ruins
Syria's antiquities director called the destruction of the Lion of al-Lat 'the most serious crime they have committed against Palmyra's heritage'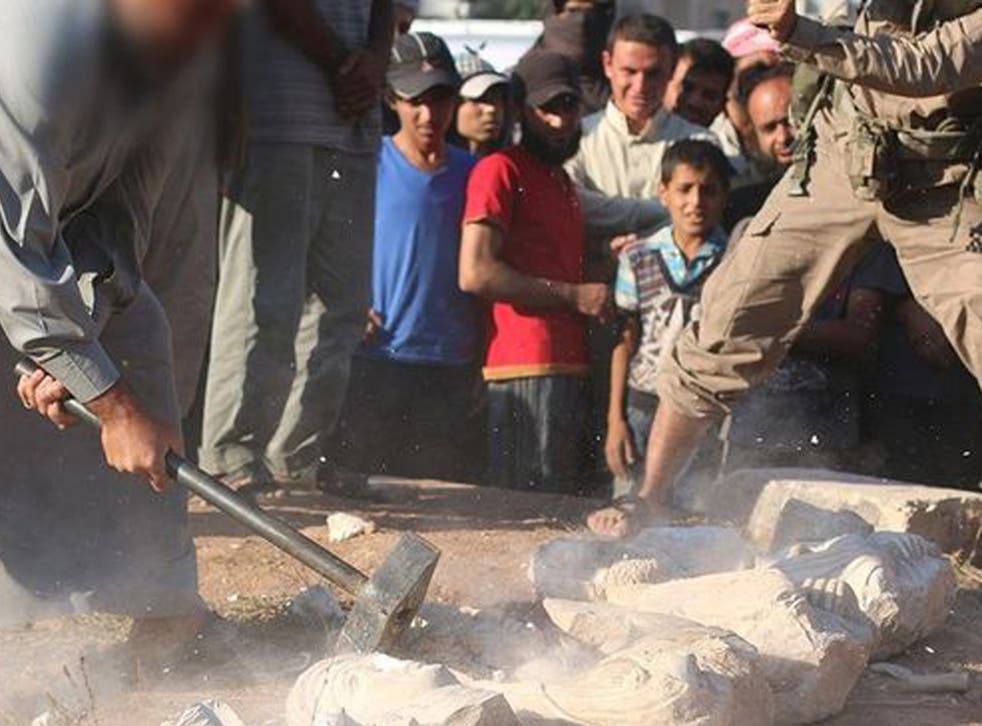 Isis has destroyed a series of artefacts in the ancient ruins of Palmyra in Syria, including the lion of al-Lat, a famous 15 tonne statue.
Photographs have also been published of a man being forced to destroy statues with a sledgehammer by Isis militants as a crowd looks on.
Isis (otherwise known as Islamic state) said the statues were seized from a smuggler, who was trying to remove them from the ruins.
The man was pictured being whipped as a punishment as he was forced to destroy the statues by Isis militants, who then finished the destruction.
Speaking to AFP, Syria's antiquities director Maamoun Abdelkarim on Thursday called the destruction of the Lion of al-Lat "the most serious crime they have committed against Palmyra's heritage."
The lion statue was reported to have been destroyed by Isis militants on Saturday.
Fears were raised for the ancient site, parts of which date back 4,000 years, after Isis captured it last month, following its destruction of other ancient sites and monuments across Iraq and Syria.
Ancient monuments under Isis threat

Show all 8
Isis overran Palmyra in May, slaughtering more than 400 people, mostly women and children, two days after capturing the ancient city.
Dedicated to a radical interpretation of Islam, Isis believes that nothing should pre-date the birth of the Prophet Mohammed, which according to the Gregorian calendar widely used in the West, is around 570 AD.
"They consider these Islamic mausoleums to be against their beliefs, and they ban all visits to these sites," Syria's antiquities director Maamoun Abulkarim said.
Unesco's Director-General Irena Bokova told the BBC that looting was being carried out on an industrial scale in Palmyra and that IS militants were "using the illicit trafficking, the selling of these objects in order to finance extremism and terrorism."
Join our new commenting forum
Join thought-provoking conversations, follow other Independent readers and see their replies