President Erdogan at couple's wedding: 'Birth control is treason to growth of Turkey'
The president said that couples should have at least three children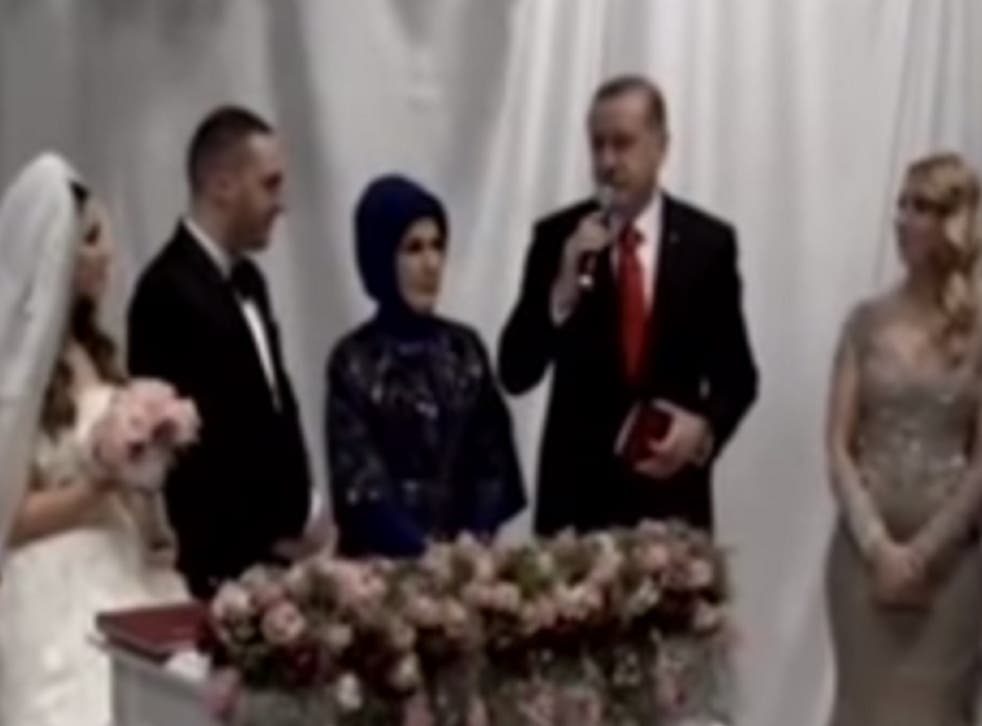 Turkish President Tayyip Erdoğan has described birth control as a form of "treason," saying it threatens the country's bloodline as he believes a couple should have more than three children.
Erdoğan urged a newly-married man and woman at their wedding on Sunday, where he acted as a witness to the ceremony, to have preferably four children to help boost population figures in Turkey where the birth rate has been slowing down over the past few years.
It seems as though population numbers, which last peaked in 2009, are a frequent worry for the president who claims that a declining birth rate negatively impacts economic growth.
Recep Tayyip Erdogan's most controversial quotes

Show all 8
The father-of-four is reported by Turkish news organisation Radikal to have said: "One or two children is not enough. To make our nation stronger we need a more dynamic and younger population.
"We need this to take Turkey above the level of modern civilisations. In this country opponents have been engaged in the treason of birth control for years and sought to dry up our generation."
Women are having children later, between 25-29 years of age compared to 20-24, however 26 per cent of the population is below the age of 15 and 50 per cent under the age of 30, according to recent research by Hacettepe University.
"One (child) means loneliness, two means rivalry, three means balance and four means abundance," Erdoğan added.
The comments follow those he made last month when he said women should hold the "station of motherhood" and went on to say that "you cannot explain this to feminists because they don't accept the concept of motherhood. They have no such concerns."
The wedding that he attended with his wife Emine was that of the son of his close ally and businessman Mustafa Kefeli.
The religious roots of the government led by Erdoğan, who has been described by critics as an "Islamist", has long been accused of seeking to diminish the country's secular principles and limiting the civil liberties of women.
Erdoğan – who said he is also opposed to Caesarean births – sought to completely outlaw abortions in Turkey two years ago, describing them as "like air strikes on civilians," however the legal limit of 10 weeks remains after dozens of women demonstrated in Istanbul holding banners with slogan such as "It's our womb, we can have Caesarean delivery or abortion."
The president has also been described as having acted against freedom of speech with 24 journalists having been detained earlier this month. Journalists protested outside the headquarters of Zaman newspaper shouting "free press cannot be silenced".
Join our new commenting forum
Join thought-provoking conversations, follow other Independent readers and see their replies