Qatar launches campaign for 'modest' dress code for tourists
Campaigners say they want to preserve the Islamic country's culture and values
Qatar has launched a social media campaign urging tourists to dress "modestly" in public and respect the Islamic country's values.
Along with a Twitter and Instagram account, "reflect your respect" leaflets are being handed out with diagrams of what is and is not acceptable.
Short dresses, sleeveless clothing and crop tops are banned for women, while men are also told not to wear shorts and vest tops revealing their chest.
A leaflet handed out as part of the campaign reads: "If you are in Qatar, you are one of us. Help us preserve Qatar's culture and values, please dress modestly in public places."
It urges people to cover up from their shoulders to knees and avoid leggings.
Qatar's Islamic Culture Centre has launched previous initiatives to educate foreigners on dress codes.
"The amount of immodest clothing is growing in public places, especially shopping malls. Such foreigner behaviour conflicts with our traditions," Nasser Al Maliki, the centre's public relations chief told Gulf News.
"We do not want our kids to be exposed to it or learn from it, and that's why we will start this campaign."
Qatar, which will host the World Cup in 2022, has a population of just over 2 million people and uses Sharia law as the main source of its legislation.
It is home to about 17,500 British nationals and 40,000 more visit every year, according to the Foreign and Commonwealth Office (FCO).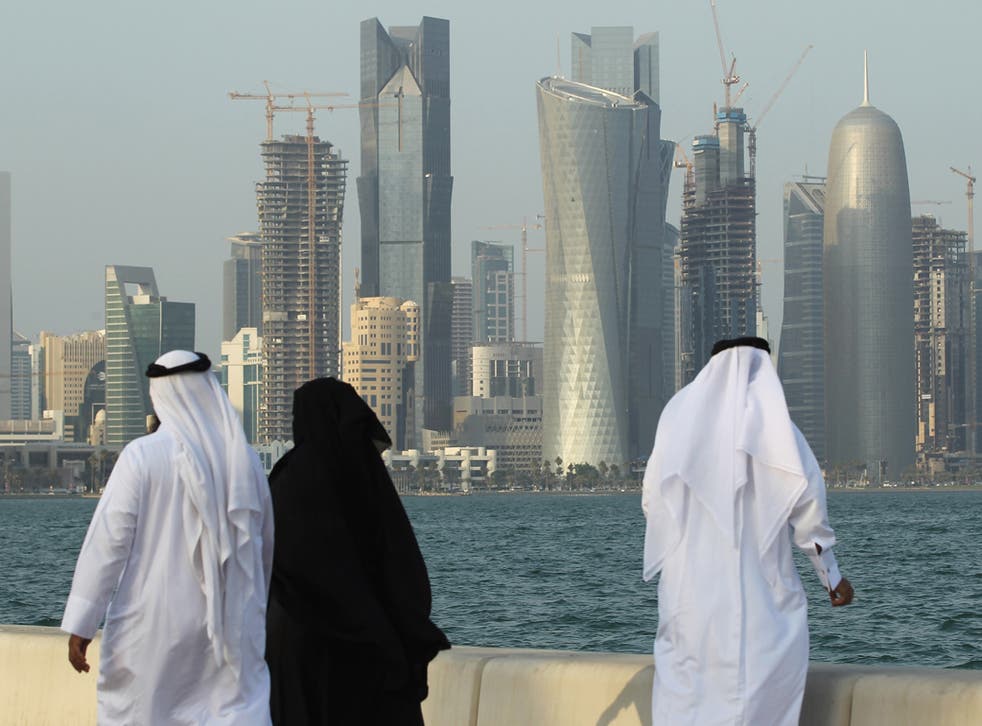 With the highest GDP per capita in the world and large natural gas and oil reserves, it attracts thousands of ex-pats for work.
Article 57 of its constitution stipulates that it is a "duty of all" who reside in or enter the country to "abide by public order and morality, observe national traditions and established customs".
Wearing clothes considered indecent is illegal and uttering "indecent phrases" or doing anything thought obscene in public is punishable with a fine and up to six months in prison.
Kissing or physical intimacy between couples is forbidden, as is homosexuality.
The campaign reflects the FCO's advice for visitors to respect local customs and laws at all times and ensure their actions do not offend other cultures or religious beliefs.
Official travel advice states that people should "dress modestly" in public and repeats guidance about covering shoulders and knees.
The "reflect your respect" campaign has drawn a mixed response on Twitter.
It will officially be launched in June with leafleting in public places.
Join our new commenting forum
Join thought-provoking conversations, follow other Independent readers and see their replies