A refugee's call to the West: 'We will not forget: no-one helped Syrians; they've only helped Assad'
Those on the ground bemoan a lack of action and make no distinction between regime's bombing and Isis brutalities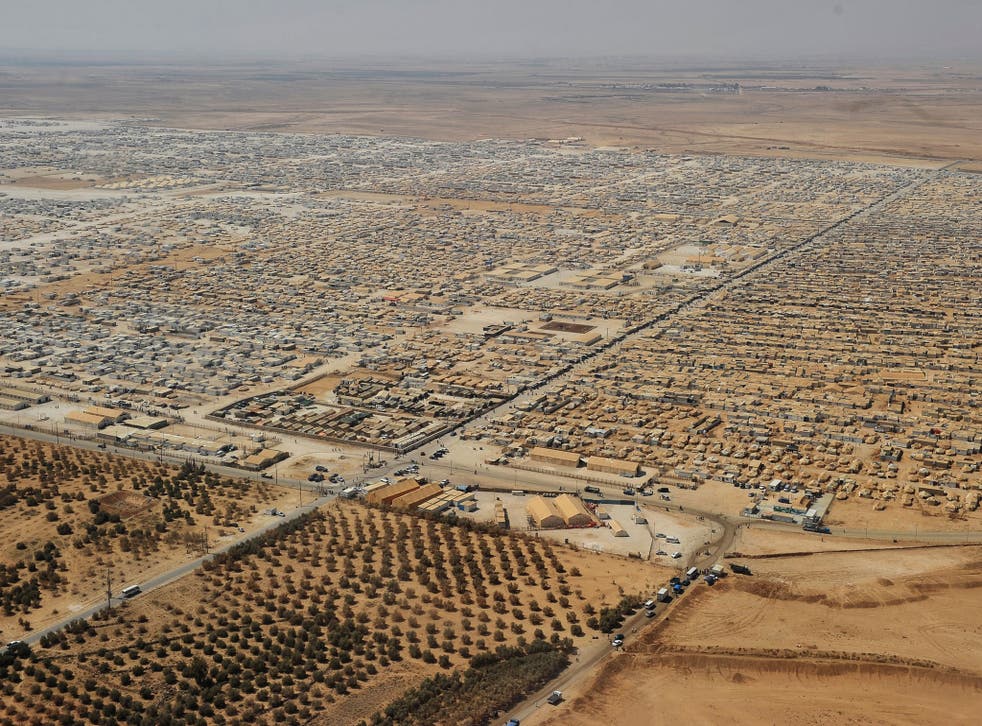 There are 82,841 mouths to feed at the Zaatari camp. At his small restaurant within the refugee city in the Jordanian desert, Ahdorf tries to help as many as possible.
The 39-year-old Syrian, from the southern city of Daraa, believes there is no distinction to be made between the barrel-bombing of Bashar al-Assad's regime and the brutalities of Isis. "They are the same thing," he says. "They both kill and do the same things. There is no difference between them."
Still, he longs to return. Sitting in his shack during another sweltering, dusty day on a mile-long strip in the camp, Ahdorf rails against the lack of "action" in the past three years – two and a half of which he has spent in the same caravan. "I want to see the whole world take action in the conflict in Syria," he says; "all of the world: Europe, Africa, and the US against Bashar Assad."
Warming to his theme, he adds: "I won't forget that Europe and America did nothing. During the revolution in Libya, Europe and America got involved and even in Egypt – but in Syria, nothing like that.
"When Isis was created Europe and America directly got together with Nato and entered into Syria. But for three years Assad has massacred his people. And no one moved. Why?"
Four years after Syria descended towards a war that has forced 3.8 million citizens into exile and killed more than 220,000, the United Nations began talks in Geneva this week with the aim of redoubling international efforts to find some political solution to the conflict.
But the talks mean little in Zaatari. Run by the UNHCR and the Jordanian government, the vast camp moves with increasing haste towards self-sufficiency. Many children have forgotten, or never knew, a Syrian life. And the population of Zaatari continues to rise each day.
Amar Zwedani's one-year-old child was born in the camp. "I just want a safe place," the 30-year-old says. "I am not for Assad, I am not for the Free Syrian Army, I am not for Isis – I just want to be in a safe place to stay." Those he hopes will hear him, however, are not in Zaatari: they are in London and Washington; in Moscow, Paris and Berlin.
"Please finish the war in Syria and please finish Assad," he says. "He is the reason for everything that has gone wrong in this part of the world. If this man is finished, everything will be better."
Photojournalist Bradley Secker's images of Syria's dispossessed

Show all 6
Saudi Arabia and Turkey appear to agree. This week they were reported to have allied over their common enemy, Assad. They pledge to unite to "aid" Syrian rebels like the al-Qaeda-linked Jabhat al-Nusra in their bid to topple Syria's president.
In Zaatari, Hiba, 13, smiles broadly when she thinks of her life back in Syria, in a village near Daraa. "My friends are there, my home is there – everything is back home," she says. "I would go back now if I could." Her smile vanishes when she talks about her uncle. He was, she remembers, "sitting at home doing nothing" when his house was bombed. "I miss him," she says.
There is little for children to do in Zaatari. But there is football. Hamed, nine, says: "I used to watch football back home in Syria. My favourite team is Real Madrid." One boy walks around with an England shirt bearing the familiar name of "Rooney" on the back.
But at his restaurant, Ahdorf holds out little hope for the future of the camp. "We left Syria to save our souls. We have three or four schools in the camp but inside there is nothing," he says. "You have students, you have teachers, but they don't teach good ideas. It's very bad."
For all its poverty, Zaatari is expensive – costing around £320,000 a day to run. The UNHCR maintains it will continue to work with the Jordanian government and will engage with Gulf donors and co-operate with private sector donors to keep it running.
But without more action from the West, the resentment among the refugees will continue to grow. "No one in Syria will forget this fact," Ahdorf says. "Because no one helped the Syrians, they've only helped Assad."
Join our new commenting forum
Join thought-provoking conversations, follow other Independent readers and see their replies